Oh no, the Elves have lost their jingle bells, can you help them find them in the snow?
This easy fine motor, sensory activity is super simple to set up and has a lovely Christmassy feel to it.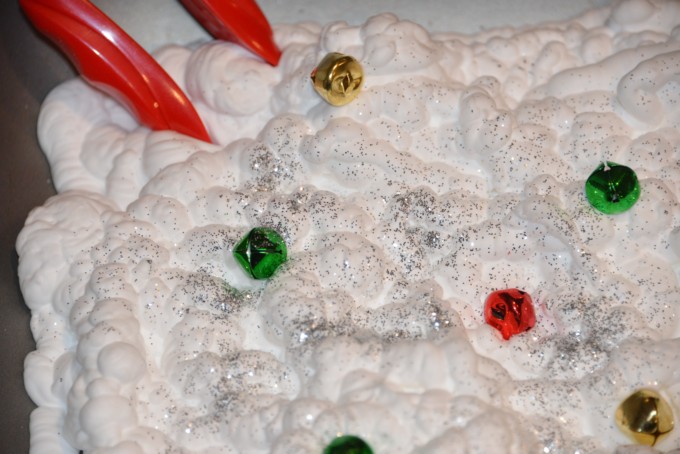 Christmas themed fine motor skill activity
What you need
Shaving foam
Little bells
Tweezers – these chunky tweezers from Learning Resources are our favourites
Tray
Glitter
Instructions
Fill the tray with shaving foam.
Sprinkle with glitter
Add the bells
Use the tweezers to remove the bells without touching them.
Extension Tasks
Can you sort the bells by size or colour?
Can you count the number of bells or lay them out in an array?
Can you draw a graph showing how many of each colour bell you have?
More fine motor skills ideas
You can find lots more science themed fine motor skills activity ideas here.
Why should you practice fine motor skills?
Did you know there are over 30 muscles in the hand and forearm? These muscles control elbow, wrist and finger movements while the much smaller muscles in the palm of the hand control smaller movements of the thumb and fingers.
If hand and forearm muscles develop slowly or aren't strong enough children can find it very difficult to grip and manipulate small objects which can make learning to write a harder task.