I was lucky enough to visit Kennedy Space Center on several occasions as a child and remember coming away so inspired, dreaming of space camp and working for NASA, of course neither of those things actually happened but I know the inspiration stayed with me for a long time after returning home, which is why I was very excited about giving my own children the same experience.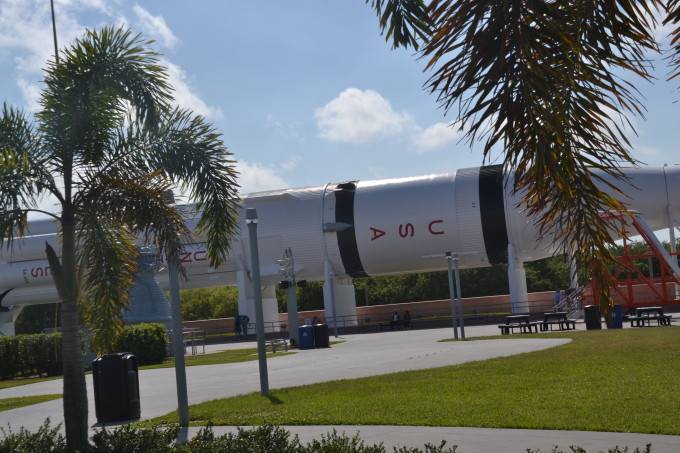 Space Shuttle Atlantis Experience
A big highlight for me was the Atlantis Experience, the impressive multimedia presentations kept even my 4 year old completely mesmerised as the story of the 30 year space shuttle programme unfolded and I confess to feeling quite emotional as the doors opened at the end bringing us face to face with Atlantis, displayed with it's cargo doors open, just out of reach. The 60 hands on exhibits and simulators are brilliant for children of all ages, my younger girls loved crawling through the model of the International Space Station and zooming down a slide that shows how a shuttle glides in for landing.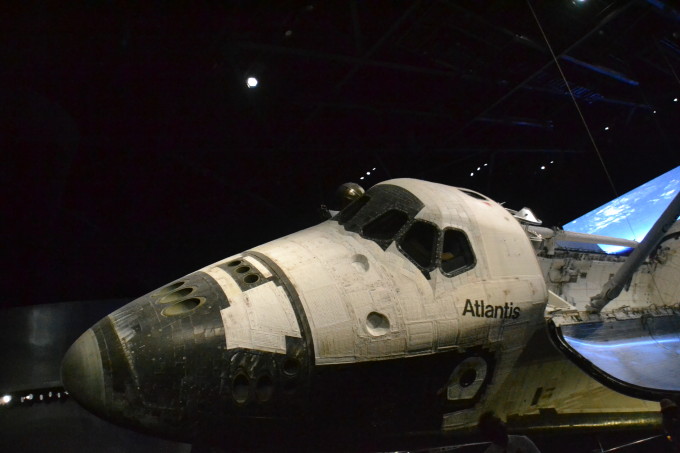 I loved the little signs dotted around with questions and bits of interesting information for children. My 8 year old read as many as he could and came away full of new knowledge and facts.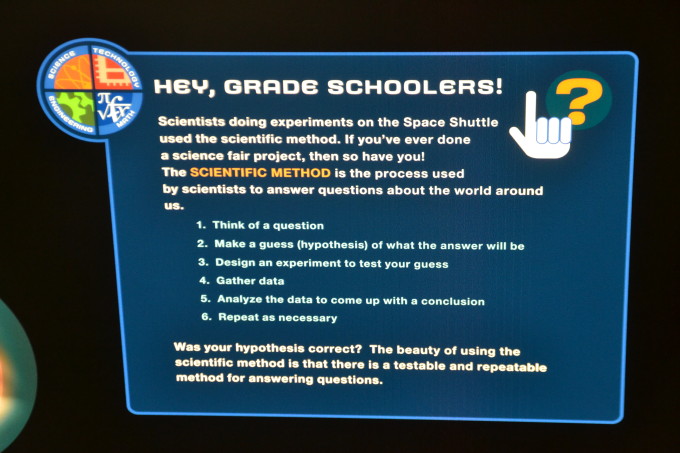 The Shuttle Launch Experience Simulator
I didn't go on the simulator myself as my girls were too little, but my 8 year old LOVED it.
It really did feel as if we were actually going up into space and was one of my favourite rides of our holiday. – Zak age 8
Bus Tour
Initially we weren't sure whether to do the bus tour as the guide said it was 2.5 – 3 hours and we didn't think the girls would be patient enough, but decided to chance it as my 6 year old was desperate to visit the Apollo/Saturn V Center after learning about the moon landings at school. I'm so glad we took the tour, our guide was wonderfully engaging and so passionate about the space programme we were all entranced throughout the whole tour and learned a lot. It was like seeing history unfold as we drove past the launch sites of space shuttle missions and the Apollo moon launches.
The impressive Vehicle Assembly Building is the largest single story building in the World, and was a sight I remember strongly from my own childhood.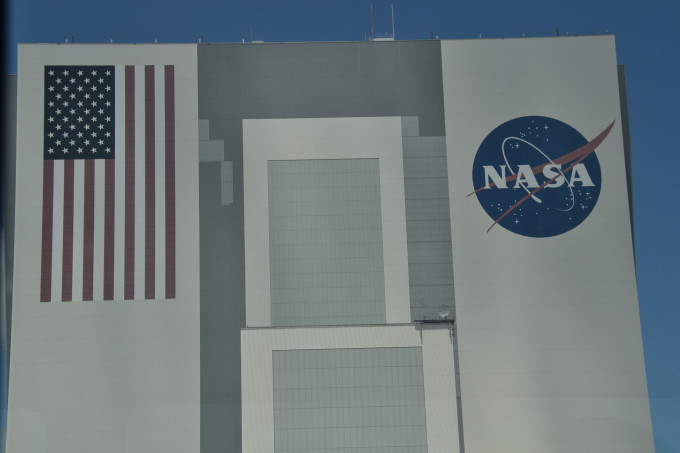 Just like the Atlantis building the Apollo/Saturn V Center is an inspiring and humbling experience, perfectly capturing the hard work, bravery and determination of all those involved.
The pre show sets the scene with the history behind the goal set by President John F. Kennedy to send a man to the moon, you're then fast forwarded to the Firing Room for the launch of Apollo 8, the first mission to orbit the moon. My children were thrilled to be sat by the actual consoles used during the Apollo launches, even my 4 year old was captivated throughout, sitting forward in her seat as she waited to see whether the countdown would continue. As the rocket took off, the shaking windows and rumbling under our feet made us feel like we were really there.
The third show is set on the moon itself and what really struck me was the number of things I didn't know about the moon landing, for example I didn't know that Neil Armstrong had to override the landing plan and find a suitable site himself. The three shows together gave a wonderful insight into the moon landings and the challenges faced getting there.
Other highlights of the Apollo/Saturn V Center are touching a piece of moon rock and standing under the gigantic Saturn 5 rocket. I'm so glad we took the bus tour, it was a fantastic experience for the kids and a trip down memory lane for me.
Did you know it took 400,000 people to get Apollo 11 onto the moon? Can you imagine the organisation involved in a project of that size?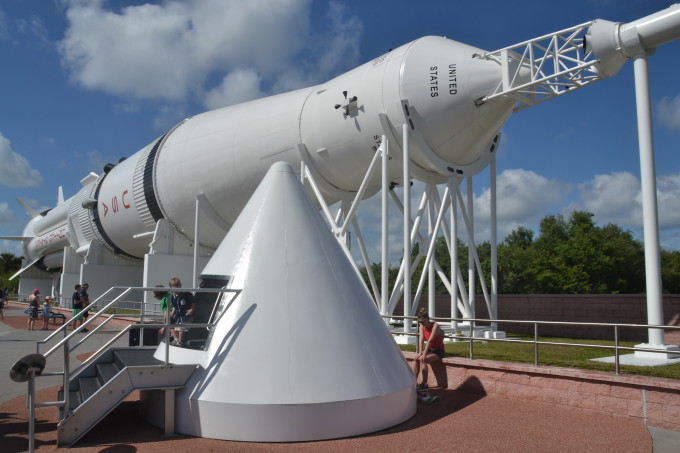 Our day at Kennedy Space Center also included a walk around the rocket garden which really gave the children a sense of the size of rockets, which you can't get from reading about them. They ran from rocket to rocket reading about each and coming to tell us. It was lovely to see.
We also spent a happy half hour watching the children run around the covered play dome, the perfect place to sit in the shade for a while and take in what we'd just experienced.
We didn't have time to watch the IMax movies, but we heard people talking about how good they were. Other experiences we'd like to try if we're lucky enough to go back to Florida are lunch with an astronaut as I think my 8 year old would be completely star struck and the half day astronaut training experience.
We all came away filled with awe, a little overwhelmed and excited by future possibilities. If you're not sure whether to visit Kennedy Space Center, I'd say definitely go, it's not a cheap day out at $50 per adult, but it'll be the most inspiring day of your holiday, my children talk about our day at Kennedy Space Center as much as they talk about Disney World.
We had a fantastic day at Kennedy Space Center and left with big smiles as Zak announced he either wanted to work in Mission Control or be an astronaut.
We had such a great holiday in Florida, I really hope we can visit again soon. We stayed in the beautiful James Villas Bahama Bay Resort, which I'd also definitely recommend if you're looking for somewhere to stay.
We were given complimentary tickets for Kennedy Space Centre.
Last Updated on September 9, 2022 by Emma Vanstone