We've made circuits with play dough before without a kit, but to be honest, it was a quite a lot of hassle. Buying the parts was expensive and we didn't really know what we needed. However, this kit simplifies the whole process brilliantly. The DIY Electro Dough Kit contains everything you need to make your own circuits ( you just need to buy or make play dough and add some batteries ).
The design of the pack is simple, but fun making it instantly appealing to all 3 of my children. The circuits themselves are easy enough for my 5 year old to put together with very little help and exciting enough to still engage my 8 year old ( and me ). The endless opportunities of creative projects that are possible with this kit make it something that we'll use for years to come. I am hugely impressed and I'm not usually a fan of science type kits.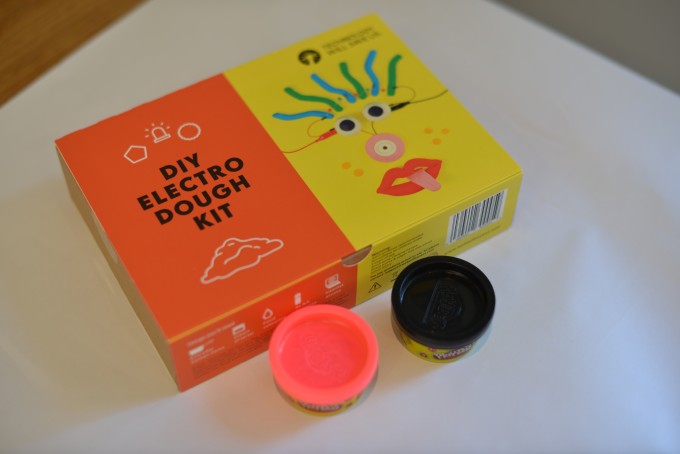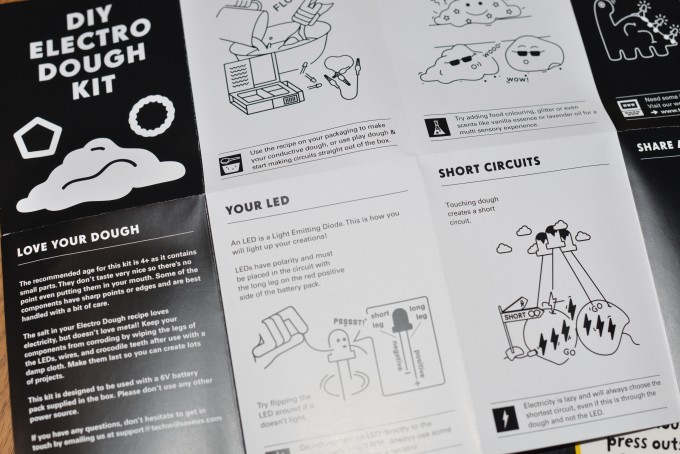 You can see a video on my youTube channel of my husband working through the circuits with our 6 year old. The play dough aspect makes it seem very simple and not daunting which is very important for younger children. Sydney called the LEDs in a line "surfers" as they look like they are on a surf board which made us laugh.
As Sydney was 7 recently we made a birthday cake inspired by the extra resources on the website. This circuit requires some insulation between the purple and orange play dough. You can make insulating play dough, but instead we used a plastic shape cutter which was much easier. The idea of a circuit is that electricity flows through components from positive to negative.  Without the insulation there would be no need for the electricity to go through the LED, it could just make the circuit back to the battery.  With the insulation in place the electricity has to go through the LED back to the battery to form the circuit, this is quite a tricky concept for children to grasp, but the play dough makes it so visual and more easily understandable.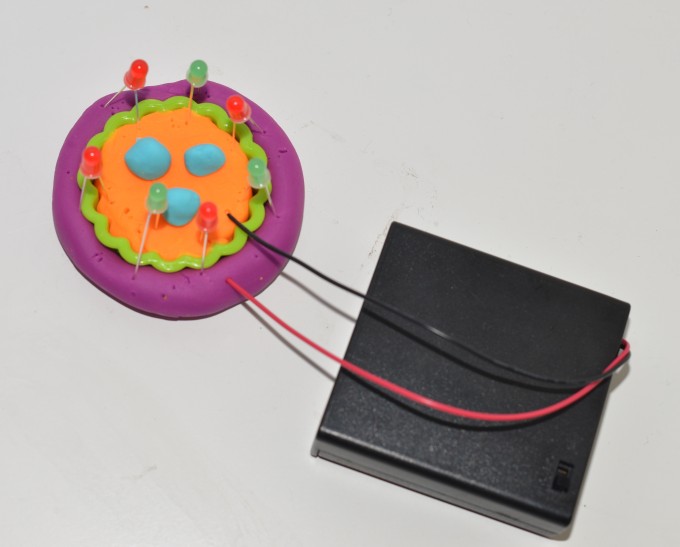 I've had a good look around the Technology Will Save Us  (TWSU) website and just love the concept behind it, very much like Science Sparks they are on a mission to spark the creative imagination of young people. As I said above I'm not usually very impressed with science kits, but this one contains all the bits you'd need to buy yourself to learn about circuits and it's such a time saver and more economical to get them all together with instructions. We LOVE it and for £15 I think it's excellent value.
Technology Will Save Us create award winning DIY kits and digital resources to help people make, play, code and invent using technology. They have now sold over 40,000 kits in 87 countries and collaborated with Google and recently the BBC on the 'Micro:Bit' to reach 1 million 12-year-olds in the UK.
I'm a bit rubbish at watering my plants, so love the idea of this moisture sensor kit, what a fantastic bit of science and technology!
Join the conversation on social media with the hashtag #futureinventors if you have any questions! Which is your favourite product.
Sponsored by Technology Will Save Us
Last Updated on September 20, 2015 by Emma Vanstone