Have you ever completed a First Aid Course specifically aimed at how you'd help a child? When my first child was about 3 months old I did a course with some friends and found it incredibly reassuring that I'd then know what to do in an emergency, although I suspect 8 years on my knowledge is a little rusty. I've also been VERY lucky that so far I've not had to use my first aid skills in an emergency situation.
Did you know there are about 6,500,000 parents in the UK with children under 5 year old? The British Red Cross have found that most people interested in learning first aid are in their third trimester of pregnancy or have a baby up to 8 months old, which is exactly when I completed my course.
A big challenge for the British Red Cross is to engage parents outside this period, where first aid skills and knowledge are still extremely important. British Red Cross have also found that two thirds of parents would like more readily available information about first aid. Luckily help is at hand with a brand new FREE app which means parents are just a few clicks from knowing how to help a child in need. Before having the app I always made sure my first aid book was in a place I could easily reach and also carried a mini first aid guide in my changing bag, but the app is so much easier and of course I generally always have my phone with me.
I've  been exploring the app and found it to be very easy to navigate to find the information you want as well as packed full of handy videos, animations and tips, providing clear and simple advice for parents and carers. You can even test your knowledge with first aid quizzes which I found very reassuring and record your child's medication needs and allergies.
I feel like I have a good working first aid knowledge, but I know that if I could check what I was doing was correct easily on my phone it would give me a lot more confidence in an emergency situation.
My youngest daughter has had a few nosebleeds recently which isn't something I've experienced before, my first reaction was to hold her head back, but then something told me that wasn't the right thing to do so I had to google what the correct procedure is and I was wrong to hold the head back, what I should have done is pinch the soft part of the nose and ask her to lean forward and breathe through her mouth. If I'd had the British Red Cross First aid app on my phone, I could've checked what to do without leaving Hannah holding her own tissue while I looked on the computer.
Would you know what to do if your child suffered an epileptic fit or someone you know had a stroke? Looking through the app made me realise how little I actually know, for example I think my first instinct if my child swallowed something would have been to make them sick, but according to the app what you need to do it get help immediately so you don't cause further damage to their windpipe.
How good do you think your First Aid knowledge is?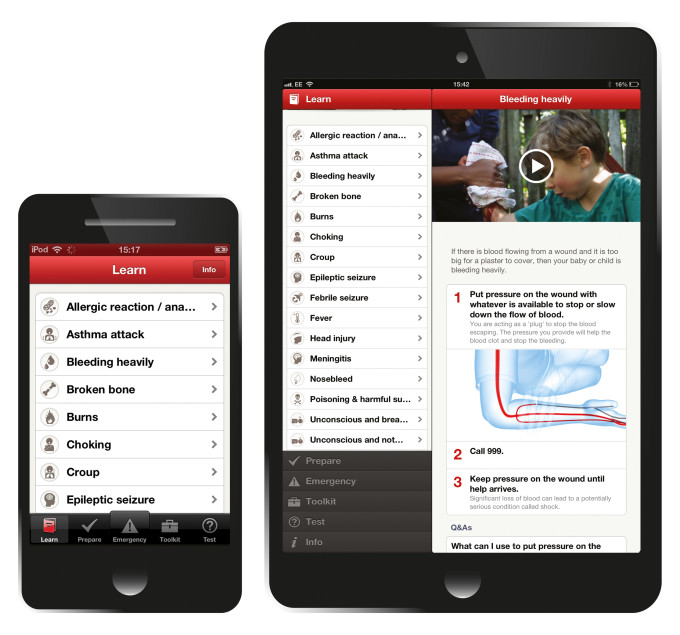 Did you know the British Red Cross run courses all over the country? See their website for further details.
Sponsored by British Red Cross
Last Updated on September 8, 2022 by Emma Vanstone