My girls have grown up in a house full of LEGO, Brio, K'nex thanks to an older brother and a LEGO loving Mother, so I've never been in a situation where they haven't wanted to play with construction toys. They pretty much build with anything they can get their hands on. However, I know lots of their friends who without the influence of an older brother have very little interest in what are generally considered boys' toys, which I think is such a shame as the learning and enjoyment potential of construction toys is huge and it makes me very sad that so many little girls miss out on playing with them.
Did you know only 14% of engineers are girls?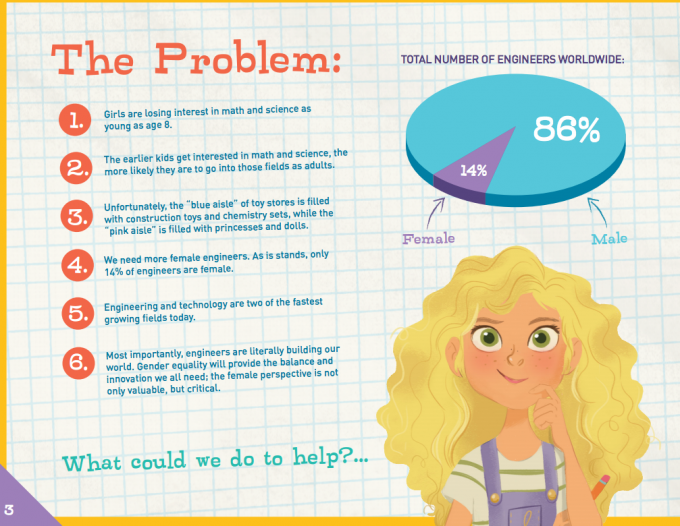 I was pretty sure we'd love Goldie Blox as anything that tries to get children interested in science and technology is always going to be a winner with us but I wasn't expecting to like the kits as much as I did.
My 5 year old tried out GoldieBlox and the Spinning Machine
, aimed at children aged between 4 and 9 this set introduces the concept of a belt drive and come with 16 design ideas and endless possibilities. As I said before my little girl loves construction toys, but isn't very good at following complex instructions yet. She loved the way the building of this set followed a story, it was simple enough for her to follow herself and a really lovely activity for us to do together. She has asked over and over again for us to read the Goldie Blox story. The fact that the animals all have names really appealed to her as well. It's been a great introduction not just to enginnering, but problem solving, following instructions and also for improving spatial awareness.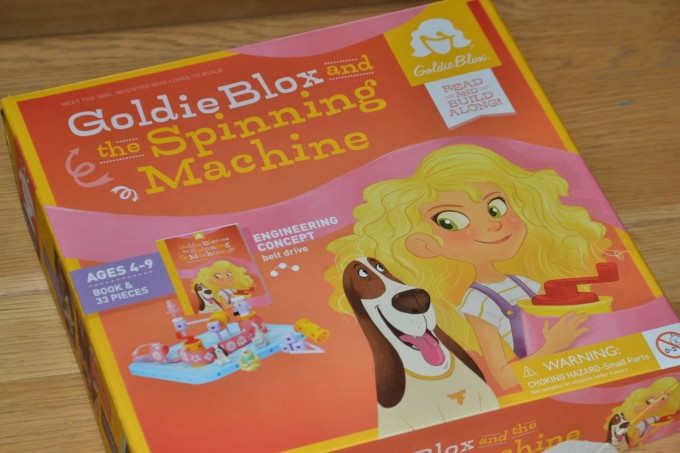 The next set we tried was GoldieBlox and the Dunk Tank
 I knew this kids would love building the dunk tank and trying to drop Nacho in the water. Again the background story really appealed to everyone and gave them a reason to build the tank.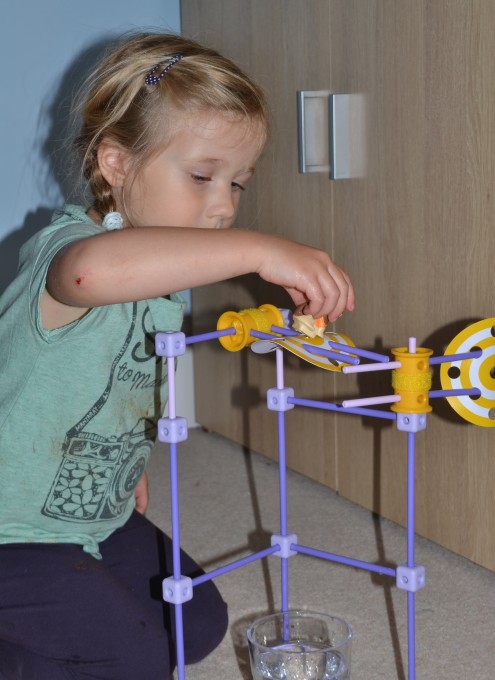 The idea is that you throw the ball at the target on the hinge which moves and tips Nacho the dog into the tank.
My little boy has also loved playing with these sets, so they're not just for girls.
We're going to review all these sets in more detail very soon, but in the meantime, we're very excited to offer you the chance to win THREE fantastic Goldie Blox sets.
To enter just complete the Rafflecopter form below.
Terms and Conditions
Prize is 3 Goldie Blox Sets – The Spinning Machine, The Dunk Tank, The Parade Float
UK Delivery addresses only
Competition closes midnight September 14th 2014
No cash alternative available
Winner must respond to the notification e-mail within 2 weeks or the prize will be withdrawn.
Available to buy from John Lewis and Amazon UK
Read more about Goldie Blox here.
Last Updated on April 22, 2016 by Emma Vanstone