We've been admiring the Meccanoid Robots from Meccano for a very long time, so were thrilled to be sent a mini version ( one of the new Micronoids ) to review earlier this month.
There are three different Micronoids to collect, which interact with each other if you have more than one. We were sent Socket, the red robot and are very impressed. Micronoids are great fun to build and even more fun to play with afterwards.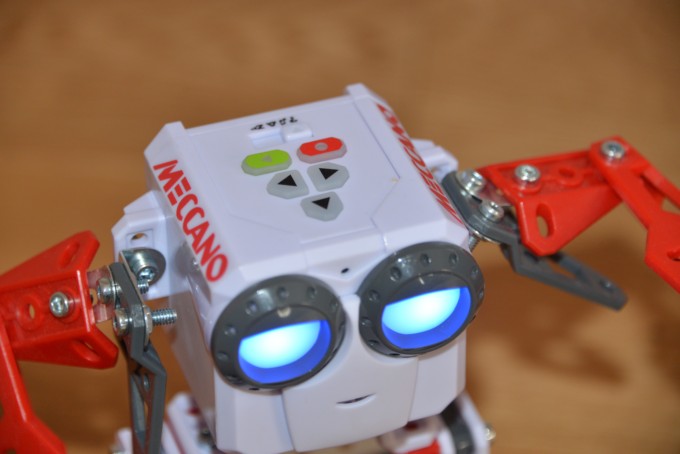 Each Micronoid has 4 modes which are easily changed using the keypad on top of the robot:
OFF
autonomous
dancing to music, we loved that if you don't play music Socket find his own music to dance to.
question mode, Micronoids answer yes/no questions hilariously and very animatedly. My children have giggled at lot! If ignored he makes funny  noises like passing wind, whistling and singing which my children also found to be very funny.
The buttons on the Micronoid's head can also be used for programming movement (this includes forward, left and right buttons, as wall as record and play buttons for recording  sounds).
The robot is controlled by a sliding switch to change modes and programming buttons on top of his head.
We thought Socket the Micronoid was wonderfully cute, as well as very interactive, he appealed to all three of my children very much. They especially like the autonomous mode, where Socket's little personality really shines though. We haven't seen two robots in action together yet, but are told they interact brilliantly, which I bet is hilarious to watch.
Micronoids are suitable for children aged 8 and above, and come with around 130 pieces, a motorized micro module, 2 tools and full instructions. My 9 year old is a very capable builder but did find the set a little tricky in places, which made it a nice joint project for us. Building the Micronoid was definitely a challenge, but very rewarding.
Micronoids need four AAA batteries which are not included.
There are 3 different Meccano Tech Micronoids which will be available soon in the UK – Basher, Socket And Switch, distributed by Spinmaster. Micronoids will be priced at around £50.
See Socket in action here.
We were sent the Micronoid above for the purpose of this review.
Buy one today!
UK
US
Last Updated on October 17, 2016 by Emma Vanstone