Last weekend we were inited to a preview of the new Superhero Academy at Whipsnade Zoo. Whipsnade Zoo is located in Whipsnade near Dunstable, north of London and is set in 600 acres of beautiful parkland.
Superhero Academy runs from 21st July until Sunday 2nd September and is definitely worth a visit. It's bright, bold, great fun and most importantly shows children the devasting effect of our plastic use on the planet and wildlife. 
Children get to train in animal strength, agility and speed in special superhero training zones and then use their new superhero knowledge and skills to save the world.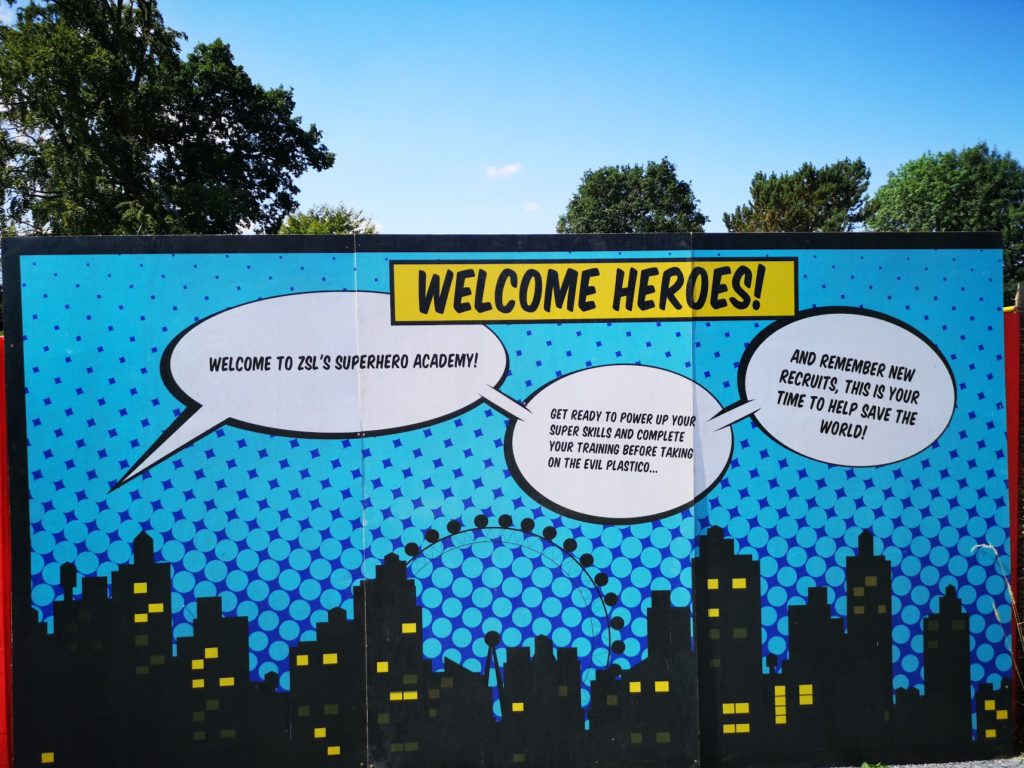 Superhero Academy
First we unlocked the ability to see in the dark, using incredible night vision goggles to hunt food like an owl. I'd never given much thought to what the world would look like to an owl in the dark so this was fascinating!
Zak's favourite training zone was SPEED where kids race against a cheetah. It was perfect for his competitive nature. My slightly less competitive girls loved discovering how fast different animals can run.
We all loved the STRENGTH zone. Did you know a leafcutter ant can carry a piece of leaf up to 50 times it's own weight? Isn't that incredible? Rather like a child lifting a car!
My personal favourite room was where children could defy gravity like a gecko. This was the most amazing upside down room. My photos aren't the best as I foolishly left my flash at home, but how cool is this???
You take a photo posed on the floor and then flip it! I want to go back just to do this again!
The last challenge is helping ZSL's superhero Captain Z tackle a tricky series of obstacles created by his arch nemesis, Plastico: a fiendish villain made powerful by the mountains of discarded plastic being dumped into our oceans.
The whole Superhero Academy was incredibly well put together, but the plastic maze area was just wonderful. ZSL Whipsnade have done the most amazing job showing children the awful effects of our plastic use on the planet. Reading about it is one thing, but seeing it like this really made all of us think even more about our waste. My girls have spent much of the last week showing me pointless packaging on our food, so we're going to try to be much more mindful going forward.
The plastic area was finished off beautifully with a opportunity to make a pants pledge to leave behind. We have all pledged to recycle more and buy less plastic covered food items. I'll let you know how we get on.
Once all the challenges were complete my intrepid explorers graduated! They honestly loved the whole experience. We would 100% recommend visiting.
ZSL London Zoo also have a Superhero Academy which we're hoping to visit over the holidays.
Superhero Academy at ZSL Whipsnade Zoo is part of ZSL's 2018 Superhero Takeover, a year-long celebration of incredible wildlife and the ZSL superheroes striving to protect them.
Book online now at www.zsl.org 
Superhero Academy at ZSL Whipsnade Zoo runs every day from Saturday 21 July to Sunday 2 September 2018. The activities are included in the Zoo entry price.
Huge thanks to Whipsnade Zoo for inviting us to Superhero Academy
Last Updated on July 23, 2018 by Emma Vanstone