What is a Colloid
A colloid is a mixture is two or more substances mixed together but not chemically combined ( they can be separated ). Colloids are a special type of mixture where tiny particles of one substance are scattered through another substance. Cream is a colloid as it's made up of tiny particles of fat dispersed in water.
The particles making up a colloid are smaller than those in a suspension.
If you put cream in a jar and shake for a about 10 minutes the fat molecules stick together, making butter and a liquid called buttermilk. Butter is also a colloid as there are water molecules trapped in between the fat.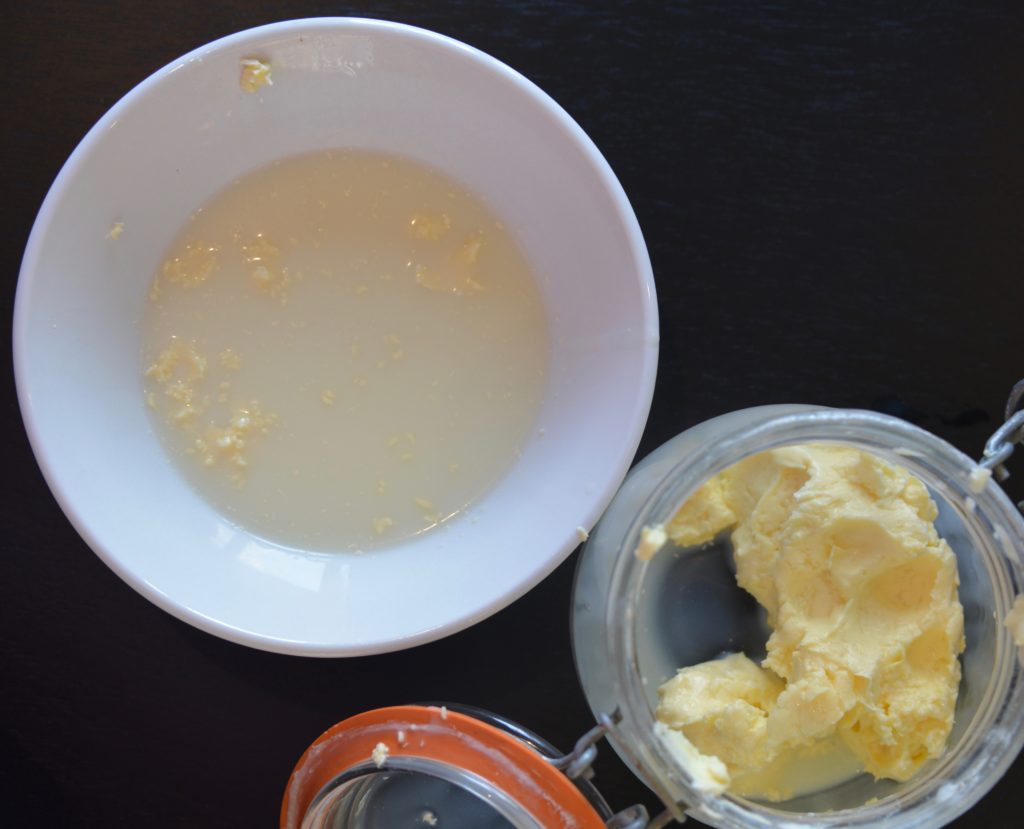 Examples of colloids
Milk
Cream
Mayonnaise is a mixture of oil and water, stabilised by proteins in the egg yolk. This is a special type of colloid known as an emulsion ( milk and cream are also emulsions )
Blood
An emulsion is a special type of colloid made up from a mixture of two liquids which form a stable substance that has different physical properties to the two individual liquids.
Colloids can be made up of gas-liquid, liquid-liquid, solid-liquid or solid-gas.
Gas – liquid colloid
Whisk double cream until it looks thick. This is whipped cream and is a gas-liquid colloid as gas has collected in the liquid forming a stable mixture.
Liquid-liquid colloid
Whisk two egg yolks with a little olive oil until you get mayonnaise. Remember mayonnaise is an emulsion.
Solid-liquid Colloid
If you make jelly with gelatin, this is a colloid of gelatin dispersed in water or juice.
Solid -Gas Colloid
Dust is made up of solid particles dispersed in the air.
Colloids and Brownian Motion
Colloids also exhibit Brownian movement. This is random zig zag motion of particles that can be seen under a microscope and happens when colloid particles collide into each other in the dispersing medium ( for example – air, water )
Tyndall Effect
The Tyndall effect happens when light is scattered by particles of in its path to create a beam of light.
Colloids exhibit the Tyndall effect. When a light is shone through a colloidal dispersion the light beam becomes visible as a column of light. The Tyndall Effect also makes clear substances containing tiny particles to appear slightly blue. This is because blue visible light ( which has the shortest wavelength ) is scattered by the particles, while longer wavelengths of light are not scattered. It is this effect that makes a blue iris look blue, not pigment!