This fun Valentine's Day themed science experiment is a fun twist on the traditional blowing up a balloon with alka seltzer activity
The idea is that you add something that produces gas to a bottle with a balloon on top. The gas first fills the bottle and then the balloon, blowing it up.
It's a great way to demonstrate how gases spread out to fill all the available space!
I used an alka seltzer, but effervescent vitamin tablets also work really well.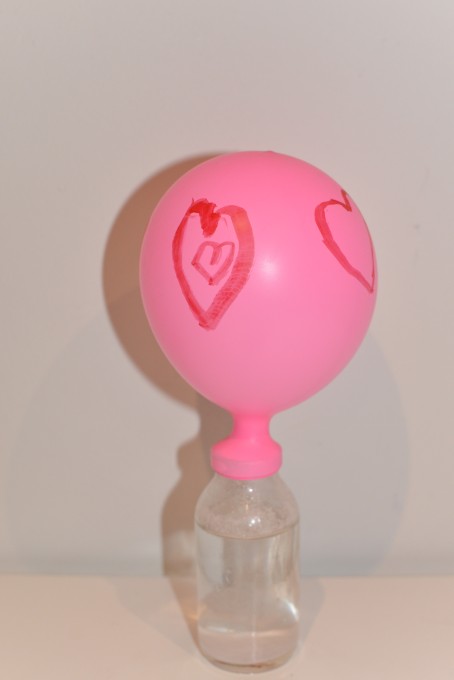 How to blow up a balloon with alka seltzer
What you need
Small bottle
Alka seltzer
Water
Balloon
Felt tip pen/sharpie
Method
Blow up the balloon first and then let the air out, and draw a small heart on the balloon.
Fill the bottles or jars with water, leaving a gap at the top.
Drop the alka seltzer into the bottle and quickly place the balloon on the top.
Watch as the balloon blows up and your heart grows.
Extension tasks
Can you think of anything else you could use instead of alka seltzer? We tried to blow up a balloon with popping candy with some interesting results, but baking soda and vinegar would be another good investigation.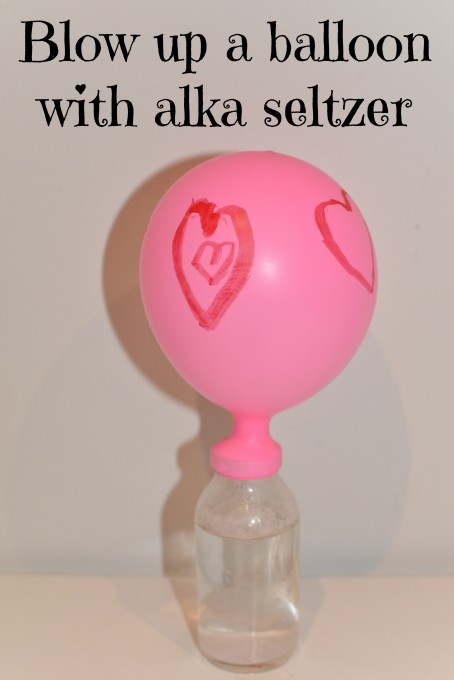 Why does the balloon blow up?

Alka Seltzer contains sodium bicarbonate ( baking soda ) and citric acid. When you drop a tablet into water, it forms sodium citrate, water and carbon dioxide which are the bubbles of gas you see. The bicarbonate of soda reacts with the citric acid, this is an acid–base reaction just like we see when we add vinegar to baking soda.
Acid-Base Reactions
If you place an acid and a base together, they react to neutralise each other, producing a salt. The H(+) cation of the acid combines with the OH(-) anion of the base to form water.
More experiments using alka seltzer
Make a fizzy lava lamp. These are great as they can be used over and over again.
How about a film canister rocket? These fly up with a lot of force so remember to stand back!
Last Updated on February 7, 2023 by Emma Vanstone