We've put a fun twist on the traditional blowing up a balloon with alka seltzer today by blowing up a balloon with a heart drawn on it. As the balloon blows up the heart grows!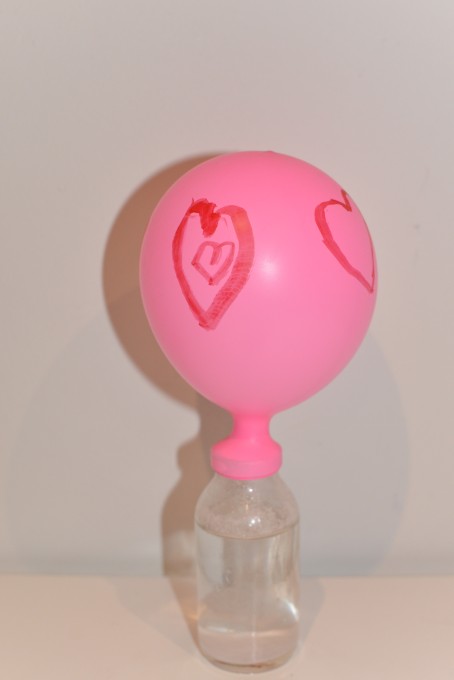 How to blow up a balloon with alka seltzer
What you need
Small bottle
Alka seltzer
Water
Balloon
Felt tip pen/sharpie
Method
Blow up the balloon first and then let the air out, draw a small heart on the balloon.
Fill the bottles or jars with water, leaving a gap at the top.
Drop the alka seltzer to the bottle and quickly place the balloon on the top.
Watch as the balloon blows up and your heart grows.
Extension tasks
Can you think of anything else you could use instead of alka seltzer? We tried to blow up a balloon with popping candy with some interesting results, but baking soda and vinegar would be another good investigation.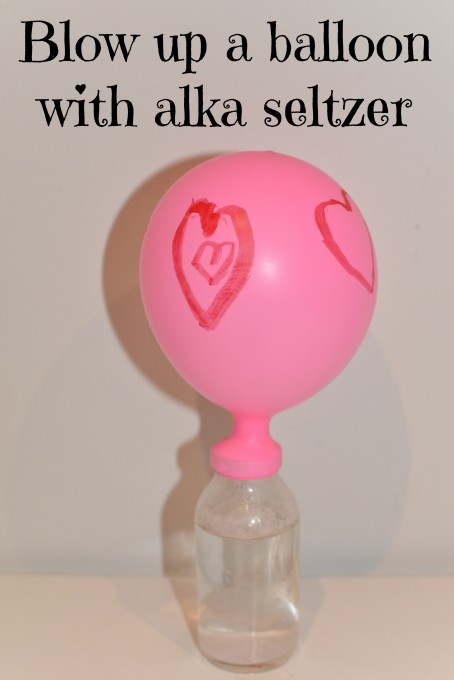 How does this happen?
Did you know Alka Seltzer contains contain  sodium bicarbonate ( baking soda ) and citric acid? When you drop a tablet into water it forms sodium citrate, water and carbon dioxide which is the bubbles of gas you see. The bicarbonate of soda reacts with the citric acid, this is an acid – base reaction just like we see when we add vinegar to baking soda.
Acid–Base Reactions
 If you place an acid and a base together, they react to neutralise each other, producing a salt. The H(+) cation of the acid combines with the OH(-) anion of the base to form water.