Homemade Water Walls are a great fun summer activity. We usually make one at the start of summer and leave it in place for as long as it survives.
Our DIY water walls are great fun and easy to set up with just a few supplies.
Why Build a DIY Water Wall?
Water walls are great for teaching kids about gravity and how water flows. Charlie ( age 2 ) has already worked out that water will only flow up a pipe if there's enough force to push it through or if someone blows down the end!
Most importantly water walls are just great fun. My children spend hours pouring, scooping and recycling water through the pipes.
We used a blue metal frame from TTS for this one with clear plastic tubing and and funnels.
What you need to build a water wall?
Funnels
Tubes
Pipes
Buckets
Empty Milk Cartons
Containers
Cable ties – handy for attaching tubes and funnels.
How to build a DIY water wall
Once you have a frame to build your water wall on ( this could be a fence, crates as we used below, or even a trellis ) the rest is up to you. Just attach pipes, funnels and containers so the water can flow through. It's a good idea to have something at the bottom to catch the water so it can be recycled through the water wall.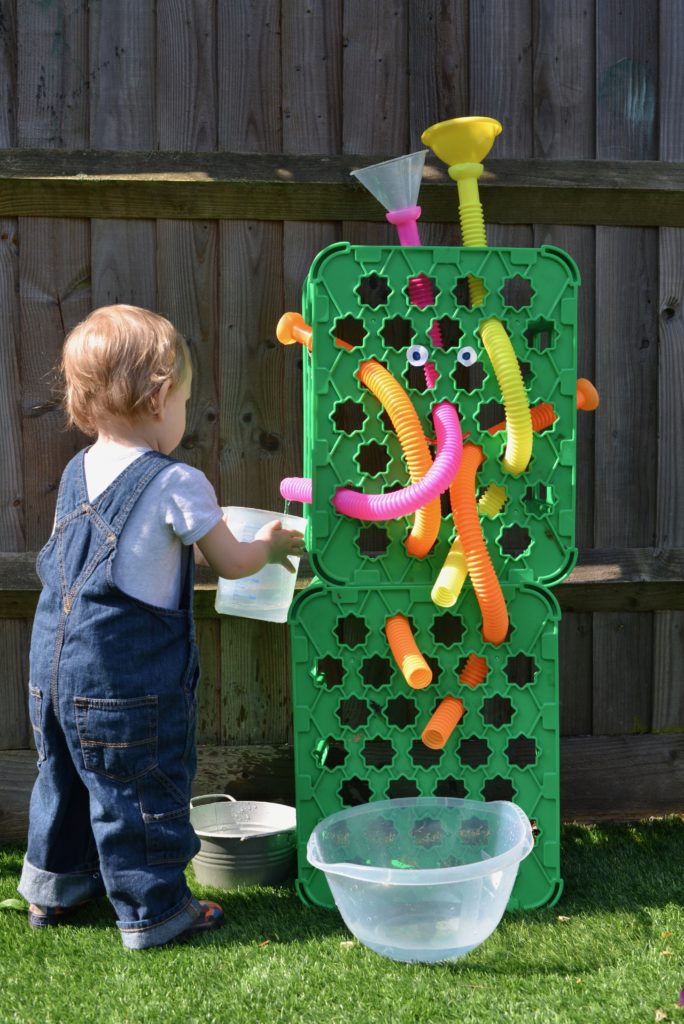 This is a very simple water wall we made using cable ties and a trellis.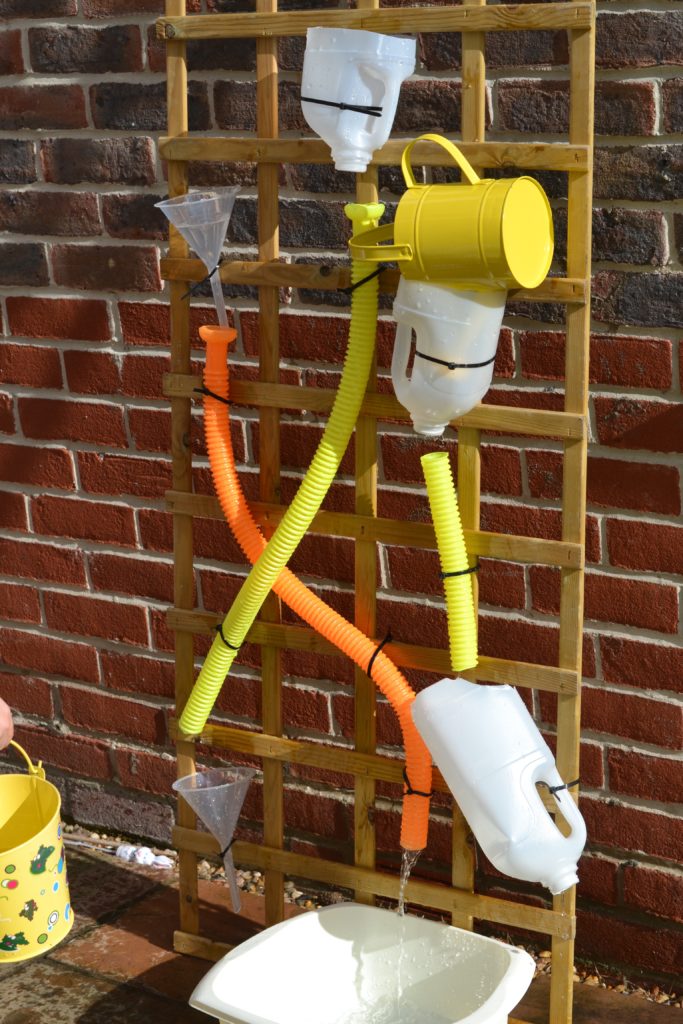 Below is another example of a water wall we made using the metal frame from TTS. I used elastic bands to attach the milk bottles.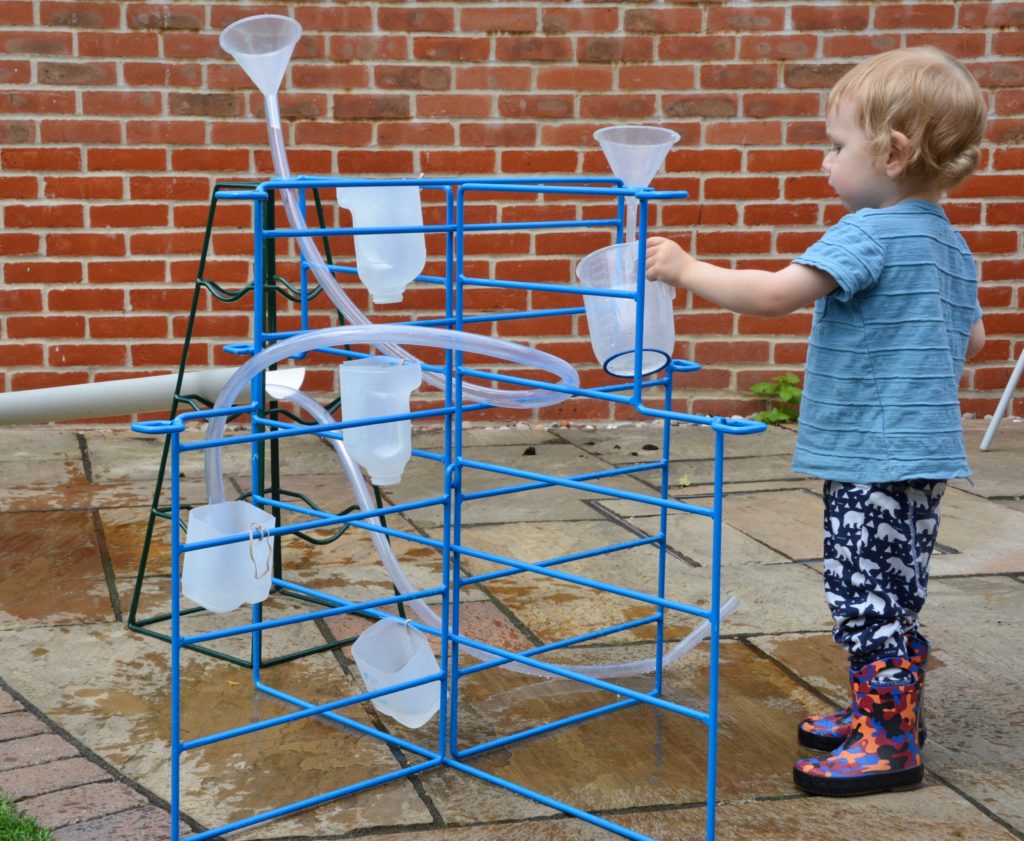 Colour Mixing DIY Water Wall
This colour mixing water wall is one we made many, many years ago. First the yellow and blue water mixes as it drops into the bottle underneath, then the half plastic bottle under can either tip into a container to collect or drop onto the person below!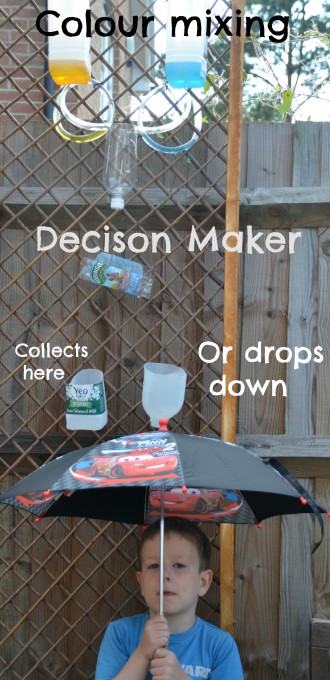 This water wall from Inspire My Play using equipment from Ikea is really cool as well.
Benefits of a backyard DIY water wall
Encouraging outdoor play
Improves hand eye coordination
Endless creative opportunites
Encourage team work
Discover how and why water flows
More Easy Science for Kids
I've got lots of easy water science experiments for kids to try, including a water powered rocket, filtering water, learning about osmosis and some fun density tricks too!
If a summer science challenge is more your thing, I've got lots of those as well!
Or, try one of my FIFTY summer science experiments, including a solar oven, paddling pool experiments, bubble snakes and instructions for how to make the perfect sand for sand castles!
Last Updated on July 5, 2022 by Emma Vanstone