We visited the wonderful Monterey Bay Aquarium as part of our California road trip in the summer holidays. The aquarium is located in the centre of Monterey at the end of Cannery Row. We visited mid week and managed to park in a local garage easily which was just a short walk to the aquarium.
Admission is currently ( 2019 ) $49.95 for adults and $29.95 for children which does seem expensive, but the experience is worth every cent. We were there between 10am and 4pm and still had more to see. We only left because we'd promised my 12 year old we'd take him kayaking afterwards and were running out of time.
Sea Otters
The first thing the kids spotted as we entered the aquarium were the sea otters. We'd seen them on TV screens in our hotel advertising the aquarium and the kids were very excited about seeing them for real. They didn't disappoint. Sea Otters might just be some of the cutest animals we've ever seen.
Did you know sea otters were listed as threatened in 1977 under the endangered species act? We were all fascinated to learn that the aquarium rescues, treats and releases injured otters as well as raising stranded pups.
We had hoped to visit nearby Point Lobos State Reserve as part of our trip to see sea otters in the wild, but unfortunately ran out of time. Which happened a lot during our road trip. We needed more time everywhere!
Kelp Forest
Little Charlie, age 2 is a big Octonauts fan and was beyond excited to spot a kelp forest and then even more thrilled to see leopard sharks, a red octopus and lots of different types of fish in the kelp forest exhibit. He stood and watched the fish for a very long time and he doesn't stand still very often.
There's an amazing video of the kelp forest on the aquarium website.
Jellies
My favourite exhibit was the Jellies. They were completely mesmerising. Did you know jellies have no bones, brains, blood or teeth?
Moon Jellyfish
When we first entered Monterey Bay Aquarium we saw some tiny moon jelly fish about the size of a small coin. It's hard to believe those teeny, tiny jellies grow into the large ones seen below.
Sadly plastic bags that make their way into the ocean are sometimes mistaken for moon jellyfish by sea turtles and birds who eat them, meaning thousands of animals are dying every year because of human pollution. Another great reason to reduce plastic bag usage.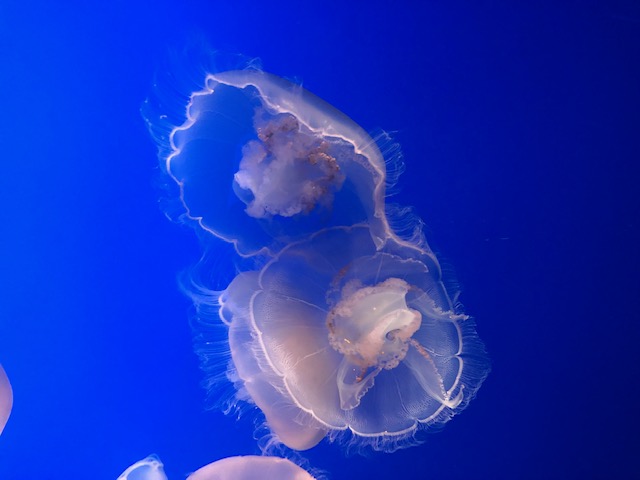 Sea Nettles
Not all jellies sting, but sea nettles do. When they come into contact with prey they sting and paralyse it before digesting! Knowing this makes sea nettles even more fascinating to watch.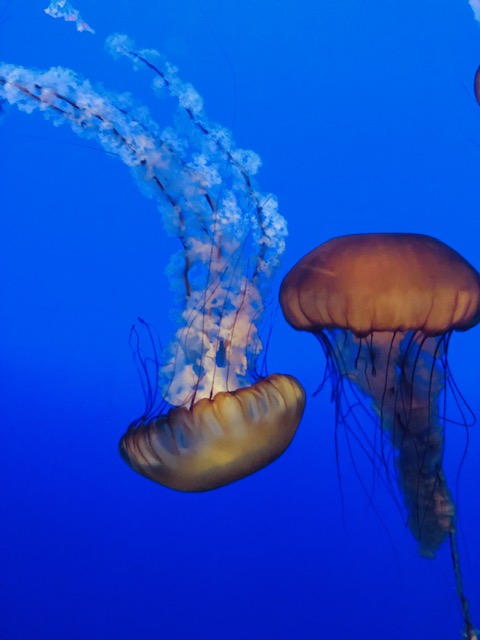 We also saw crystal jellies ( these can live for 2 years in the exhibit! ) and more invertebrates than I can remember.
It was interesting to read that some jellyfish populations are increasing as they reproduce best with an abundance of nutrients and low oxygen, which is a result of run off of nutrients from land.
Tentacles
In this exhibit visitors come face to face with octopuses, cuttlefish and squid species. Did you know octopuses are considered to be the most intelligent invertebrates and have excellent eyesight?
The giant pacific octopus was particulary impressive and at a size of 6 ft across difficult to miss.
We loved trying to spot the octopuses in the exhibits, which wasn't always easy as they can change colour to match their environment, some were also squeezed into small spaces.
The Open Sea
I could have watched this exhibit all day long. The Open Sea is the aquarium's biggest exhibit. You can see tuna, hundreds of silvery sardines and sea turtles. It's quite incredible and a definite must see area of Monterey Bay Aquarium.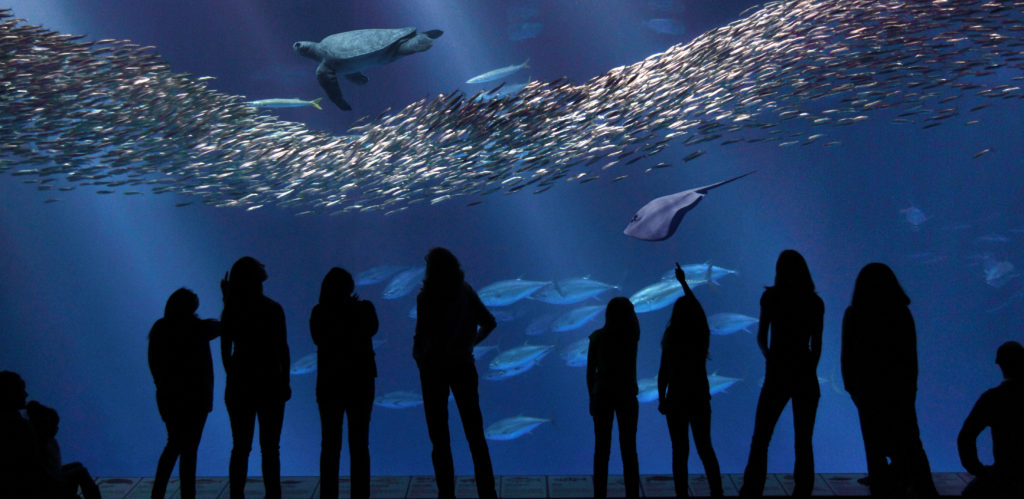 Underwater Explorers – Scuba diving experience
While we were walking around my two daughters spotted children surface scuba diving in the outdoor tide pool. As we'd seen so many amazing sea creatures looking around the aquarium they were very keen to see them in the sea up close.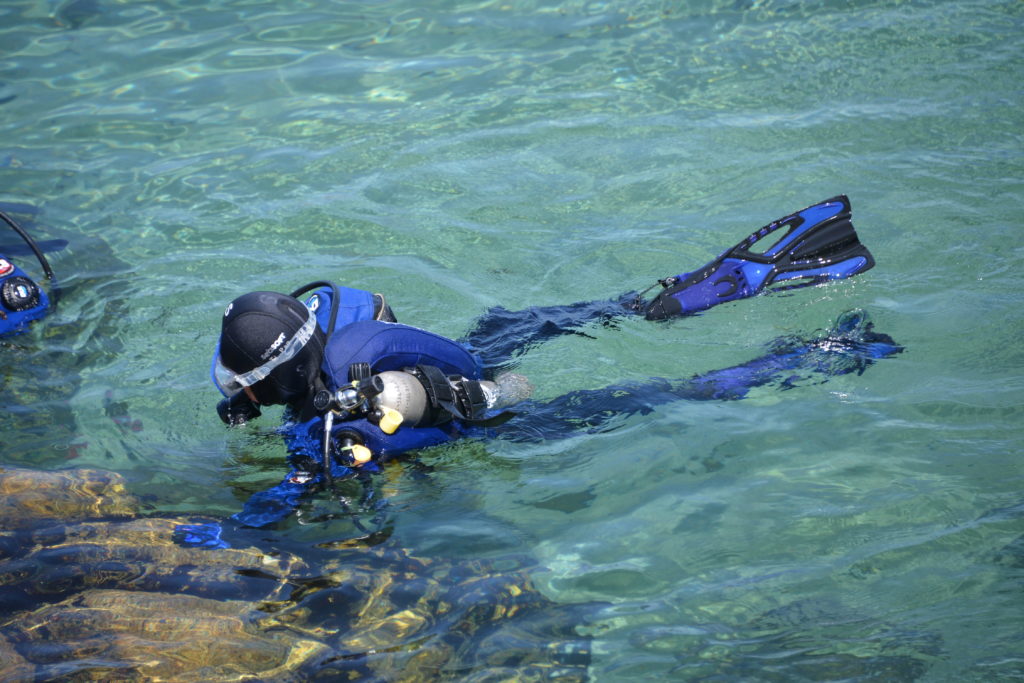 We found out that Underwater Explorers is a special program for children aged between 8 and 13 that runs in the summer months. It costs an extra $95 to do the experience. Both girls asked if they could do the scuba diving as their main birthday present ( both had birthdays coming up ), so we signed them up.
The experience lasted about 90 minutes and included a hot chocolate and a lovely little handbook as a keepsake. I was really impressed to see the handbook included of a photo of them wearing the scuba diving kit.
Both girls really enjoyed the experience, the instructors were brilliant with them ( I know my 10 year old was a little nervous ) and they saw lots of very cool creatures.
It's definitely something they'll be talking about for a long time to come.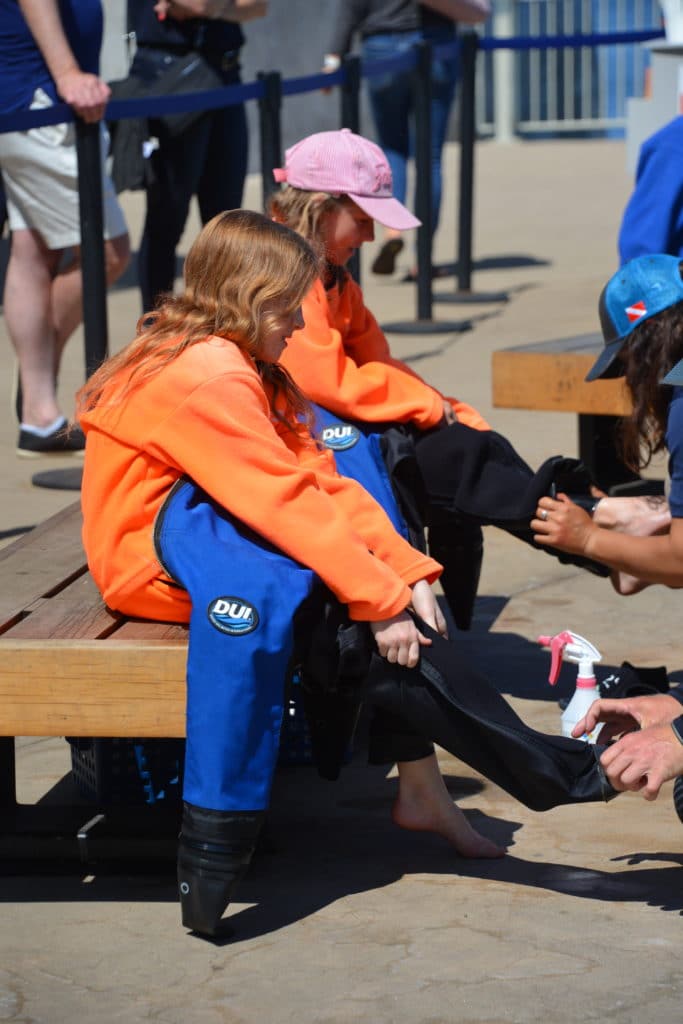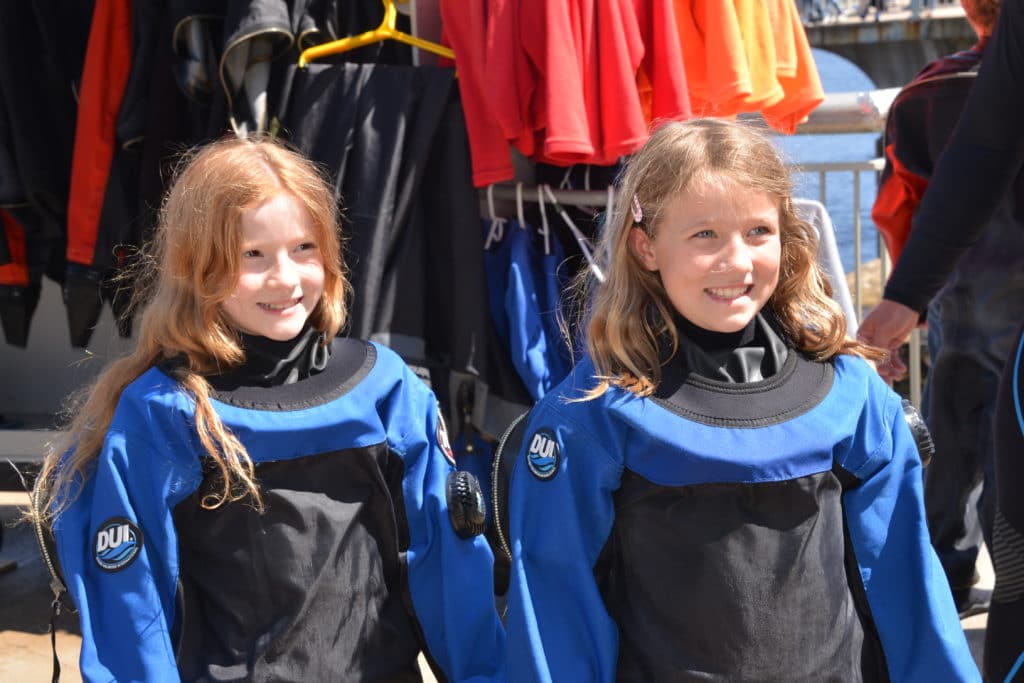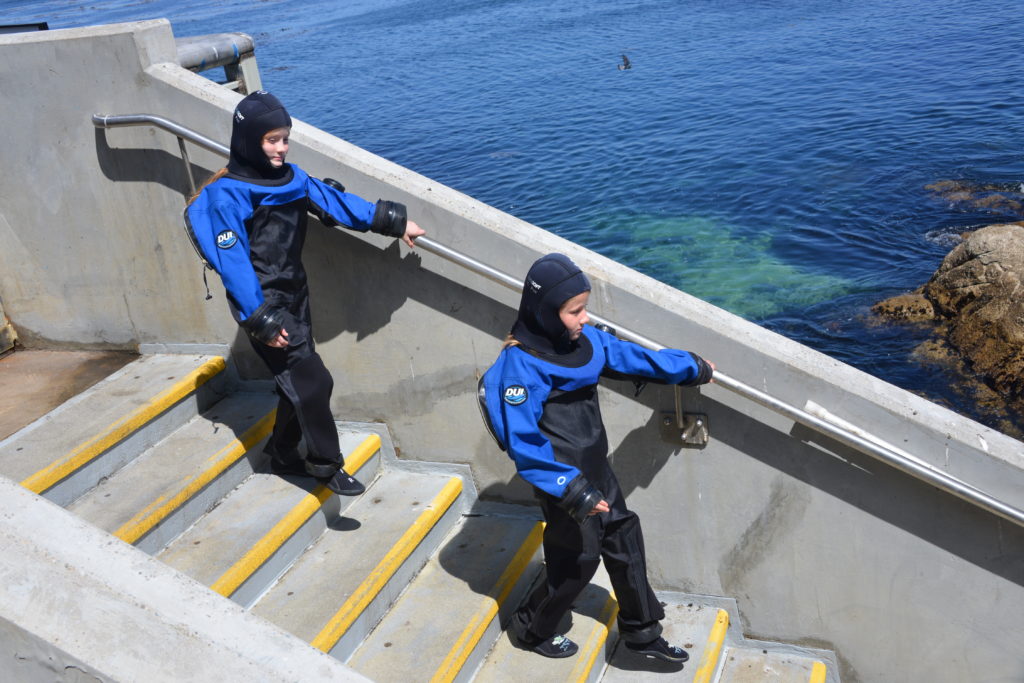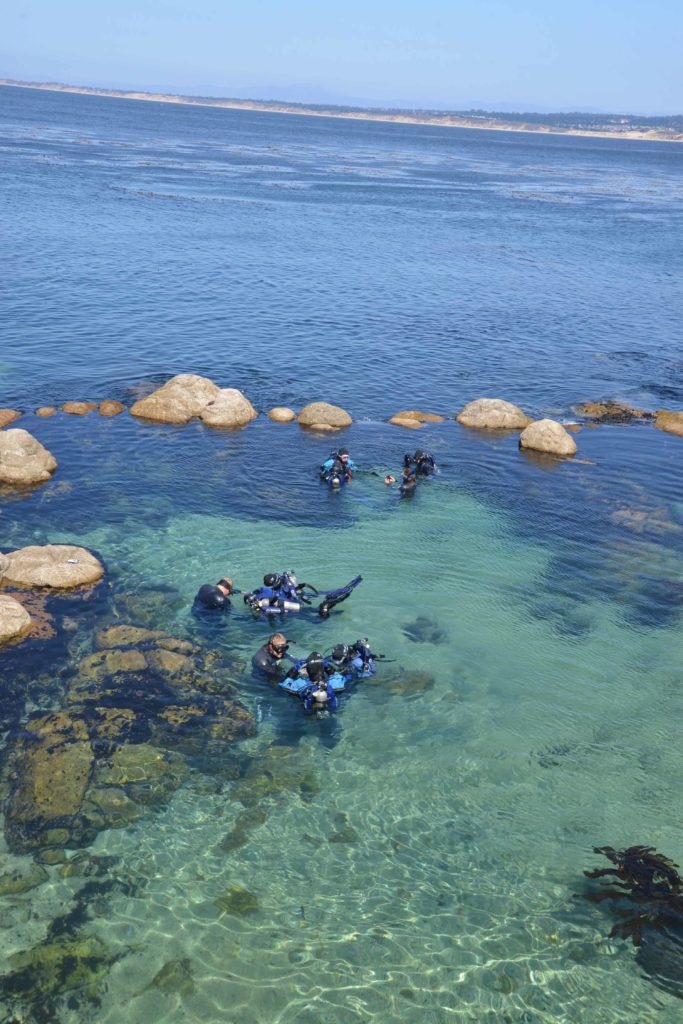 More things to do at Monterey Bay Aquarium
You can see a full list of exhibits at the aquarium here. We very much enjoyed the touch pools which were full of rays, crabs, sea stars and lots of other creatures for children to gently hold. The children spent a long time chatting to the volunteers in this area and all learned a lot.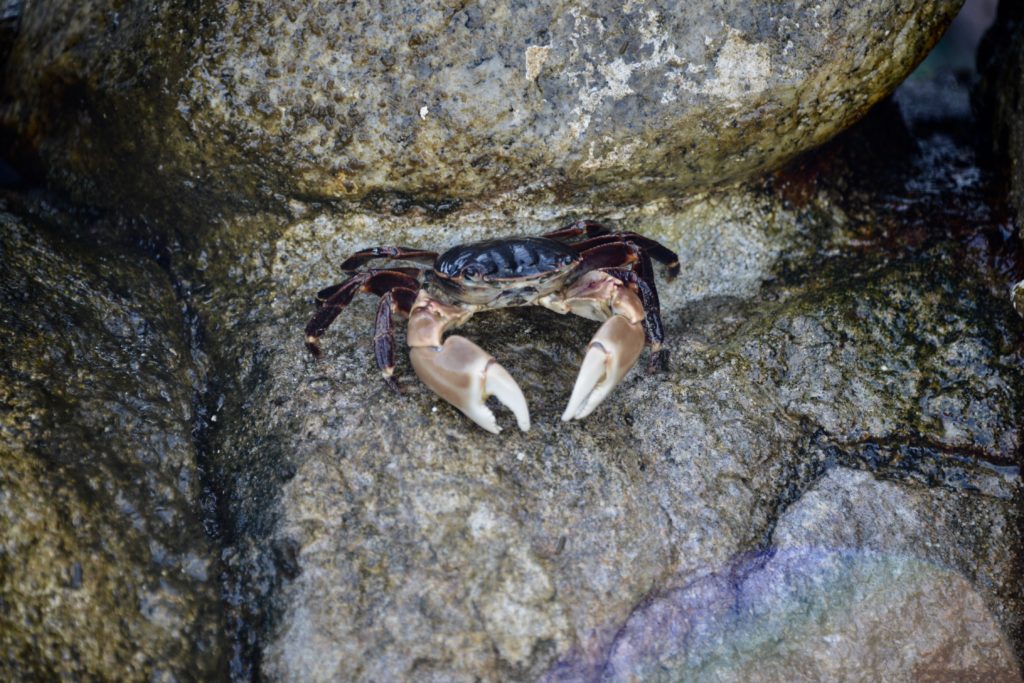 Play in the Play Area – 0-3
There's a great play area for little ones near the Splash Zone which Charlie loved. He especially enjoyed climbing over the water beds and playing in the water area.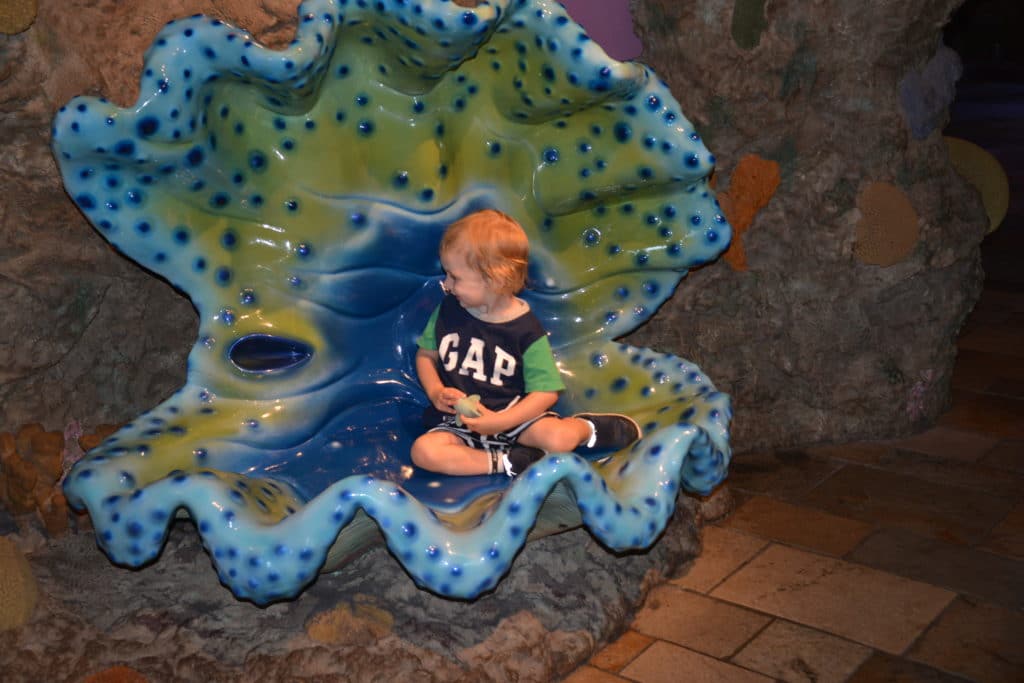 Watch a show!
We all enjoyed watching the short film about White Sharks, it was great to see how they are tagged and tracked. We missed the Sea Otter film which is a shame as the girls were very keen to learn more about them.
Watch a feeding
Several feeding sessions run at different times during the day including sea otters, fish and penguins.
See the website for current shows and times.
We thoroughly enjoyed our day at Monterey Bay Aquarium and would love to visit again one day. The children all came away inspired to learn more about marine life especially from a conservation point of view. I'm looking forward to watching their interest grow. There are some great educational resources on the website which I think we will take a look at in more detail.
Since our visit I've sat with my children and read about the effect of ocean plastic pollution. We're trying very hard to reduce our plastic usage and it was great to see water fountains made for reusable water bottles all around California which isn't something we see so much in England. We took our metal water bottles away with us and used them daily as it was so easy to refill everywhere.
You can see our very simple demonstration of the effects of sea pollution here.
Thank you Monterey Bay Aquarium and See Monterey for providing us with guest passes for an amazing memory filled day that we will all remember for a long time.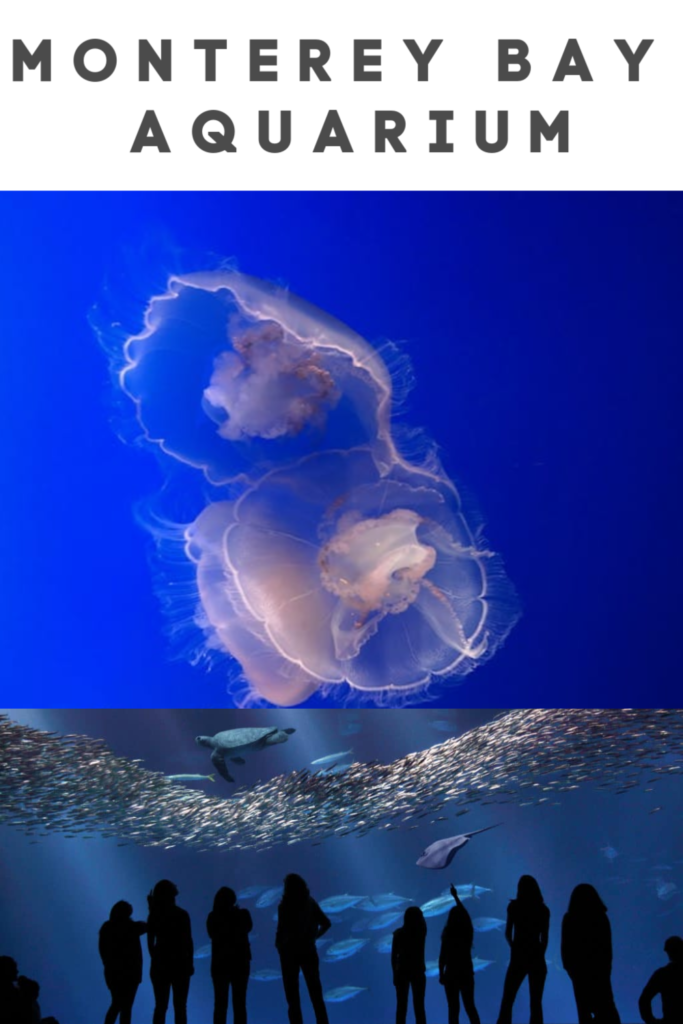 Last Updated on May 25, 2022 by Emma Vanstone