I am very excited and honoured to have a guest post by the lovely Emma from A Bavarian Sojourn today. Emma's blog was one of the first blogs I ever followed back in 2011 when she was still in Denmark. I never thought I would want to live outside the UK, but reading about all the wonderful places Emma and her family get to see has made me wonder if it's an adventure we should try and I am most definitely adding Munich to my list of places to visit soon.
This post is from Emma's recent trip to Japan, when they visited the Tokyo Science Museum. It has me wondering where else in the world has an amazing Science Museum, do you have one near you?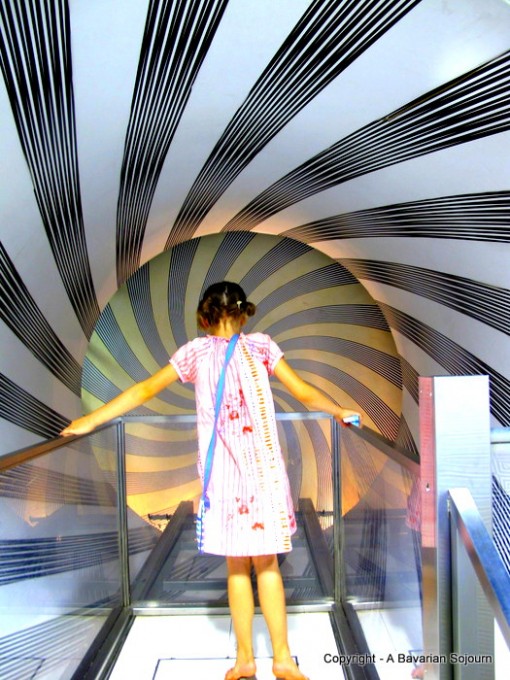 Alice in Wonderland?  Not quite, but pretty close!   Alice in the Illusion Department of Tokyo Science Museum in fact – except she's not actually called Alice!     "Tokyo Science Museum"…  That very phrase raises high expectations doesn't it?    For in the land of Robots itself, you kind of imagine something quite spectacular before you even go inside, and believe me – by the time you have to leave, you will be by no means disappointed!
A short walk from Takebashi Station, this fabulous place is set on the edge of beautiful parkland.  And quite unbelievably, we almost had it to ourselves!    Having visited many a Science Museum across the globe, this one in the Japanese Capital was hardly the place we expected to be so free of people (and which could have had something to do with how late in the day we visited I suppose!), but all in all this worked in our favour, as there were plenty of "scientists" on hand eager to demonstrate various experiments – such as creating speakers with household objects (and quite bizarrely, the human skull)!
There is honestly nothing to dislike about this place, the only disappointing thing was that we only had two and a bit hours to play with due to a hectic schedule, when we definitely should have set aside the whole day.      We had to literally drag the Small Boy away from this beautiful lightening globe (what is the actual scientific term?) that he was so convinced had something to do with Star Wars, and the  Robot Section had us all darting off in different directions so eager were we to meet them all before closing time!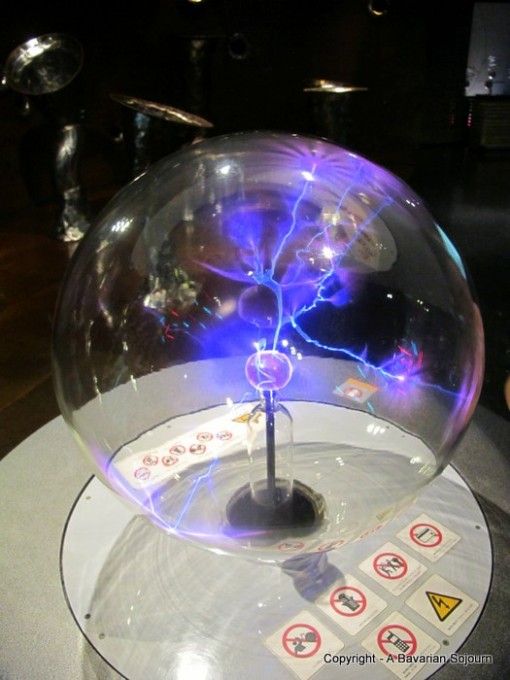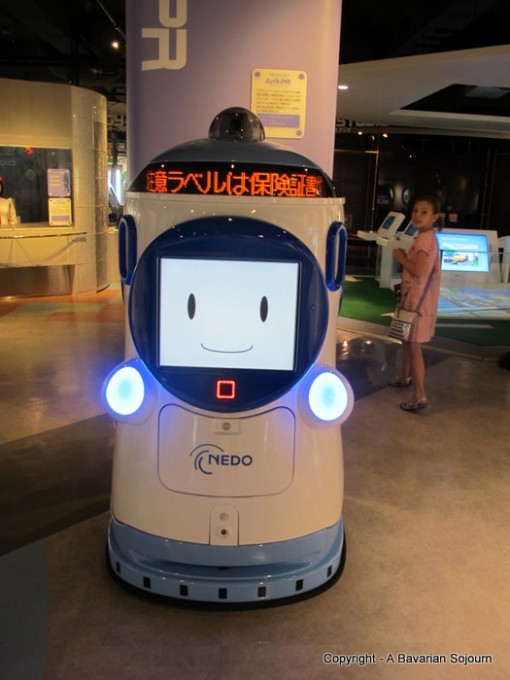 We loved the top floor the very best I think, with its incredible array of  stuff to explore.   From the "Jumping" exhibit that demonstrated how flexible the human body is, and captured every single move (and then played the results back to a huge round of applause) – to the Giant Mouse Trap display with the humongous metal ball bearings (that took a lot of strength from the larger members of our party to get around the lengthy track), that would later provide the basis of a discussion on Kinetic energy from their engineering background father.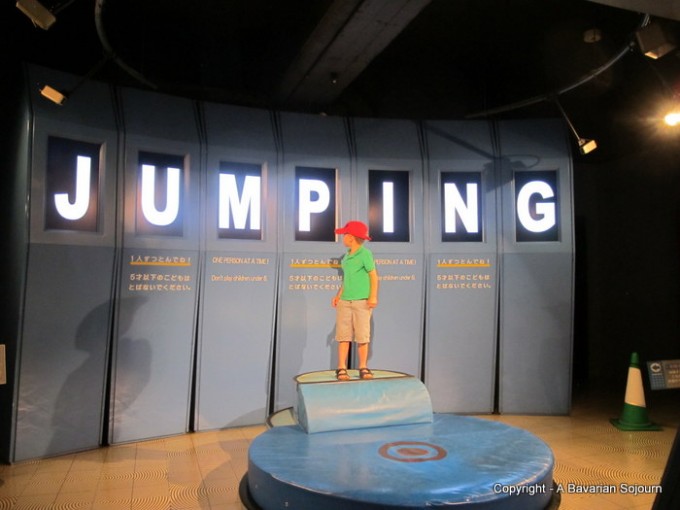 Also worth a visit is the Denki (electricity) Section with plenty of hands on exhibits to play with, and the fantastic personal bar code making machine in the Optics Section, where we spent a happy 15 minutes programming our details into a computer, then having them printed and read with the results displayed in fluorescent lasers in a darkened room.  And I know some of us would have liked to have spent several hours designing a new car in The World of Motors!
Don't miss The Work Shop on the 5th floor either, full of hands on bubble wonders, air cannons,  and vortexes a plenty to inspect (plus this section seemed to have an actual real professor type busy with all sorts of scientific tinkerings in the background!).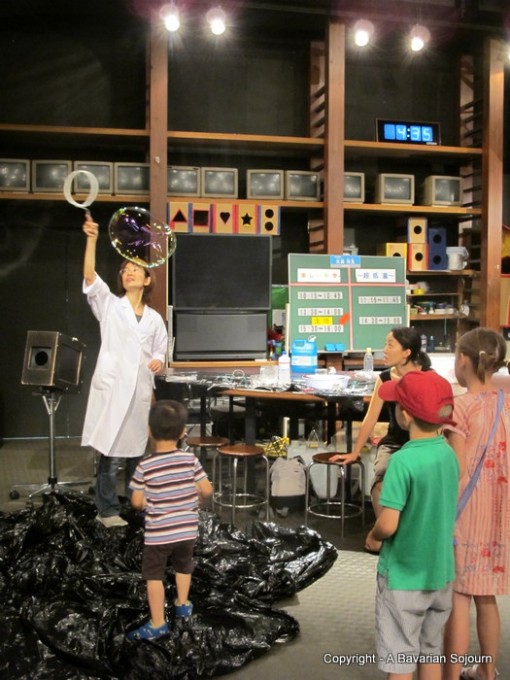 And as if we needed confirmation that this place is one of the best Science Museum's that we've yet to visit, for several days afterwards we were bombarded with all sorts of scientific questions from the children about what they had experienced there – which has to be a good sign right?   A fantastic place for enquiring minds young and old!
Here are a few more tips to help you plan your day:
Make sure you set aside half a day minimum if possible.   We arrived with only a couple of hours to spare and left disappointed that we hadn't had more time to explore and play with exhibits;
If you are there for lunch, then check out the cute little snack bar/cafe on the 4th floor, which is slightly easier to navigate than the cavernous basement restaurant!
Don't be afraid of asking the "scientists" to demonstrate something or give you a hand working something out.    They are often waiting for you to do exactly that!
There are plenty of hands on demonstrations throughout the day, pick up a timetable at the ticket office;
Most exhibits are not in English, but this did not detract from our experience and I definitely think it was one of the highlights of Tokyo for our children;
Cost:  700 yen for adults.  Between 250-400 yen for children depending on age;
Opening hours – between:  9.30 and 4.50pm each day;
Tokyo Science Museum is Closed on a Wednesday (unless it's a public holiday and then it's probably open!);
Huge thanks to Emma for this great post.
Last Updated on May 25, 2015 by Emma Vanstone