Welcome to the very first Science Sparks weekly STEM challenge!! Each Monday I'm going to post an new easy challenge for you to complete during the week and hopefully share your wonderful results with me on Twitter, Instagram or Facebook using #ScienceSparksChallenge.
First up is this easy water drop maze.
Click the image below to download our FREE instruction sheet.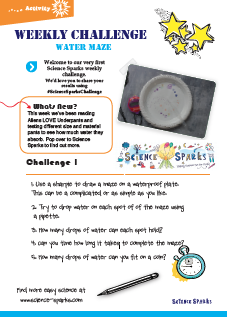 Don't forget to share your maze with us on social media using #ScienceSparksChallenge.
Last Updated on July 2, 2017 by Emma Vanstone