This is a sponsored conversation written by me on behalf of Sphero. The opinions and text are all mine.

My first job after graduating was as a programmer for a bank, I had very little coding experience at that point as back then children weren't taught to code as part of the curriculum. I've watched with interest how coding based apps have made coding a skill that everyone from young children to inexperienced adults can master and enjoy. I've also spent time over the last two years teaching coding as part of a lunchtime club to 6 and 7 year olds and been hugely impressed and surprised at how quickly children with no previous exposure to coding learn when using apps and tools which utilise the incredible power of play based learning. I'm now very excited at the possibility of running a similar club using Sphero Edu as I think the results will be even more impressive.
What is Sphero SPRK+ ?
The Sphero SPRK+ Robot is a small ball that can be easily programmed to race around a circuit, change colour, run through water and much, much more. The possibilities and interactive learning opportunities both in a classroom and home environment are endless. One simple example is this K'NEX frame we created for our SPRK+. Initially the plan was to cushion the robot from walls but then we added a finger part so SPRK + could knock down our dominos. What do you think?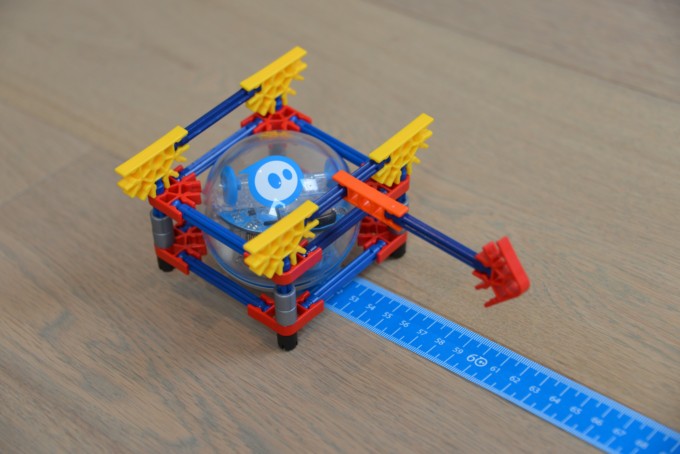 SPRK+ looks amazing with changing colour lights and the fact that you can see the mechanism inside instantly appealed to my son who likes to know how things work.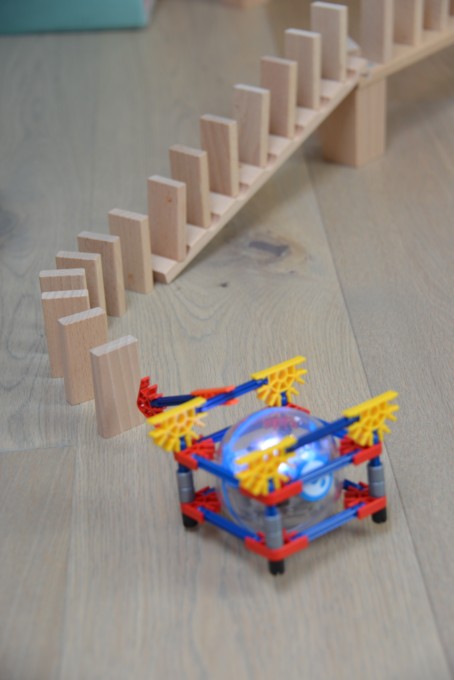 Coding with Sphero SPRK+
An iPhone or Android Sphero Edu app is used to create code for Sphero which pairs with an iPad, tablet, iPhone, or smartphone via Bluetooth, a couple of little taps on Sphero wakes it up and it pairs straight away. Once it turns blue you're ready to start. Setting up Sphero SPRK+ is super quick and easy, we were ready to code in just a couple of minutes.
I have seen first hand how much children love to code with programs like scratch, but Sphero Edu takes coding to a whole new level with its use of robotics and the ability to combine coding with hands on STEAM activities harnessing the boundless power of a child's imagination and utilising real world concepts and experiences.
The Edu app allows users to create code by drawing, using blocks of code or by writing javascript making it a brilliant resource for everyone from beginners to expert coders. Sphero Edu allows children to learn to code in an approachable, engaging and exciting manner at a level that's right for their skill, knowledge and interests.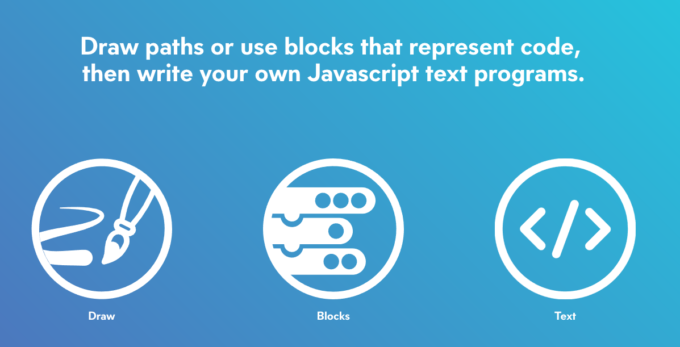 Users can share programs with the community as part of the Edu app. Once you've mastered basic coding with SPRK + we'd recommend checking out the #ThursdayLearnDay videos by Sphero for inspiration. You can make SPRK + jam to the beat of a song, turn it into a Magic 8 ball and so much more. We are really excited by the possibilities and can't wait to start sharing our own programs.
Our experience with Sphero SPRK+
My 6 year old has thoroughly enjoyed drawing paths for Sphero SPRK+ to follow and has big plans to make a maze for our robot to follow over the summer holidays. SPRK+ has been fantastic for her as the app allows her to achieve want she wants to do without overwhelming her with blocks or written code that she sometimes finds hard to grasp.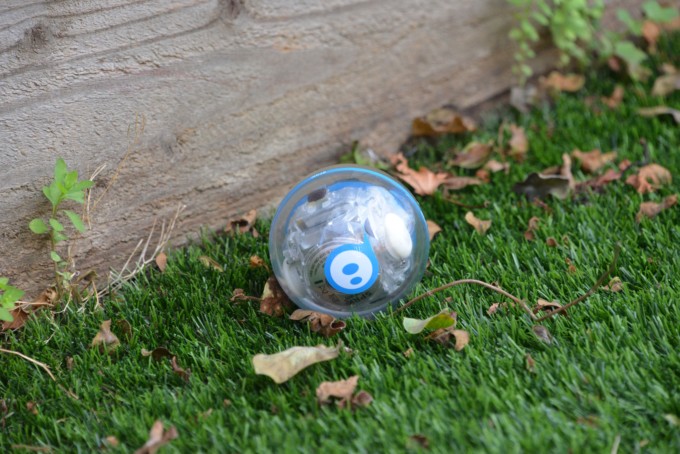 My 8 year old is the most creative of my children, and has been busy creating a house for the robot, complete with ramps for stairs and windows for him to pause to look out of. Her next task is to test how steep a ramp Sphero SPRK+ can climb and create something she can put around the robot to add extra traction to help slow it down, as SPRK+ moves very quickly along our wooden floors.
My 10 year old quickly moved beyond the drawing of paths to block based coding and after starting with very basic programs is now trying to push himself further and further each day with more complex code. It's not often I see him so enthusiastic about something. His next plan is to create a football game complete with goals in the garden. I can't wait to see how he gets on.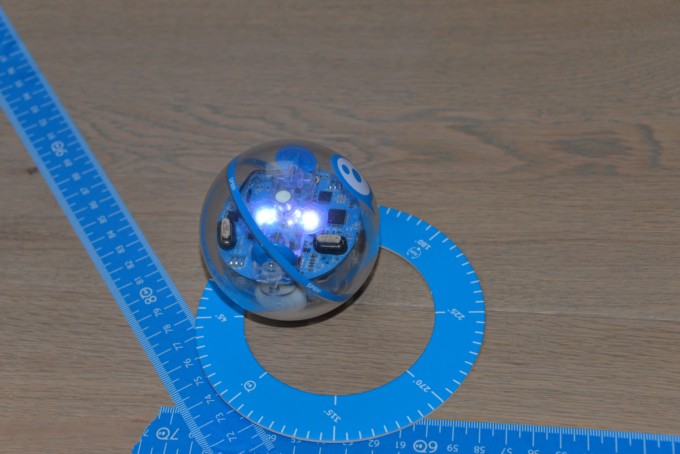 Zak has also loved getting to know SPRK+ using the Sphero app which allows users to drive SPRK+ around while learning tricks and completing missions. This app is a great way to introduce children to Sphero and the many capabilities it has.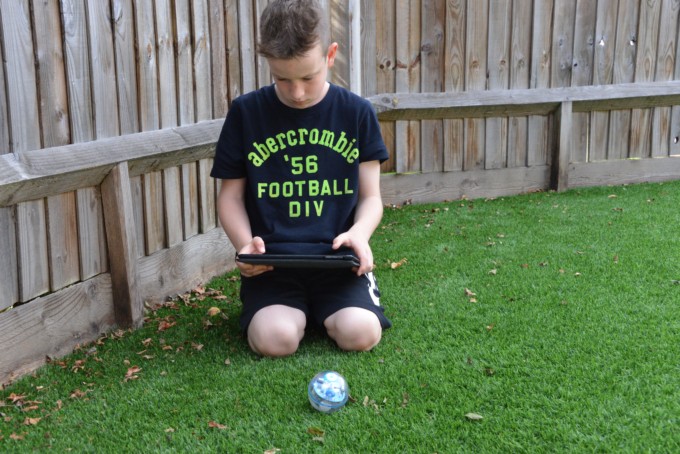 As you can tell all three children have exciting and very different plans for what they can do with SPRK+ over the holidays, which I find fascinating as each of them have found a different way to use the robot to fit their ability and interests.
Why the SPRK+ Robot and Sphero Edu app are changing how kids learn
The combination of the SPRK+ robot, the Sphero Edu app and the amazing programs being created by Sphero enthusiasts around the world are perfect for inspiring a passion for robotics, coding, and STEAM principles while supporting other areas of learning at the same time. For example, one of the first lessons in the Edu app is calculating perimeter. This hands-on, creative and interactive learning experience is so incredibly exciting and one I hope many more children are lucky enough to experience.
Last Updated on September 8, 2022 by Emma Vanstone