Two years ago I helped my daughter's infant school take part in the Great Science Share for Schools. The whole of Y1 and 2 took part in a magical science morning where they stood inside a giant bubble, built a Makey Makey piano, created a landing pad for an egg, tested how different liquids flow down a ramp and most of all asked lots of their own scientific questions!
Three lucky children then got to share their experience with Prof Danielle George from Manchester University via Skype. The whole morning was a fantastic experience for the children and we'd thoroughly recommend you sign up and take part if you can. You don't have to do something quite as extravagant as our science morning as GSS enables everyone to join it as they wish – the key thing is to place the children at the centre of the experience of sharing science with others. It could be as simple as making paper aeroplanes and testing them. Sharing can be with other classes, teachers, friends, family etc.
I'll be taking part from home this year on 19th June as life is still a bit crazy with a baby, but I'd love fellow bloggers and parents/teachers on social media to join us.
How can I get involved?
On the 19th June ( or as close to that as you can ) we'd love you to share how you and the children you work or live with are doing science. This can be with us on Twitter, Facebook or Instagram. Just a photo and small explanation is fine, or if you want to write a whole blog post that would amazing too.
Use #BloggerSciShare and #GreatSciShare so we can find you or tag @sciencesparks 
I'm hoping to have a prize to giveaway to one lucky participant so pop back for more details on that.
What can I do?
Anything that involves children doing and sharing science!! What questions do they have about slime or oobleck, lava lamps, or rockets? Question question question… there's so much science involved!
Easy ideas for a Great Science Share
Investigate how different liquids flow with a simple viscosity race. This can be done on a small ramp ( chopping boards or small white boards work well ) or you could make a giant version.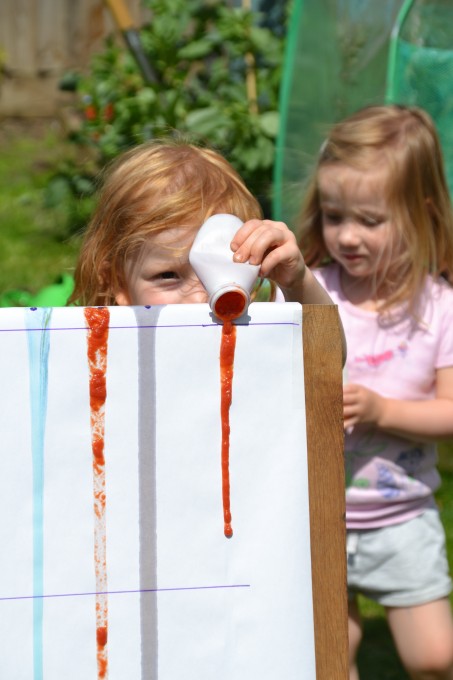 We loved our giant oobleck tray. This would be perfect for EYFS or Key Stage 1 especially. There's a lot of awe and wonder in oobleck!
Paper spinners are a fantastic simple and inexpensive science activity idea. These would work brilliantly as a competition with lots of questions to ask.
How can you make a spinner fall faster?
What happens if you make it heavier?
What happens if you make the spinner smaller?
Why does the spinner spin?
If you'd like to join us leave me a comment here or message or tweet me on social media then share your science on the 19th June using the hashtags #BloggerSciShare and #GreatSciShare. We can't wait to see what you have planned.
We've also got some fantastic printable investigation sheets if you need more ideas.
Last Updated on May 17, 2018 by Emma Vanstone