One of my favourite bloggers is the lovely Maggy from Red Ted Art. If you haven't come across her blog yet, do go and take a look as there are hundreds of brilliant craft and activity ideas for kids of all ages. Maggy has written this great guest post for me today with lots of easy Christmas crafts for kids with a scientific twist!
It's really wonderful when you think how many of the easy crafts for kids we take for granted, can be used to explain some of the scientific processes. Same goes for easy Christmas crafts for kids and free Christmas printables where crafts meet science and helps kids learn something new in a fun hands-on way.
Printable crafts with a touch of science behind them always perplex kids and make them wonder how things work. So, let them try to print, assemble and color their own Christmas flextangles. Of course, they will also love playing with them when finished!
Pop-up cards are just the best! We loved making Christmas tree pop-up cards! They are super easy to make but always bring a little surprise to receiver. They open a card expecting something ordinary and then get surprised when something pops up!
Challenge kids to make perfectly balanced Christmas tree twirlers! This inexpensive craft project will keep them entertained and their finished trees will look amazing whirling and twirling from your home ceiling!
You can adapt many of the classic science project to fit Christmas theme. Great example is creating your own Christmas thaumatrope as you explain basics of optical illusion to your kids. Simple toy to make and lots of fun to play with. You can use provided printables to start with and then invite your kids to come up with their own unique designs.
Invite kids to explore different textures and senses with Christmas themed sensory bin. Perfect for little fingers as they try to thread small jingle bells or find other items hidden inside the sensory bin.
Exploring scents of Christmas is super fun! Set up the Christmas scent lab for your kids and explore Christmas with your noses! Sounds like fun, right? You can also invite your toddlers and preschoolers to explore other senses this Christmas.
Santas and elves come to play this Christmas! Print, cut and assemble multicultural Santa printable and you have adorable puppets to play with over Christmas holidays! Kids will have so much fun using these puppets to recreate their favorite Christmas stories!
Candy canes are always in the house around Christmas. This year, instead of eating them, use them for candy cane science experiment! Goes to prove that candy canes are not just for eating!
When it comes to Christmas, one of the fun parts of celebration are the party games. Invite kids to create their own pin the nose on reindeer game for their friends and family. They will enjoy playing the game even more after creating it themselves!
Decorate your yard with these lovely ice ornaments as you explain the science process behind ice. It will look beautiful in your yard throughout Christmas and winter season.

We hope you like the selection of crafts and activities we prepared here, where many of them have background in STEAM and try to explain science in an easy and entertaining way. Many of these activities and crafts where kids use their own hands to recreate the process, help understanding science behind them faster and while having fun.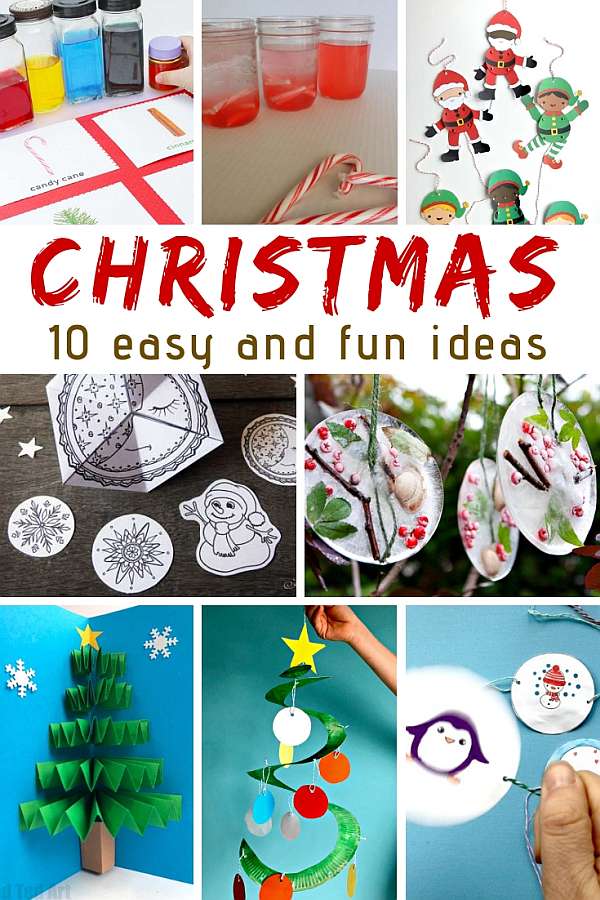 Last Updated on November 27, 2018 by Emma Vanstone