I can't really take the credit for these awesome animal cell models as it was my son's science homework earlier in the year, but he did such a good job I wanted to share on here.
His first thought was to make a spherical cake model, which I thought sounded a bit tricky, so we decided jelly might an easier way to go. It took several attempts to get a good model as some of the sweets he tried melted into the jelly, anything with a coloured coating didn't look good for very long.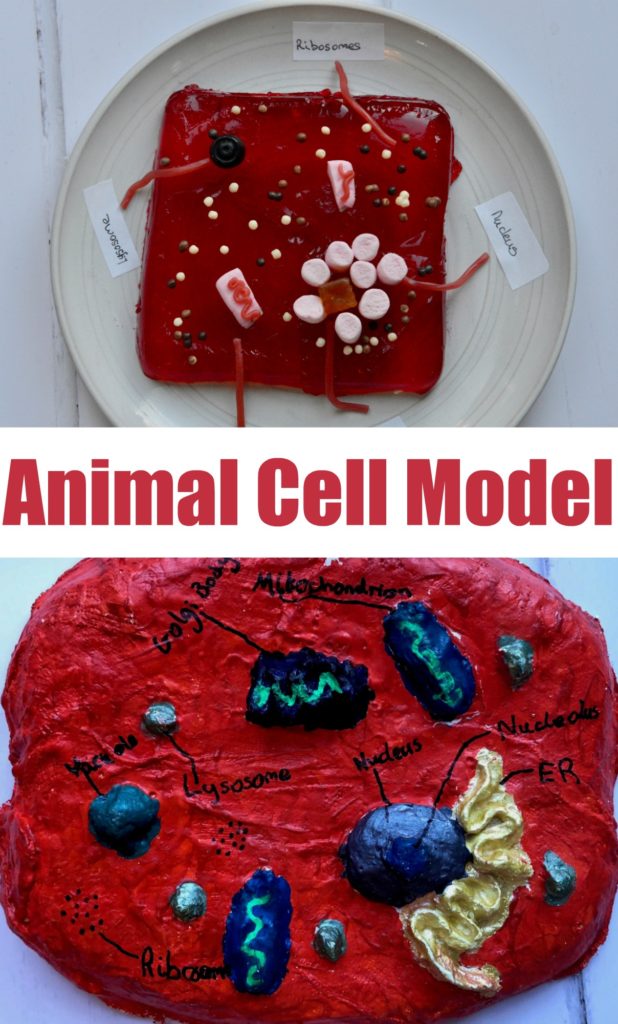 Jelly Animal Cell Model
Did you know all living things are made up of very small building blocks called cells?
What are the differences between animal and plant cells?
Animal and plant cells have three differences.
Only plants cells have the following features:
Cell Wall – this is a rigid coating of cellulose which gives support to the cells.
Vacuole – this is a large space filled with a solution of sugar and salts ( cell sap )
Chloroplasts – these contain chlorophyll which is used for photosynthesis.
Plant cells are much bigger than animal cells ( 40 x as big )
Both animal and plant cells have:
A Nucleus – this controls what the cell does
Cytoplasm – this is where all the chemical reactions occur in the cell.
A Cell Membrane – this is a think skin around the cells which holds the cell together and controls which substances pass in and out of the cell.
Golgi Body – sorts and processes proteins
Mitochondria – this is like the battery of the cell and provides energy using a process called respiration.
Lysosomes – these get rid of waste and also destroy a cell when it dies.
What is a tissue?
A tissue is a group of similar cells working together.
What is an organ
An organ is a group of different tissues working together.
A group of organs work together to form an organ system. The human body has 11 organ systems including respiratory, circulatory, nervous and excretory.
We made two types of animal cell models one using jelly and one using modroc ( plaster bandage ).
We didn't label the cell membrane as that is the edge of the jelly and the cytoplasm is the inside of the jelly.
This is the jelly animal jell model.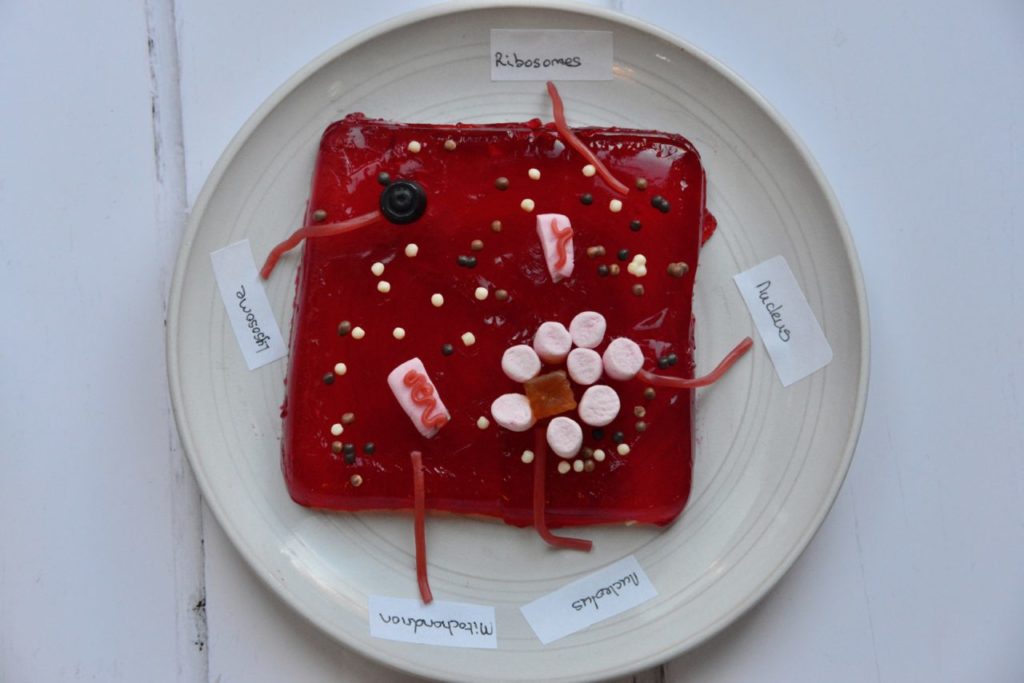 Plaster bandage animal cell model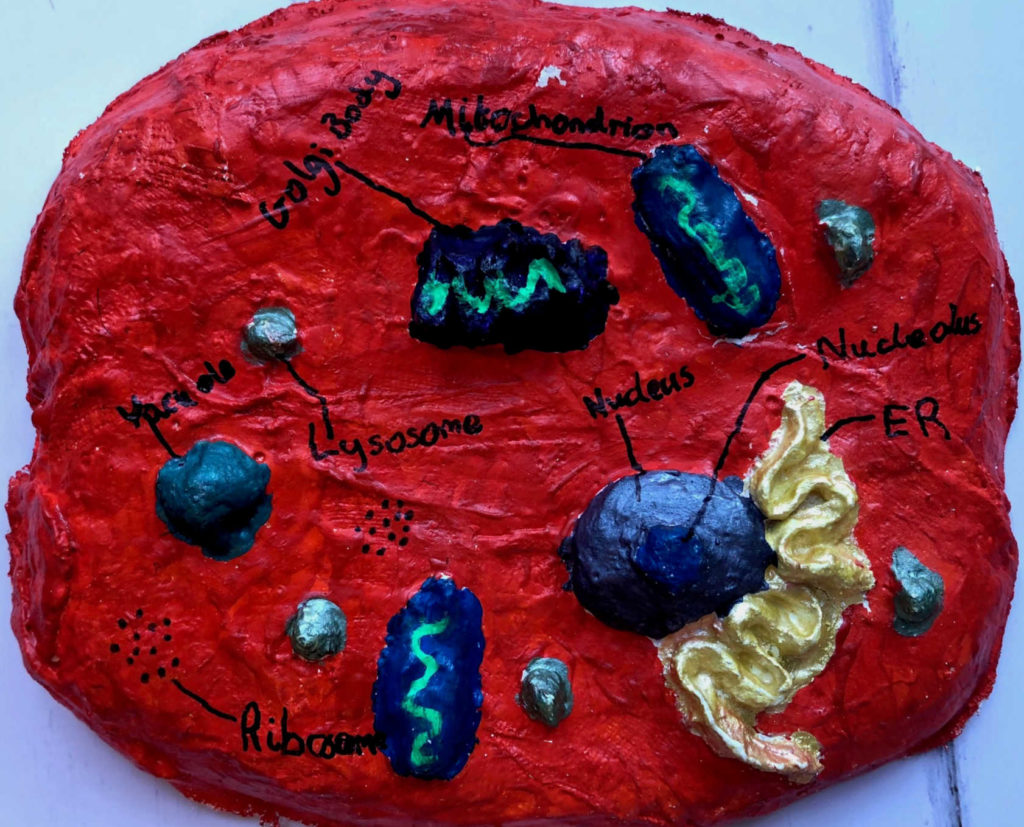 More cell biology for kids
If you enjoyed this activity why not try our fun candy DNA model?
We also have an easy jelly plant cell model you could try!
These printable animal and plant cell revision cards might be handy too. Click the image to download.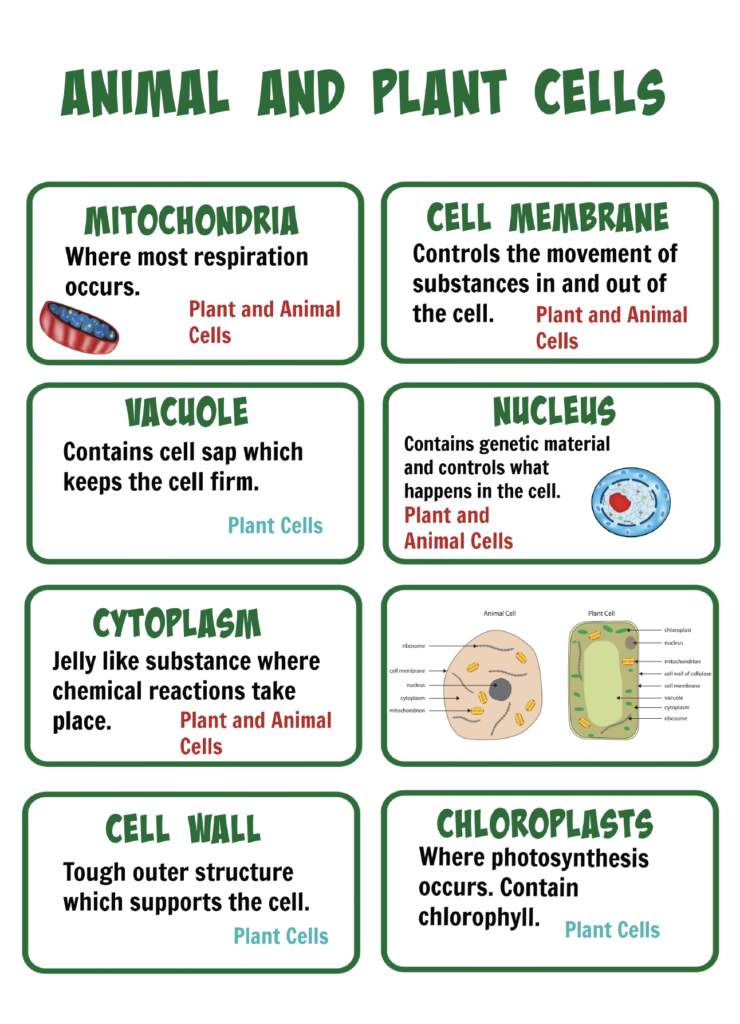 Contains affiliate links

Last Updated on September 20, 2020 by Emma Vanstone