This baking soda powered boat is a great mini engineering challenge for kids. It involves lots of scientific thinking and is a fantastic hands-on science activity.
Little scientists need to think about how the gas produced by the reaction between the baking soda and vinegar will escape and if this will be powerful enough to make the bottle move across the water. Other design factors include weight and the streamlining of the bottle.
How to make a baking soda powered boat
You'll need
Empty water bottle – small
Baking Soda ( bicarbonate of soda )
Kitchen roll or tissue
Scissors
Straw
Vinegar
Tape
Bath or large container
Water
Baking soda boat instructions
Pierce a hole in the non lid end of the water bottle and poke the straw through. Depending on the size of the bottle, you may need to trim the straw.
Tape around the gap to prevent air escaping and keep the straw in place.
Carefully pour some vinegar into the bottle and replace the lid.
Pour some baking soda onto a small piece of kitchen roll ( kitchen towel ) and roll it up.
Stand over your water, stuff the tissue wrapped baking soda into the bottle and quickly add the lid.
Place the boat in the water and watch it go.
The bottle boat should move across the surface of the water and you will see bubbles of gas escaping.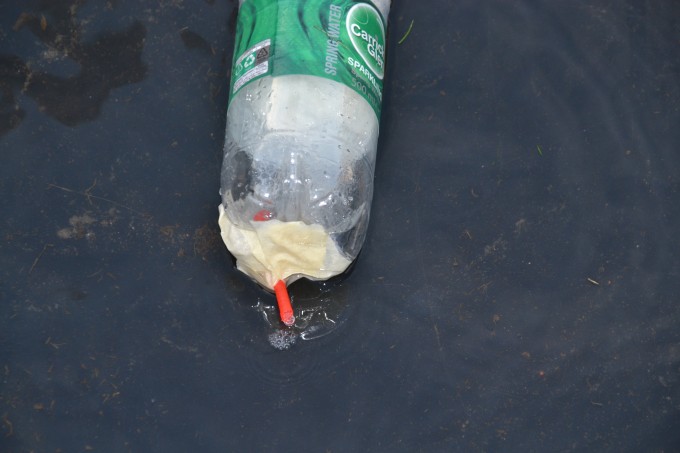 Troubleshooting
If the boat doesn't move check it's not too heavy.
How does it work?
Vinegar (an acid ) and bicarbonate of soda ( an alkali ) react together to neutralise each other. This reaction releases carbon dioxide gas, which is the bubbles you see.
The force of the movement of the carbon dioxide out of the straw causes a reaction force which pushes the bottle forward through the water.
More things to think about
Factors that might affect the movement of the bottle boat are wind, the weight of the boat and the amount of baking soda and vinegar used
Last Updated on September 28, 2023 by Emma Vanstone