My two little girls love nothing more than sitting in the garden talking to their flowers and looking for bugs. Both carefully pick up worms or let ladybirds and spiders walk over their hands, they don't seem squeamish at all. The new GeoSafari Jr sets from Learning Resources are perfect for them and have kept them both entertained for hours, as they first carefully hunt for bugs and then choose the best device to observe them with.
This brilliant magnifier comes with three different sized pots, each with a magnifying window and tweezers to help collect your bugs. My 5 year old was insistent she could keep her snail as a pet in the biggest jar, but we eventually convinced her he'd be happier back in the garden.
The clever double viewer allows children to observe the bug from above and below, which was great for looking at legs and wings without turning the bug over. To place the bug inside you simply lift off the top segment and then replace it. The viewer is very easy to use, sturdy and durable. Perfect for little bug hunters.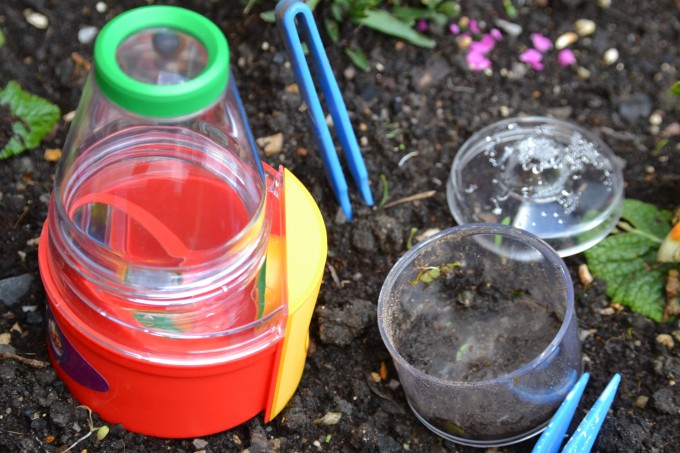 Recommended age 4-8 years old
GeoSafari Jr – Bugnoculars
These were a big hit as well with the 3x magnification allowing for observations of lots of details on the bugs we collected.  Again the container is very sturdy, with a secure fitting lid that is still easy enough for children to open and close themselves.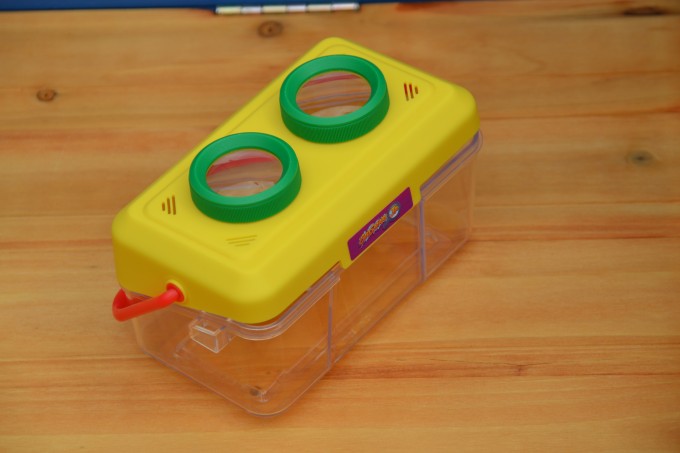 My girls loved the carry handle feature which allowed them to carry it easily when we went exploring. You can even collect fish and tadpoles as the bottom is watertight. The binocular style viewer made it very easy to observe things on the move. The Bugnoculars would definitely a make a brilliant first magnifier for kids.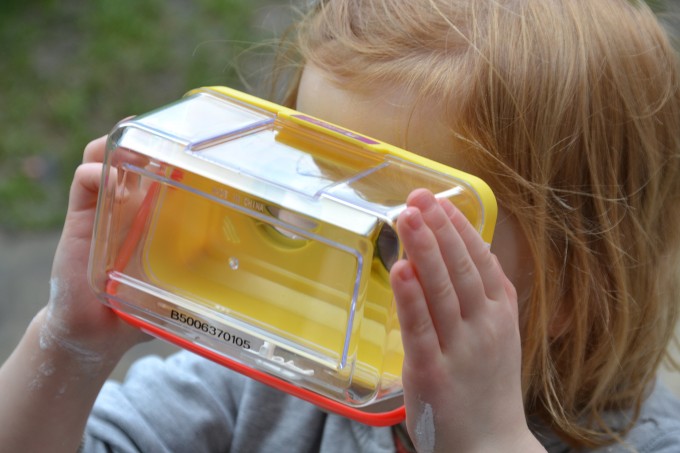 Recommended age 4-8 years old
GeoSafari Jr – Underwater Explorer and Magnifier
Out of all the products this was the one the kids were most excited about. The girls wanted to put it in the bath and my 7 year old immediately wanted to take it to a stream to look at the tadpoles we'd seen the previous week.
The boat can be used indoors or outdoors. You could use it in the bath, paddling pool, water table, on the beach, in rock pools or streams. It offers so much opportunity for learning fun, we can't wait to take it on holiday.
My favourite feature ( apart from the magnifying window ) is the handy wrist strap made to look like a life belt.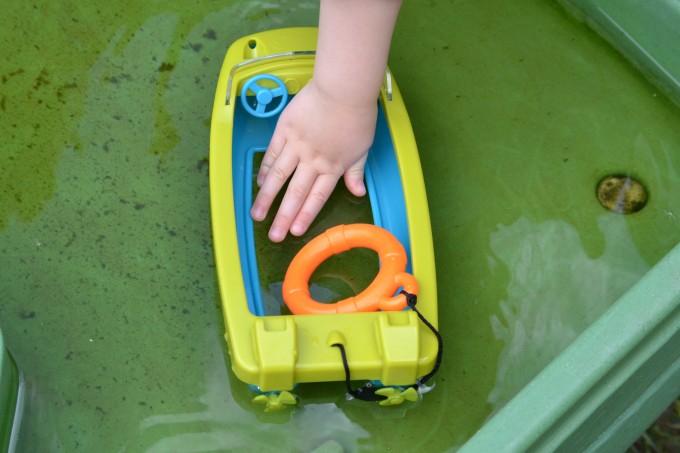 The plastic steering wheel and propellers really spin, adding a bit of extra fun. You could even add some LEGO men.
We thought this was such a cool idea, a really unusual way of exploring underwater life.
Recommended age 3-7 years
This brilliant educational toy comes with 6 bugs. You can switch the net between 2 modes 'fun facts' or 'quiz'. In 'fun fact' mode, simply drop the bugs into the net one by one to learn facts about each. In 'quiz' mode the net asks questions and you have to choose the correct bug to answer to question.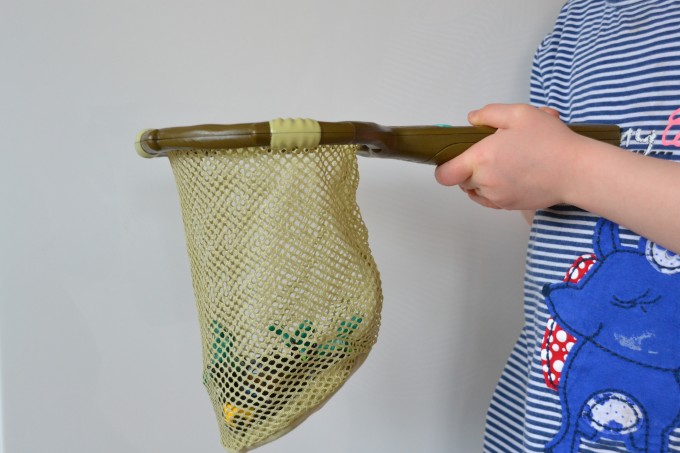 My children have really enjoyed the Talking Bug Net and keep coming back to it over and over again. They all know lots more facts about bugs than they did before.
Again, this is a very sturdy, well made toy and a great, fun way to learn about bugs.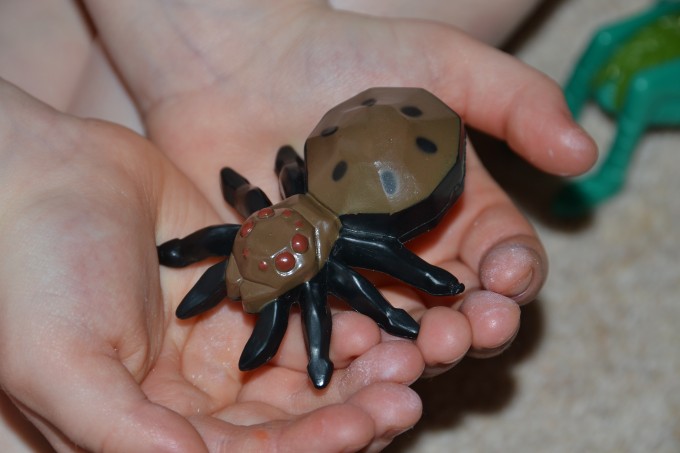 Recommended age 4-8 years
For more in the GeoSarafi Jr range and lots more educational toys please do check out Learning Resources.
We were sent the items above for the purpose of this review.
For the chance to win your very own Talking Bug Net and UnderWater Explorer and Magnifier, complete the Rafflecopter form below.
Terms and Conditions
Competition Closes 11.59pm Friday 23rd May 2014
The winner will recieve a Talking Bug Net and the Underwater Boat from Learning Resources.
Uk only
No cash alternative will be offered.
The winner will be drawn randomly via Rafflecopter.
Winner must respond to their winning e-mail within 2 weeks or the competition will be redrawn.

Win competitions at ThePrizeFinder.com – See more at: http://www.theprizefinder.com/content/geosafari-jr-toys#sthash.2mzHaJvq.dpuf
Free to enter competitions and giveaways in the UK. Win great prizes and freebies.
Last Updated on May 20, 2014 by Emma Vanstone