Here at Science Sparks we love a good wooden marble run and the Quadrilla range from HAPE toys are the best we've found.
The new glow in the dark Space City Marble Run is even better than the standard version as it glows in the dark! Space City comes with everything you need to build several different variations of marble run and includes glow in the dark stickers, full instructions and even glow in the dark marbles! The quality is fantastic, each part is sturdy and well made, it's definitely a toy that will last years and years.
What's in the box?


How hard is it to build?
My 8 year old managed to build the marble run without much difficulty, but it does require a bit of thought and attentaion as you have to make sure the coloured blocks are facing the right way round. It's great for a bit of problem solving practice if a marble falls out where you don't expect!
The plastic dome is a fantastic extra touch and I especially liked the marble catchers as with our other Quadrilla run the marbles go everywhere! Although I have just spotted you can buy marble catchers separately as well.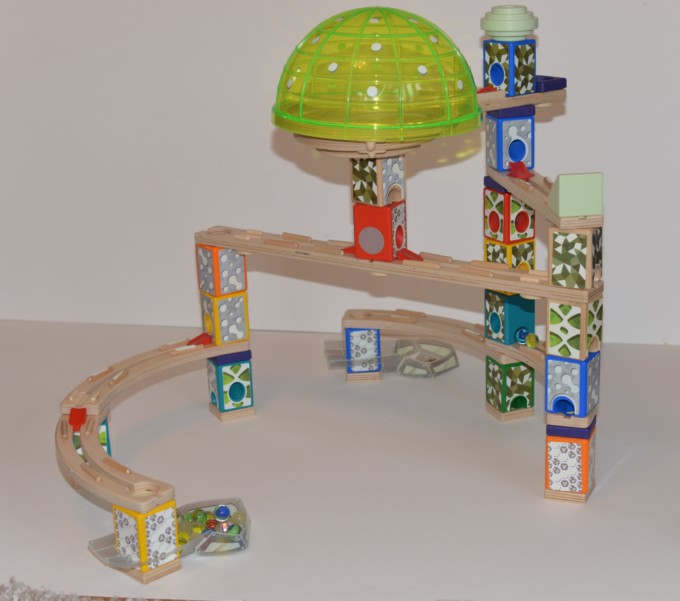 This isn't the best photo, but the glow in the dark feature is great! My children loved it.
We've had great fun building lots of different models with the track. My younger daughter likes to follow the instructions while my 10 year old son has been challenging himself to build his own designs, it's been lovely to watch how they all play differently.
There are loads of marble run accessories available from Hape too, so you can keep adding to the fun.
See it in action here.
We would 100% recommend this awesome marble run, it's a toy that will last for years and definitely one we'll be keeping for grandchildren too!
Also, if you're looking for a great train track, Hape have some lovely options available.
Quadrilla – Space city available from Amazon.
We were sent the Space City Marble Run for the purpose of this review.
Did you know we have a book available? Rocket Science is full of easy and exciting space themed activities perfect for kids of all ages. Click the image to find out more.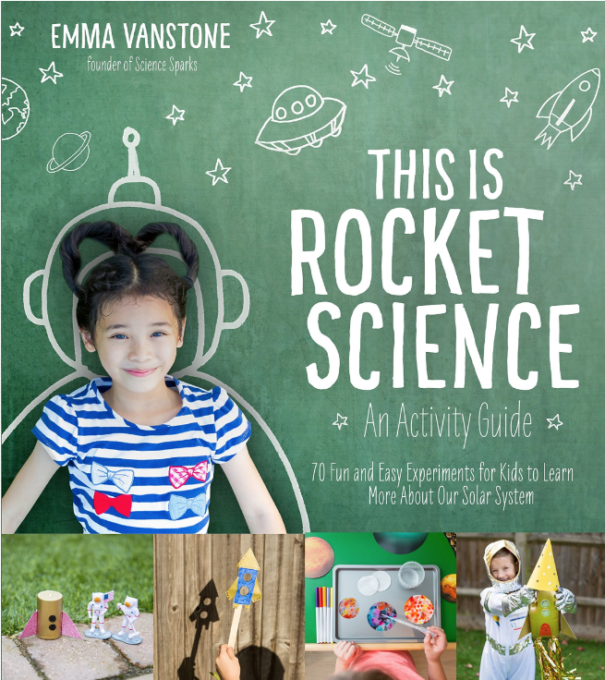 Affiliate links
Last Updated on March 31, 2020 by Emma Vanstone