Today we are looking at a combination of fluids freezing and mixing of colours. This fun colour mixing ice experiment is great for kids of all ages and if you use fruit juice you'll also end up with a lovely, cold, healthy drink.
Another easy icy experiment to try is using salt and ice to cool a drink quickly!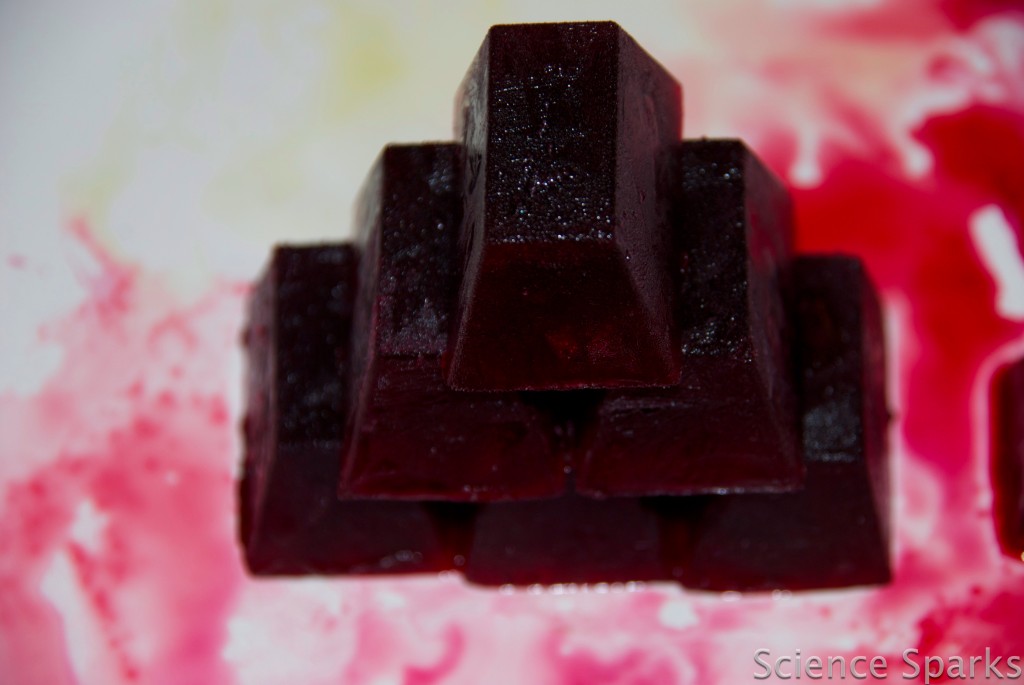 What you need for colour mixing ice
Different colour juices
Ice cube tray
Freezer
Colour mixing ice instructions
Place different coloured fruit juices in an ice cube tray, and place in the freezer until frozen.
Once frozen remove the ice cube trays from the freezer and leave to melt a little bit until they are not longer sticky to touch.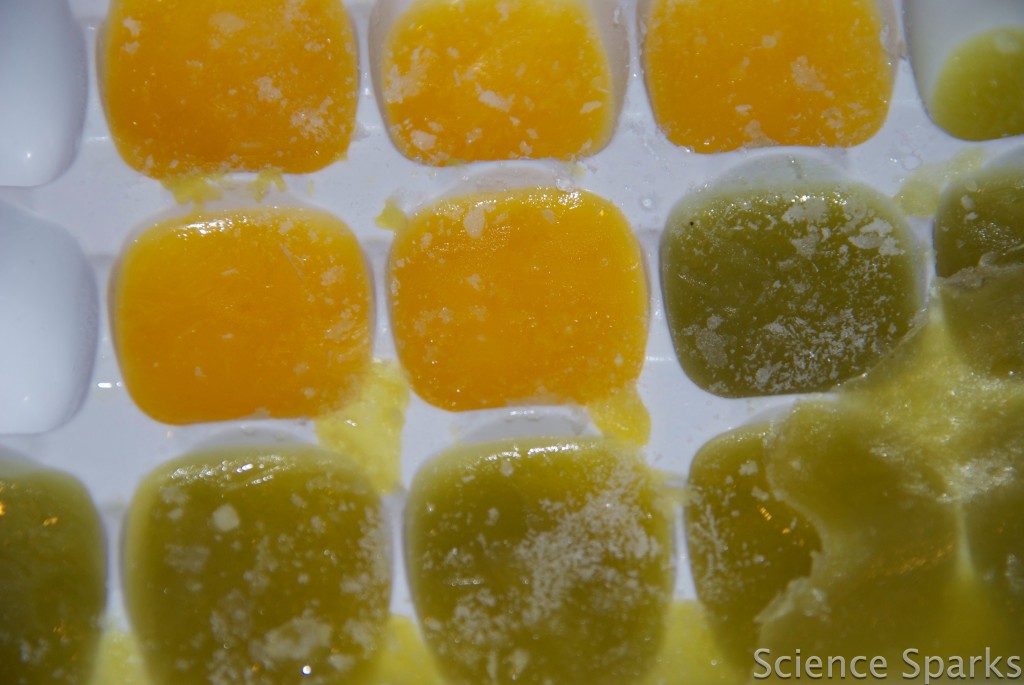 Tip the juice cubes out of the tray and choose different coloured cubes to mix up.
We talked about what colours we thought we could create when the fruit juice cubes melted together.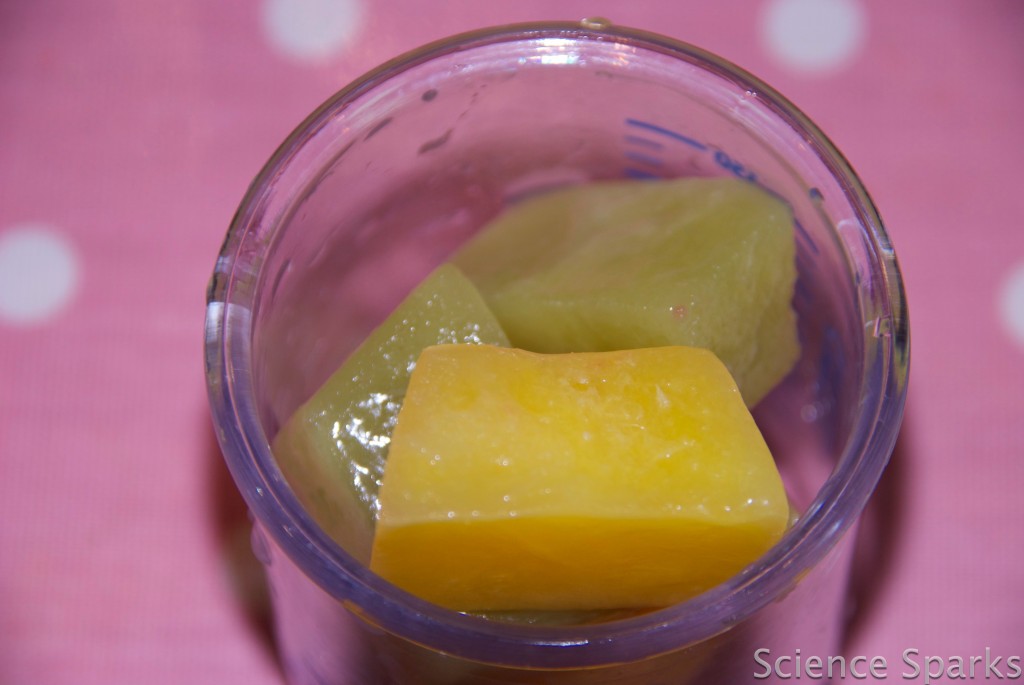 How can you make ice melt faster?
We were a little impatient so decided to find a way to make the juice cubes melt faster.
We crushed them up and held the cubes to warm them with our hands, before long we had a slushy brown coloured juice drink!
If it had been a sunny day we could've also left the cubes in the sun to melt.
In an ideal world we'd have melted a yellow and blue drink to make green or a blue and red drink to make purple, but didn't have all those colours to hand.
Why does water freeze?
Water can be a solid, liquid or gas. In liquid form the water particles can move around freely, so the water takes the shape of the container it is in. When you cool the water down the movement of the particles slow down and the particles become tightly packed together, which means its shape cannot change easily. We will come back to this later on and investigate in more detail.
Why is ice sticky?
Ice feels sticky because when you touch it, the ice immediately freezes the moisture in your skin, which makes the cube feel sticky.
Don't forget to check out our other ice experiments too!
More easy science for kids
I've got 100s more easy science experiments perfect for home or school! Let me know if you try any.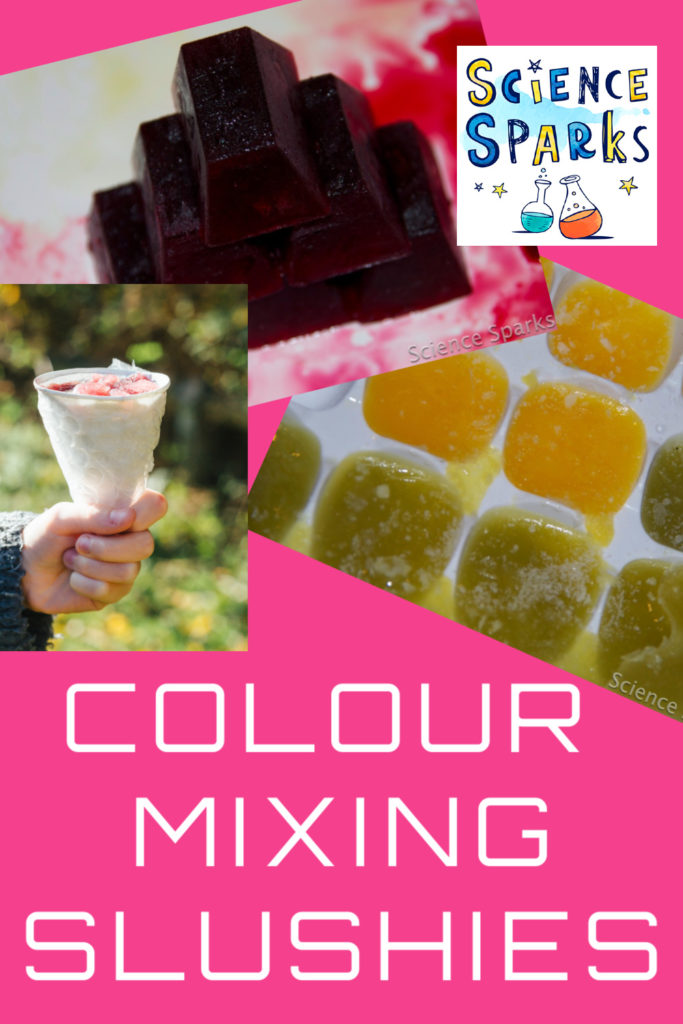 Last Updated on June 11, 2020 by Emma Vanstone