Here at Science Sparks we love simple STEM challenges, and what could be easier than a newspaper STEM Challenge?
All you need for all these challenges is newspaper and tape! They're fun, inexpensive and challenging for kids ( and grown ups ) of all ages. Children will immediately learn that a rolled up tube of paper is much stronger than a sheet of paper. Other things to think about are strong shapes. Triangles are stronger than squares for example and if you get more advanced, domes are super strong! We learned about strong shapes with our mobile rocket launch platform a few years ago.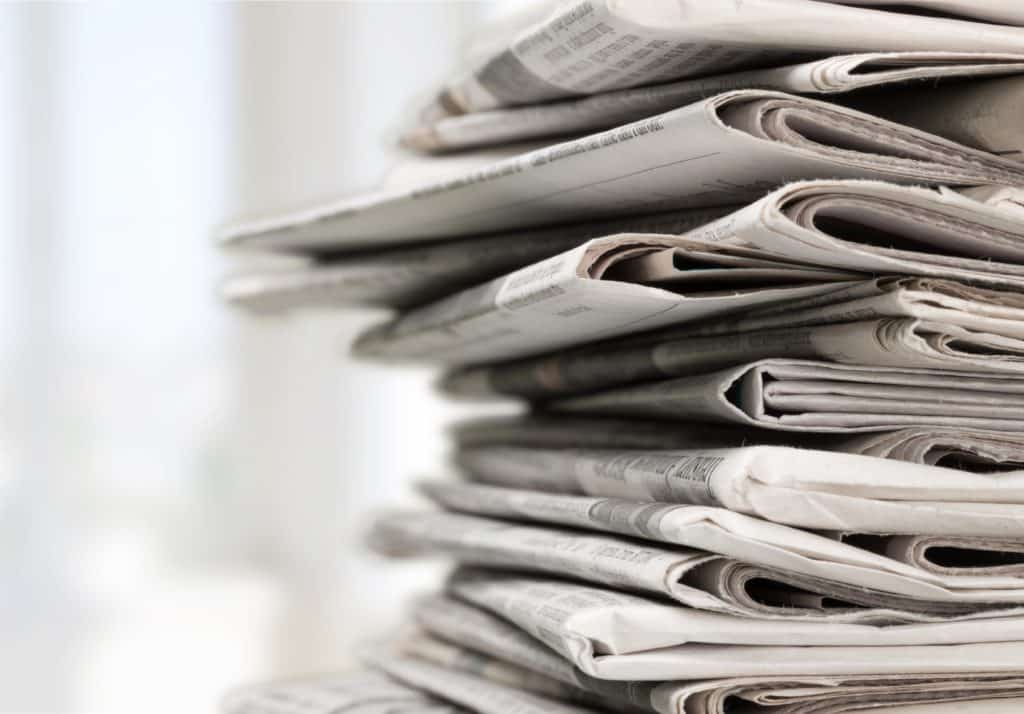 Build a Shelter – Newspaper STEM Challenge
We did this in the last half term holiday, it kept my kids busy for a whole rainy afternoon and then we revisited it a few more times during the week.
Materials for a newspaper den
Newspaper
Masking Tape
Scissors
Lots of helpers – rolling paper takes a bit of time
First roll up the newspaper sheets tightly. If you roll along the diagonal you get a longer, tighter roll. Depending on what you're making it might be a good idea to create rolls of different sizes. We did all the paper rolling first, but you could roll a few, then build and then roll more as you go.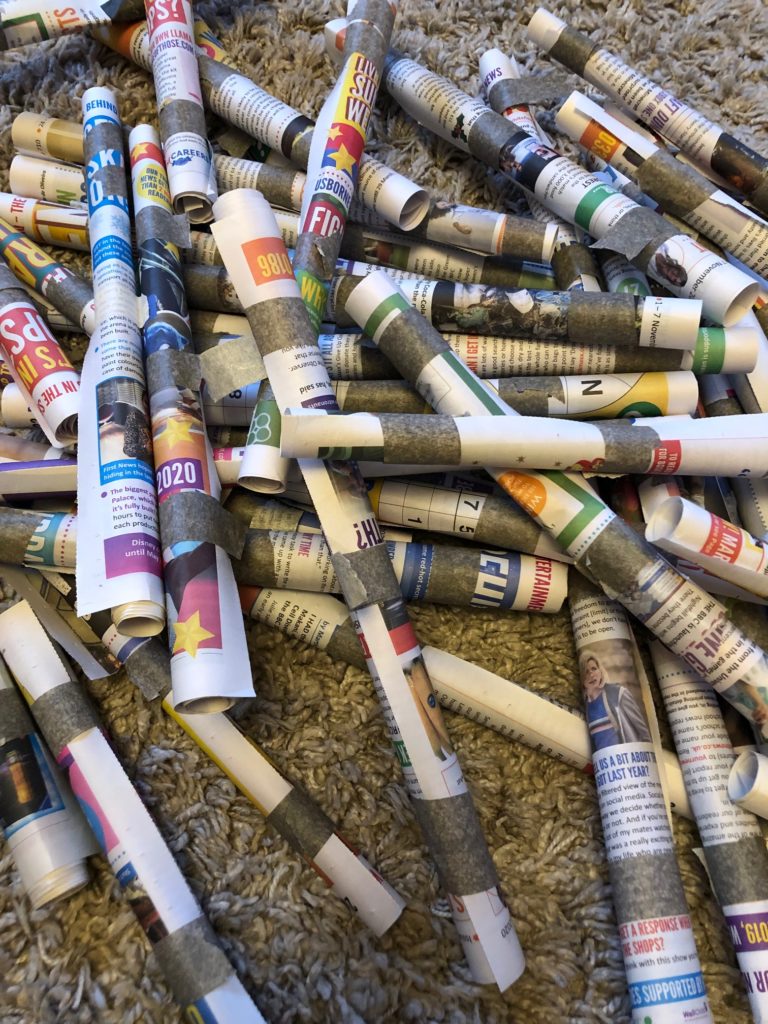 Use the masking tape hold the paper roll in place. We taped the top, bottom and middle.
Once you have a collection of newspaper rolls, get creative!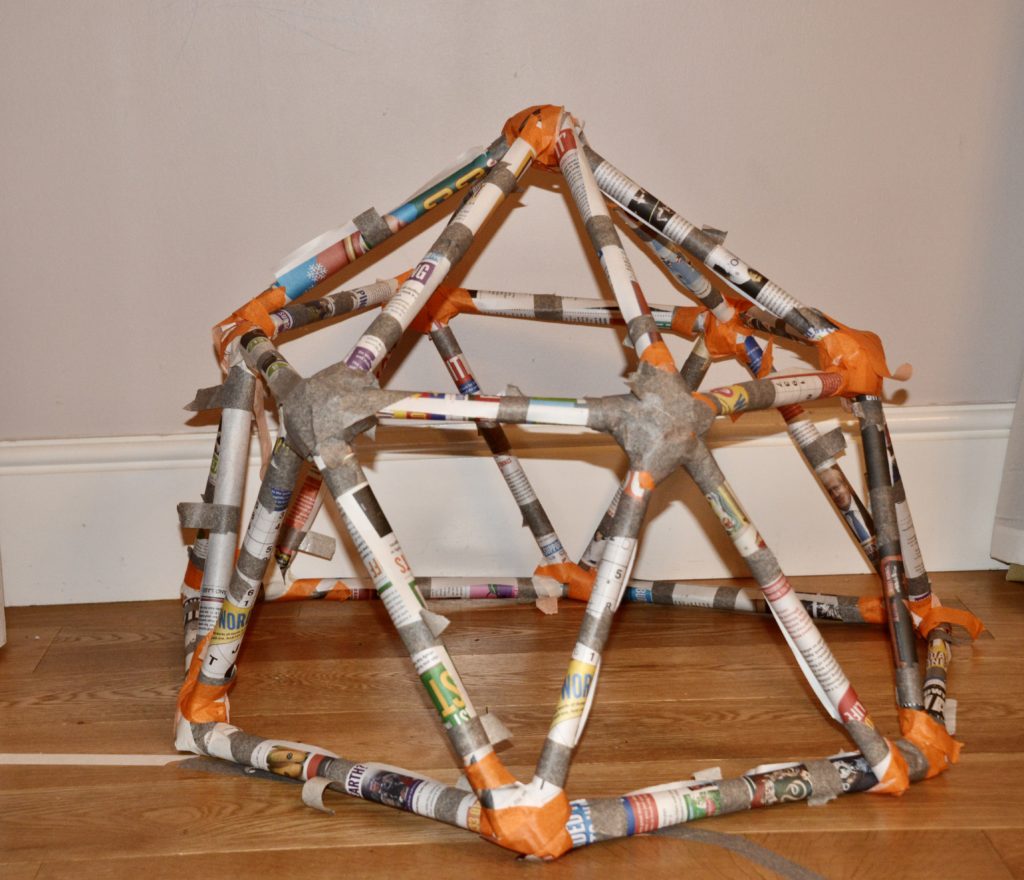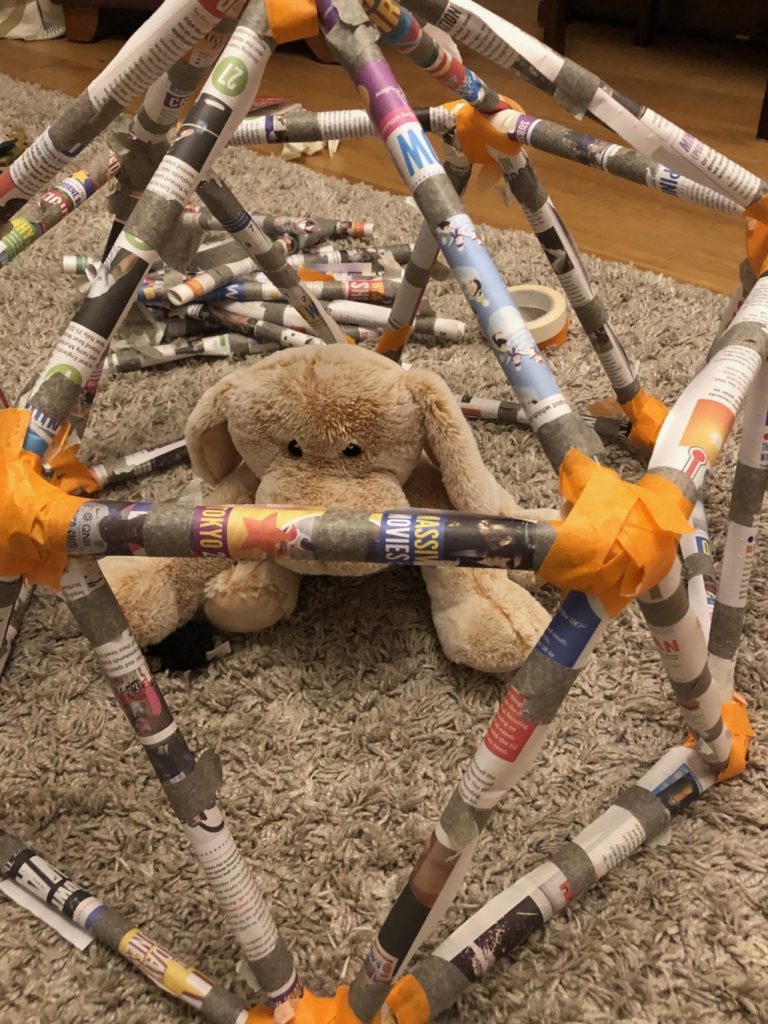 Once you've finished, test the design. It is strong? Is it stable? Think how it could be improved.
Next time we want to make our shelter twice as big. We were a bit limited by the amount of newspaper we had, so I'm now stocking up for the next holiday!
Challenge 2 – Build a famous landmark
Edventures with Kids build an amazing model of the Eiffel Tower. Building a landmark would be a great activity for older children or an adult team building exercise.
Challenge 3 – Newspaper Shoes
These newspaper shoes are amazing, I can't wait to have a go. You could set lots of different challenges with these, such as making them extra grippy on the bottom, making them waterproof or adding straps and a fastening device.
Challenge 4 – Newspaper Kite
Living Well, Spending Less has an awesome newspaper kite. It does need a few extra materials, but we think it's totally worth the effort. This would be a fantastic STEM activity for the summer holidays and can be used over and again, which is always a bonus!
Challenge 5 – Build a Table
Set a challenge to build a table, just using newspaper and tape that can hold the weight of several books.
If you want to make any of these more challenging, set a time limit or a certain size the end result needs to be.
You could go large of even mini…..
Do let us know if you try any of these, we'd love to see the finished newspaper challenge!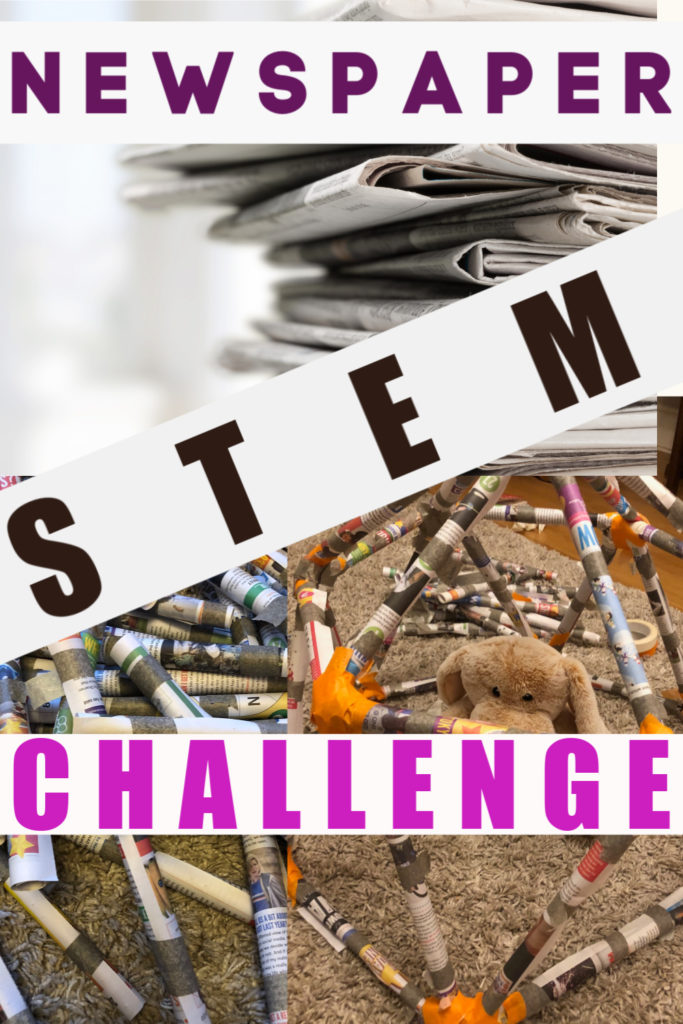 Last Updated on March 7, 2020 by Emma Vanstone