Did you know you can make an egg drop into a bottle without touching it? This easy egg in a bottle experiment is a great, fun way to demonstrate air pressure.
What is air pressure?
Air pressure is the force exerted by air on any surface in contact with it.
Egg in a bottle experiment
You'll need:
A boiled egg
A clean, dry glass bottle or jar with a neck a little smaller than an egg
Matches – it took us a few attempts to get it to work
Instructions
Place the cooled boiled egg on top of the glass bottle or jar to check there is no way the egg will drop through.
Ask an adult to light a match and drop it inside the jar. Quickly place the egg on the top of the jar.
Watch as the egg drops down inside. Be a little patient with this as the egg doesn't drop down immediately, but should drop slowly once the match goes out.
Why does the egg drop into the bottle?
The matches heat up the air inside the glass jar or bottle.
The warm air expands and some escapes out of the jar.
Once the match goes out, the air starts to cool, and the air pressure drops.
This means the air outside the jar now has a higher pressure than the inside, and forces its way inside the jar, making the egg move downwards at the same time.
Related Posts
More air pressure experiments for kids.
Make an egg shrink, make an unbreakable egg and lots more egg experiments.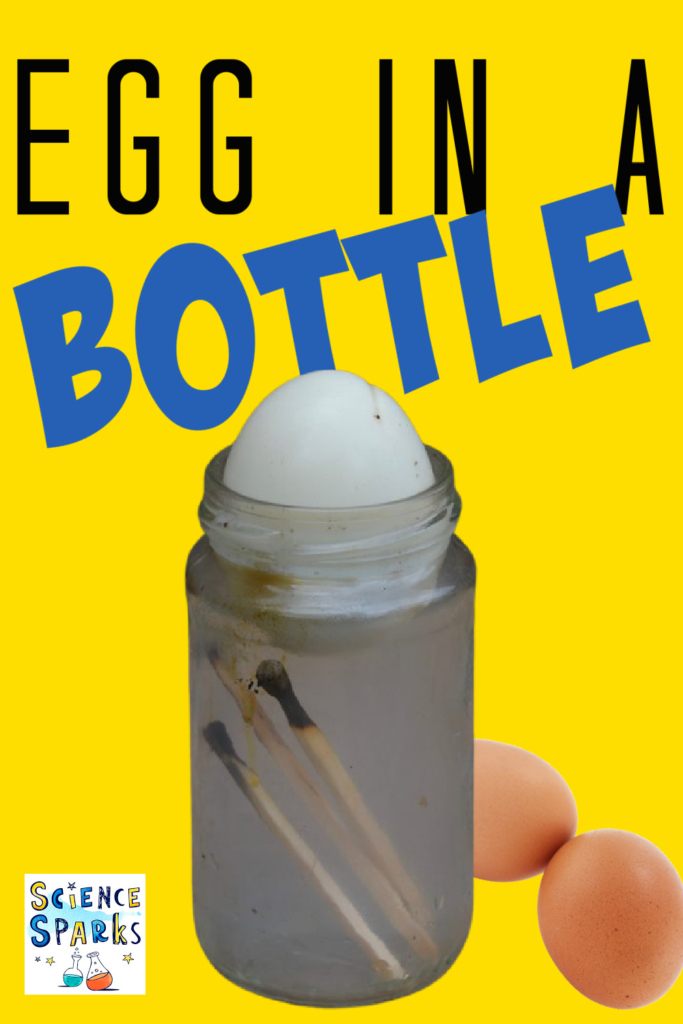 Last Updated on February 10, 2021 by Emma Vanstone