It's Autumn here in the UK and the leaves are beginning to fall and go crisp under your feet. The trees are a variety of colours and there are seeds galore. It is the perfect time to get out and about and collect things like acorns, conkers, leaves, twigs, and feathers.
Which is exactly what we did this week…and we collected an array of things including a lot of stones!
So we brought them all home and started talking about what animals do with the things that have fallen from the trees. I explained that some store them up as food for the winter, some build nests and homes, and some used them to hibernate.
'What's hibernate?' Noah asked
I explained it was sleeping through the winter although this is not strictly a good description and I shall explain more in a bit. I told him that only three animals do it in the UK, hedgehogs, bats and dormice.
Hedgehogs hibernate because their food source (insects) become in very short supply during the winter months from either dying or going into hiding. This makes the hedgehog vulnerable to weight loss and it is during these months when it would actually need more food in order to keep it warm.
Going back to the sleep part – during sleep all bodily functions remain working. During hibernation the hedgehogs metabolism almost shuts down. It heart rate drops from 190 beats per minute to 20 beats per minute and all his extremities appear cold to the touch. It could easily be mistaken for dead.
Hedgehogs will not hibernate until there is no sign of food left so you can still see hedgehogs about until as late as January some years, but most start making their hibernation nests during Autumn and building up their fat reserves ready for hibernation during November and December. They come out of hibernation at spring time when the temperature begins to rise. They immediately stock up on on food, not only to replenish lost body mass but just in case there is another frost and they resort back into hibernation.
So with hedgehgs on out minds we set about a hedgehog craft activity and it is really easy!
What you need:
Paper
Pens
Leaves
Glue
1. Collect your leaves
2. Draw a rough outline of a hedgehog onto the paper
3. Stick on the leaves starting from the back and sticking up as prickles and layer it with more leaves as you move towards the face.
The result is a very gluey (if you have a 3 year old like mine who is a little generous with the glue) autumnal hedgehog picture.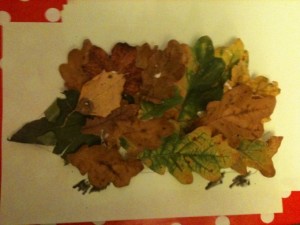 Last Updated on October 13, 2012 by Emma Vanstone