Growing a plant from seed is a great way for children to learn about the conditions plants need to grow successfully. Beans are an obvious choice as they are a nice big seed, grow relatively quickly ( they should have a large stem and leaves after about 10 days ), get big roots and grow quite tall. We've had mixed results with our beans this year though, so if you want something more reliable I'd recommend cress or rocket, both of which have grown fantastically for us recently.
We made this bean into a Jack and the Beanstalk bean, to make your own, download the printable beanstalk here. We used double sided tape to attach a lolly stick to the beanstalk allowing it to stand up.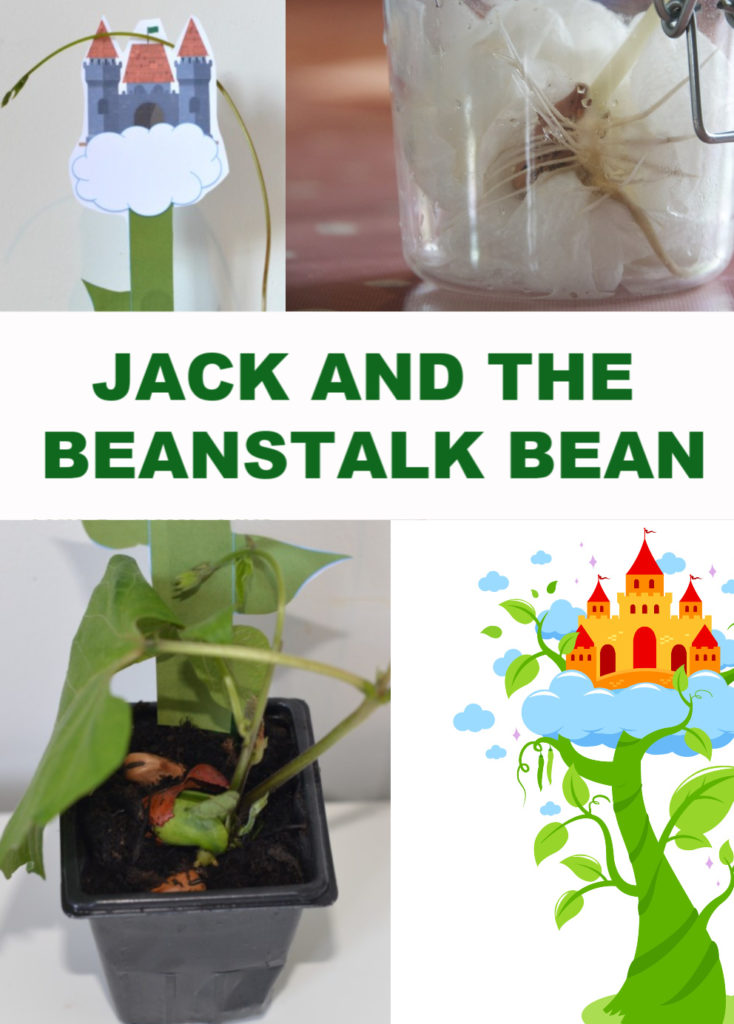 How to successfully grow a bean
Beans need a relatively warm temperature so don't try to grow them before spring.
Beans need to be watered a couple of times a week, and planted in well drained soil.
Beans like the sun, leave them in a sunny spot.
Watch out for insects and protect the beans where possible.
To grow a bean in a jar, just swill some water around the jar, add a damp piece of cotton wool or kitchen roll and place the bean so it's resting on the cotton wool/kitchen roll. Remember to spray with water every couple of days.
More bean experiments
Did you know that beans don't need sunlight to germinate? Try leaving one bean in the dark and one in the light to investigate for yourself.
Grow a bean in a bag like Teach Preschool or even in a CD case.
Dissect a bean like Buggy and Buddy.
Key stage 1 Science – Plants
Find out and describe how plants need water, light and a suitable temperature to grow and stay healthy
Observe and describe how seeds and bulbs grow into mature plants
If you liked this activity, you'll LOVE our other easy plant science experiments for kids!
Last Updated on March 1, 2021 by Emma Vanstone