We love egg experiments here at Science Sparks. We've investigated air pressure using eggs, transformed egg whites, tested how strong an egg shell is, and even made eggs shrink. Today however, we're going to find out how to make an egg shell disappear.
You will need:
An egg
A glass
White vinegar
Method
1. Take a raw egg and put it in a cup
2. Cover it with white vinegar (which is also known as acetic acid)
Q: What do you noticing happening?
A: You should see bubbles collect around the shell (a sign that a chemical reaction is taking place)
3. Leave for 24 hours.
4. Rinse the egg and place back in the vinegar if shell still remains.
You should now be able to see shell residue in the vinegar and the yolk whole in the egg white. If you still see white resdiue on the egg you can rub this off lightly with you finger. I tried to lift the whole egg out of the vinegar but broke the membrane, but it is possible to lift it out whole.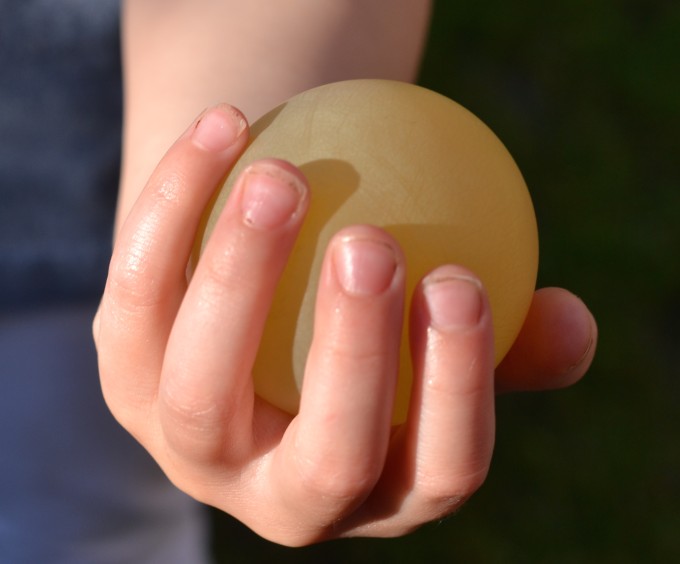 Make an egg shell disappear – what happens?
The acid has reacted with the shell and "eaten" away at it. The shell is made up of calcium carbonate and this gets dissolves due to the acid. The inside of the egg should still be intact because the vinegar doesn't break down the egg membrane. The egg also swells up, because some of the liquid seeps inside it via osmosis. You should be able to see the yellow yolk through the membrane. It really is quite incredible.
You could compare what happens to a raw egg with a boiled egg as well.
Can you dissolve an eggshell?