Did you know that there's a huge shortage of young people attracted to engineering jobs and a lack of diversity in the profession with the workforce being 88% male and 92% white?* I remember taking part in a special engineering event many years ago which was trying to encourage more women into the field, so it makes me quite sad that in the last 20 years the situation hasn't changed much.
Engineering is a vast and exciting field that has been around for 1000s of years. This simple chain reaction is a great introduction to engineering and works well for a science club session, a science project or just for fun!
I've created a chain reaction STEM challenge template which you can find at the bottom of the page.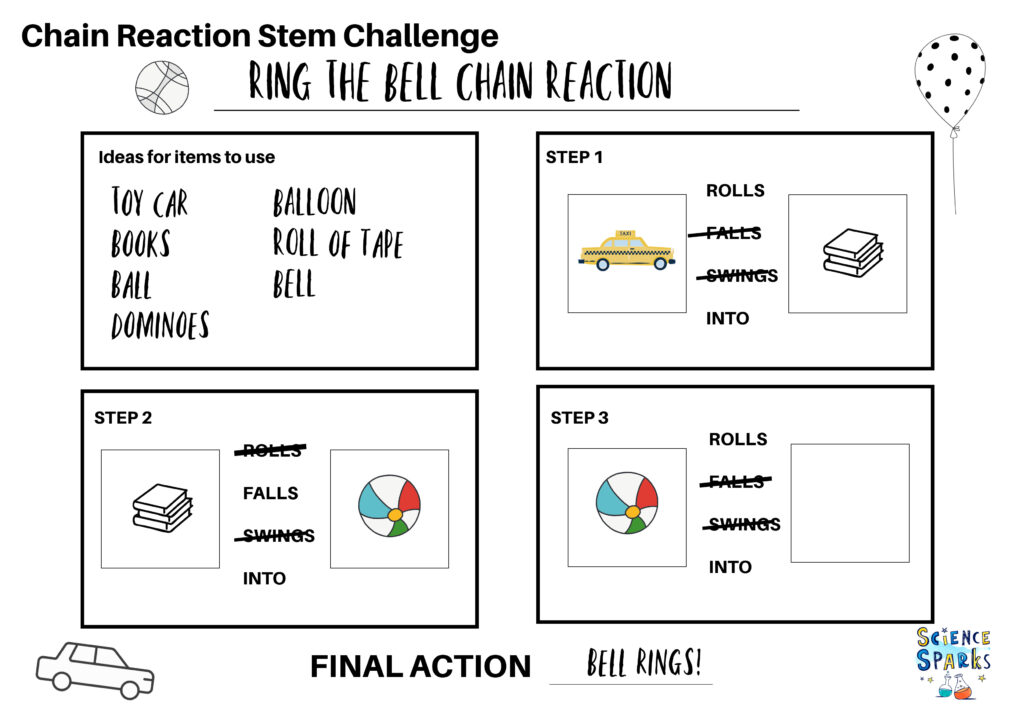 Chain Reaction Challenge
What is a chain reaction?
A chain reaction is a sequence of events where one thing triggers another.
This is also an example of a Rube Goldberg machine.
What is a Rube Goldberg Machine?
Rube Goldberg machines use the principle of a chain reaction to achieve an end goal. The end goal in the case of our chain reaction is the popping of the balloon. Creating a machine like this is a great way for children to learn about cause and effect, conservation of energy and momentum.
Make a Rube Goldberg Machine – Step 1
The force of air from the fan starts off the chain reaction by knocking over dominoes. The first domino collides with the second knocking that over and so on until the ball is pushed down the ramp.
Make a Rube Goldberg Machine – Step 2
The ball is initially stationary until the force of the last dominoes forces it forwards and down the ramp. The downward slope of the ramp means the ball gains momentum as it travels.
Make a Rube Goldberg Machine – Step 3
The ball pushes a wooden car with a needle attached forward. This is an example of conservation of momentum. Momentum from the ball is transferred to the car, forcing it forwards.
Remember only moving objects have momentum.
Make a Rube Goldberg Machine – Step 4
The needle bursts the balloon.
This part was a little tricky to get working. The first car we tried was too heavy for the ball to push forwards and the second was too small.
Experimenting with different objects actually made the process even more fun and the end result very rewarding.
We LOVED creating a chain reaction and can't wait to design and build more.
More Chain Reaction Ideas
Go large! This outdoor huge chain reaction is great fun for the whole family.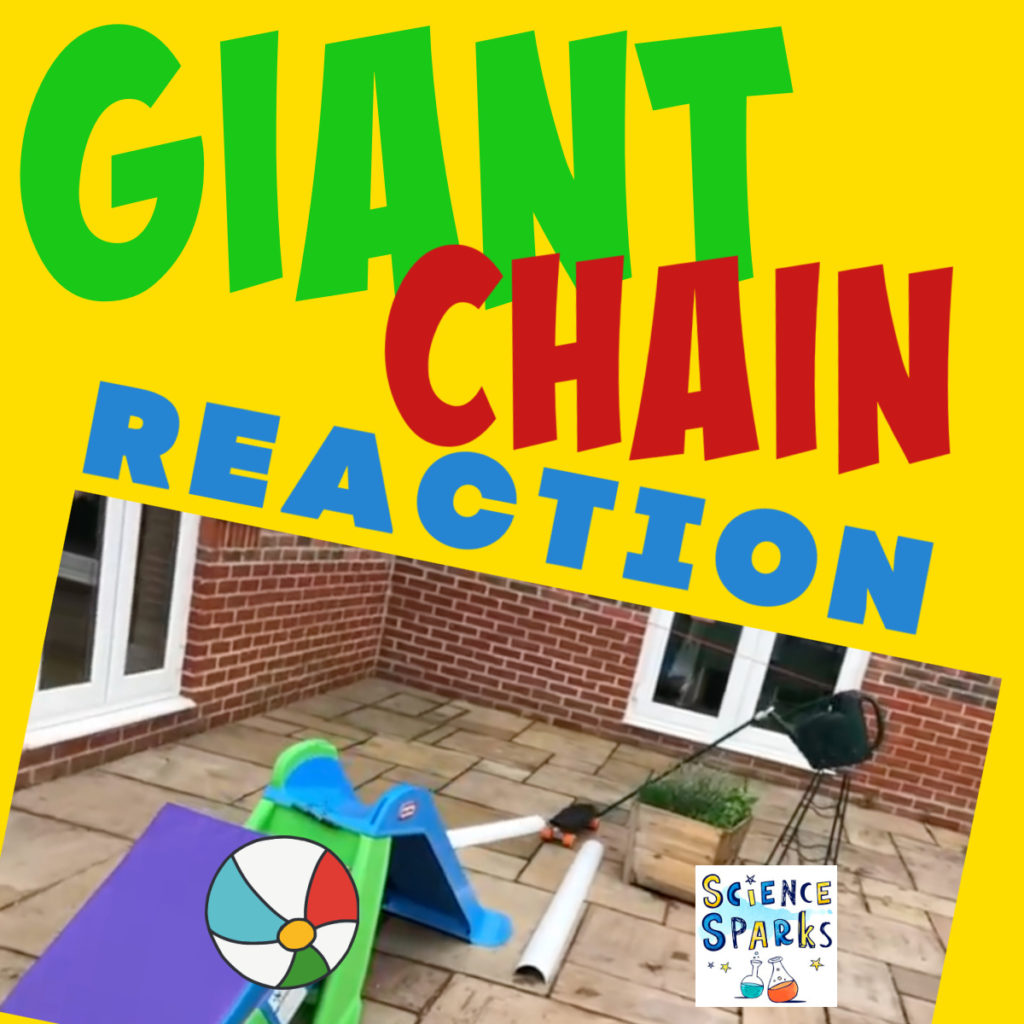 Our craft stick chain reaction is fantastic, explosive fun for the whole family.
Or, try my easter egg chain reaction!
Make your own chain reaction
Try my chain reaction STEM challenge template to help plan your chain reaction.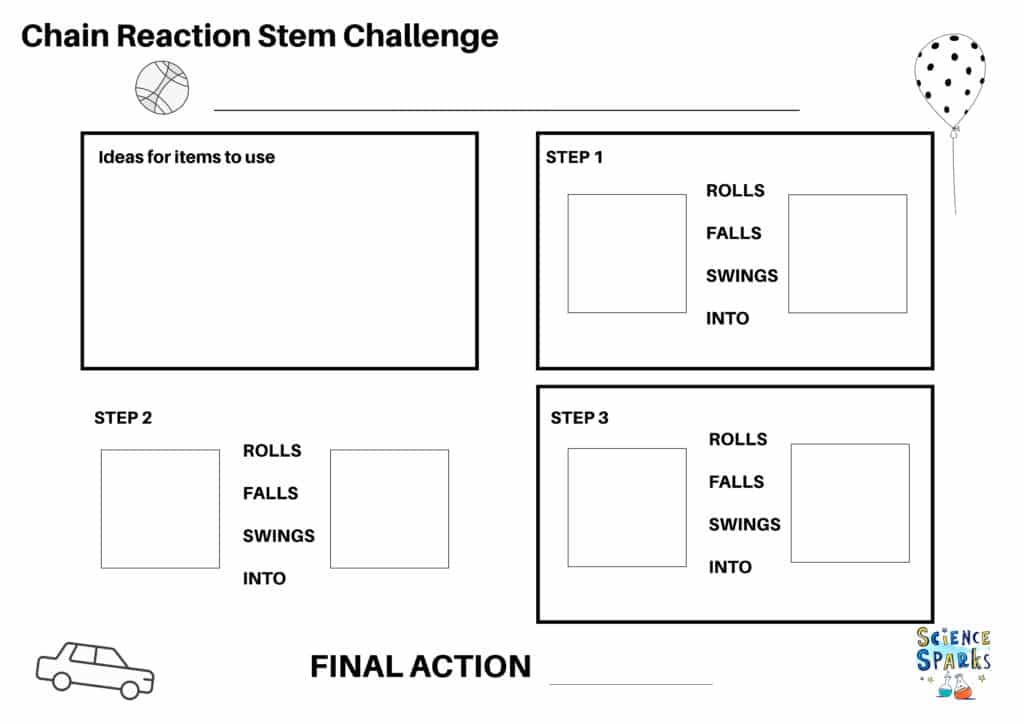 *Statistics correct at date of publication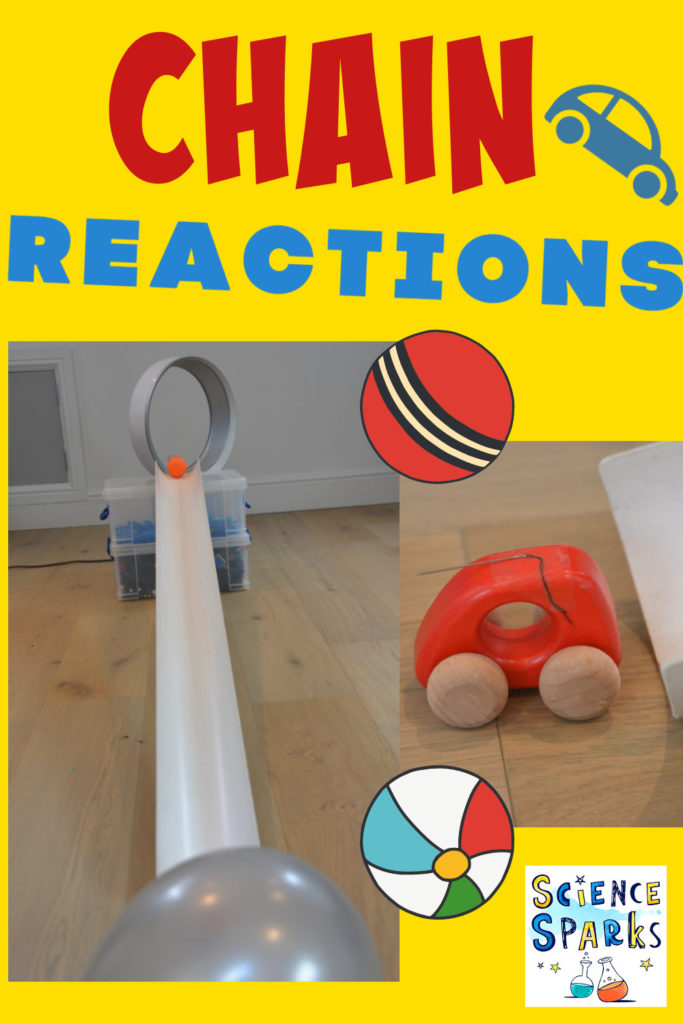 Last Updated on November 1, 2022 by Emma Vanstone