Did you know you can make homemade ice cream in a bag in less than 10 minutes with just milk, salt and ice? You don't even need a freezer!! Our ice cream recipe is easy for kids to follow and a fun science activity at the same time.
Experiment with different flavours and toppings to find your favourite ice cream dessert!
This awesome kitchen science experiment for kids involves lots of interesting chemistry, is inexpensive and very simple!
What is ice cream?
Ice cream is made up of droplets of fat from milk jumbled up with millions of tiny crystals of ice and pockets of air.
This activity uses the freezing power of salt and ice to create ice crystals in milk without a freezer!
Homemade Ice Cream in a Bag Science Experiment
What you need to make ice cream in a bag
A large bag of ice
Salt
Milk – we used chocolate milk, but any kind of milk or non-dairy drink will work
A tablespoon of sugar and a teaspoon of vanilla essence – optional
Resealable bags
Tea towel
How to make ice cream in a bag
Pour a cup of milk into a resealable plastic bag. Add the sugar and vanilla essence ( or just use flavoured milk ). Make sure the bag is properly sealed.
Half-fill a bigger sealable bag with ice and add a good amount of salt.
Put the milk bag into the ice bag and give it a good shake.
Keep the milk in contact with the ice as much as possible.
Keep rolling the ice over the milk. The ice in the bag will get VERY cold, so put a towel around the bag to protect your hands.
Check the milk after 5 minutes. It should be a similar consistency to ice cream. If not, keep going for a bit longer.
Why does ice cream in a bag work?
Pure water freezes at 0°C. The addition of salt lowers the freezing point by a few degrees ( freezing point depression ). This means when salt is added to the ice in the outer bag, the ice (which is at 0°C) is above its freezing point, so it starts to melt. Melting needs energy which in this case comes from the milk mixture in the inner bag. Heat energy is absorbed from the milk making ice crystals form between the tiny fat molecules.
The more salt that is added to the ice, the lower the freezing point. For the ice to melt, heat must be absorbed from the surroundings ( in this case, the milk mixture ), causing it to freeze.
The ice will feel VERY cold, which is why you'll need a towel to cover the bag after a few minutes.
Practical applications of salt – why is salt added to roads in cold weather?
During cold weather, salt and grit are applied to roads, the salt makes the ice melt even if the air temperature is below freezing point.
Extension ideas
Create and test different homemade ice cream recipes.
Place a mixture of ice and salt in a freezer to investigate whether it freezes or not.
This activity would be perfect for a science club or a fun STEM Challenge. You could even have a competition to see who can make the COLDEST ice cream!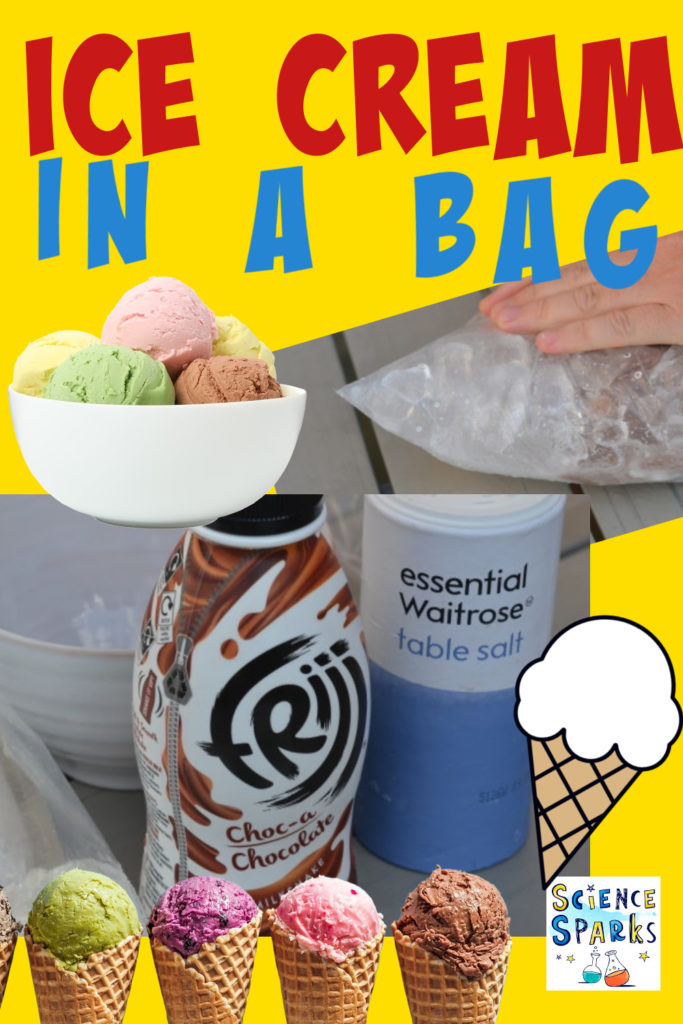 More Awesome Kitchen Science for Kids
Make a whole meal of science experiments! This is a great science or cooking challenge for homeschooling or school!
Try one of my other easy kitchen science experiments for kids, including finding out why cakes turn brown in the oven, why pineapple stops jelly setting, building towers with toothpicks in a flapjack or brownie base and lots more!
If your children love edible experiments, you might also like my kitchen science book, Snackable Science which includes SIXTY fun and easy edible experiments!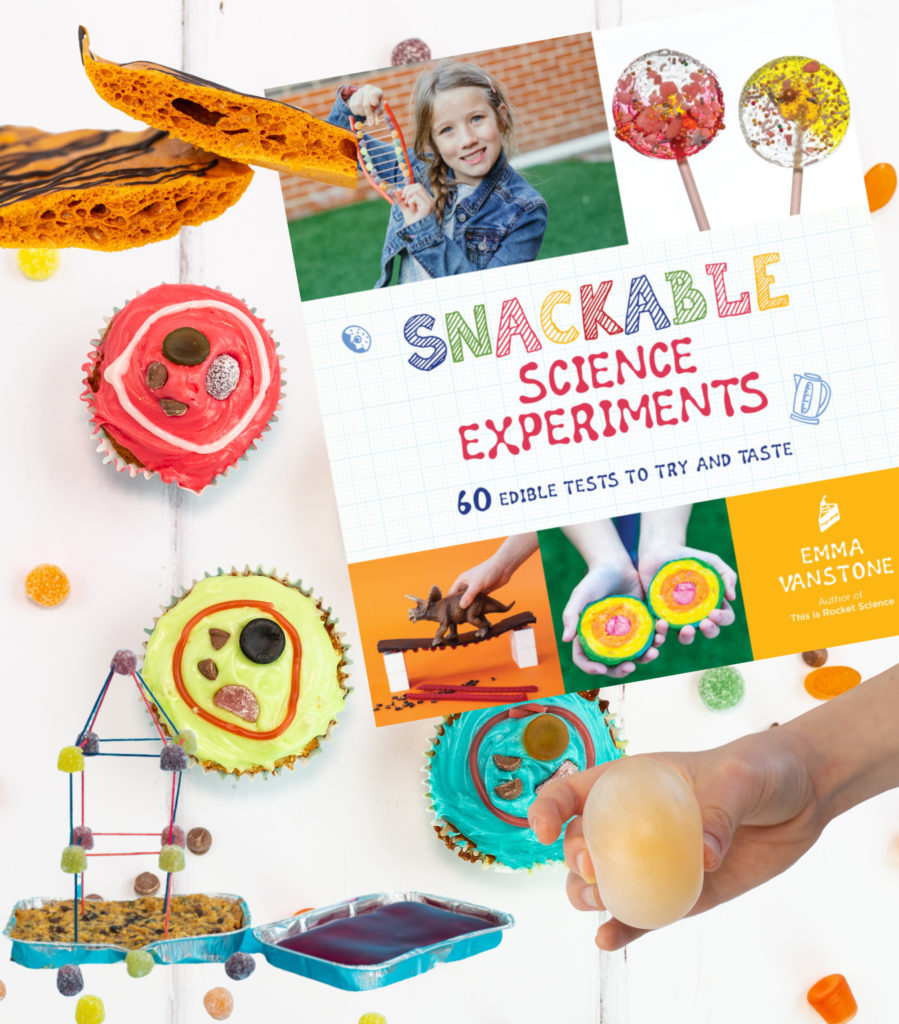 Affiliate links
Last Updated on July 1, 2023 by Emma Vanstone