Baking soda experiments or activities are a great, safe and easy way to introduce the concept of a chemical reaction to children. Baking soda is alkaline and reacts with acids such as vinegar, releasing carbon dioxide ( a gas ) and water. The fizz produced is brilliant fun for children to watch, especially if you combine it with washing up liquid ( dish soap ) to make even more bubbles or add a bit of food colouring, ice or a theme.
Note: This is an old post that I have updated, so there are now more than ten ideas!
Baking Soda Reactions
Make Honeycomb
Did you know honeycomb has lots of holes due to the addition of baking soda? Making honeycomb is a delicious way to see the bubbles made when baking soda reacts.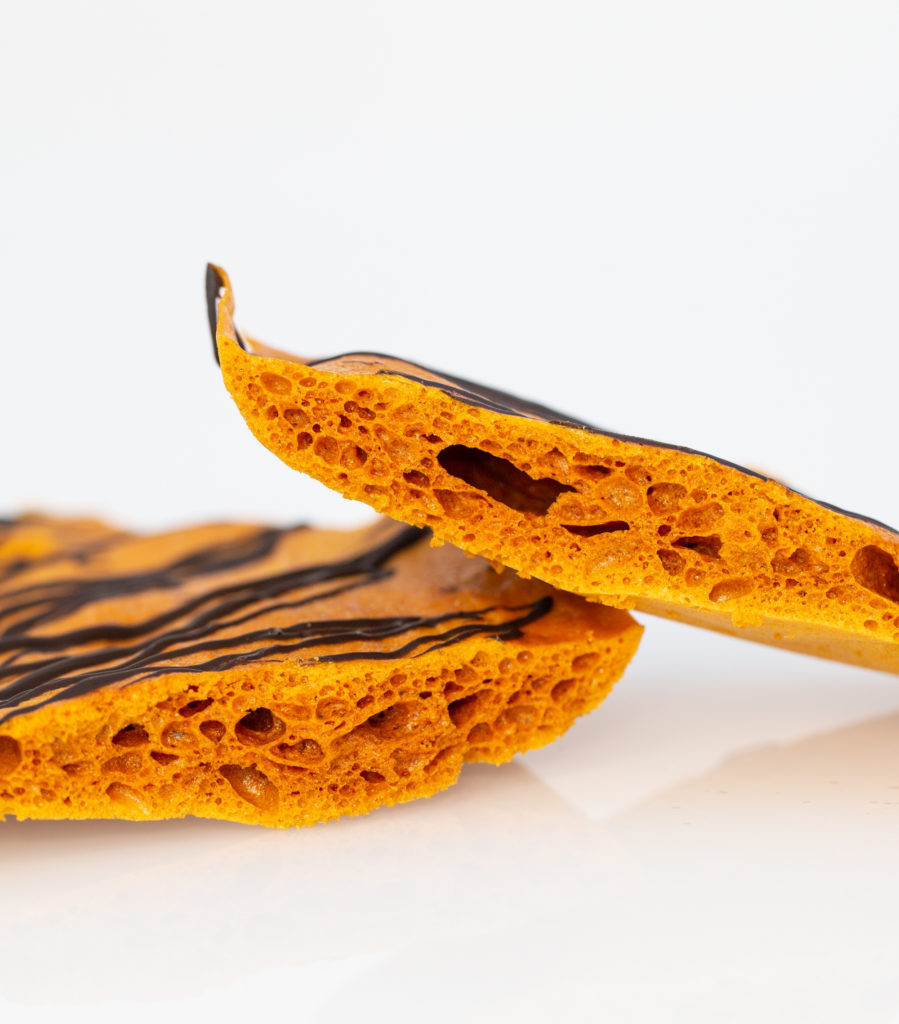 Baking Soda Rocket
This rocket is my favourite baking soda experiment, but it does shoot up with a bang, so take extra special care and stand well back! You'll need to wrap the baking soda in a small piece of kitchen towel to slow the reaction down for long enough to push the cork securely into place.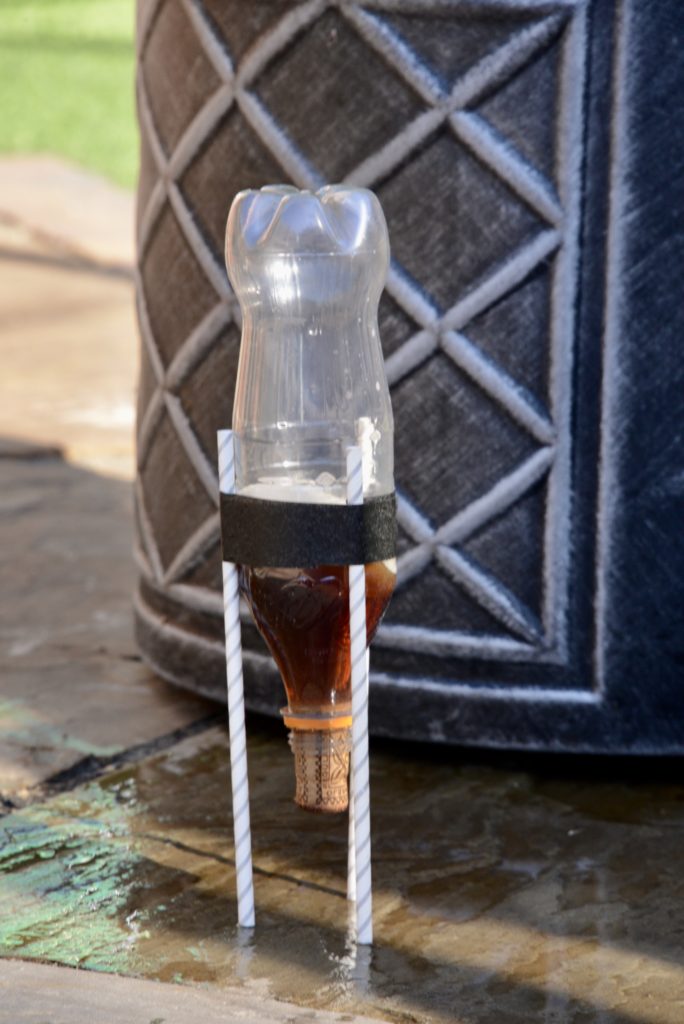 Baking Soda Powered Boat
We loved making our baking soda boat, although it was tricky to get the mechanism to work correctly. It's worth persevering with, though. It's fun to try making several different size boats and investigate how they move when you add different amounts of baking soda and vinegar.
Monster Tea Party and witchy potions
Our monster tea party was filled with fun fizzy potions and an excellent opportunity to try baking soda as well as bicarbonate of soda. Which do you think worked the best?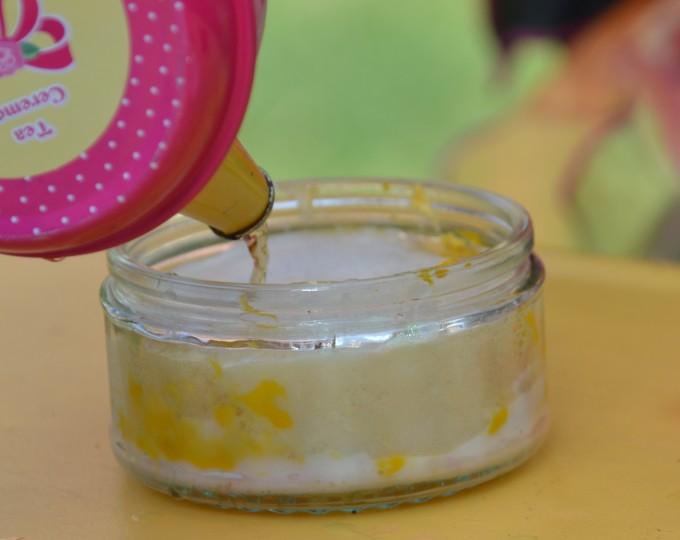 If monsters aren't your thing, how about making witchy or fairy potions?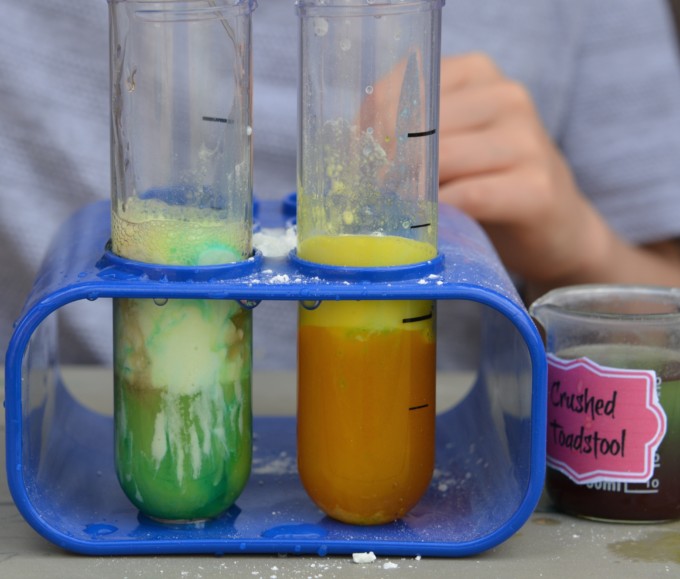 Baking Soda Volcano
A baking soda volcano is a staple science activity for kids. Try asking children to investigate using different amounts of vinegar but keeping the amount of washing-up liquid and baking soda the same. Can they create the perfect recipe for an eruption?
Volcanos can be made using snow, sand, papier mache, LEGO or anything else you can make a basic volcano shape with.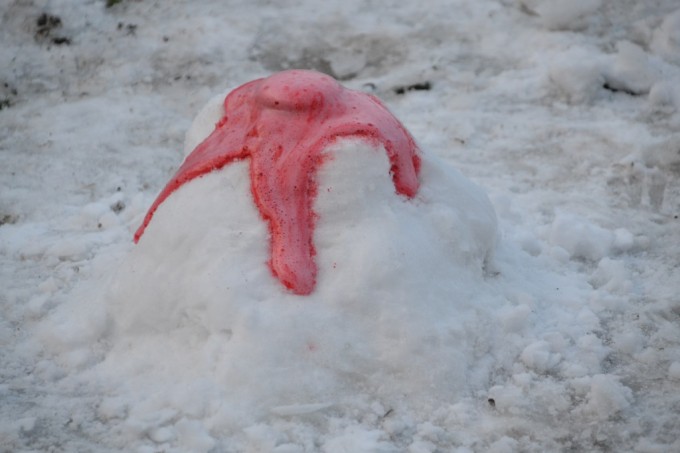 Baking Soda Popper
My children loved these baking soda poppers. Please be careful and stand back, as these can shoot up with a little warning and a lot of force.
We experimented to discover the best baking soda and vinegar combination for a launch.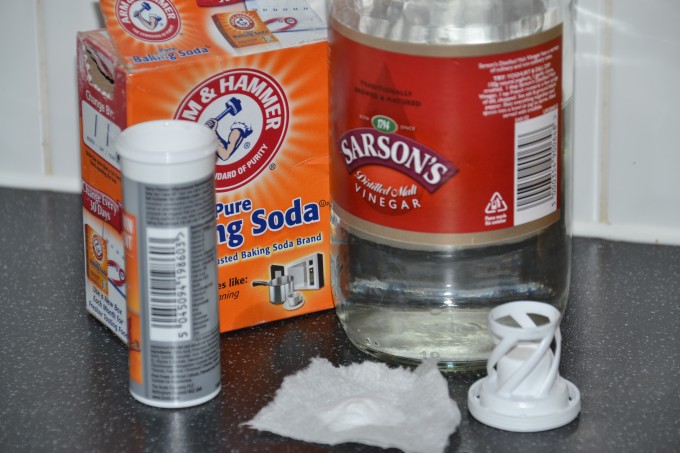 What reacts with baking soda?
This fun investigation is great for children to start thinking scientifically. We tested lots of different liquids to discover what reacts with baking soda and what doesn't.
Remember to keep the amount of baking soda and the test substance the same.
Fizzing rocks with baking soda
Make baking soda rocks and watch them fizz! Can you hide something inside them?
Blow up a balloon with baking soda
Did you know you can blow up a balloon with baking soda and vinegar or another acid?
Baking Soda Ice Cubes
Make some colourful baking soda ice cubes and watch them fizz as you add vinegar.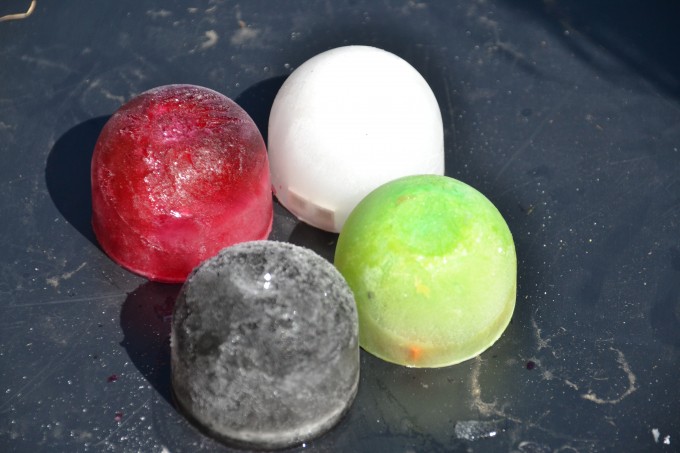 Frozen Vinegar
Inspiration Laboratories froze the vinegar instead of the baking soda, which also worked brilliantly.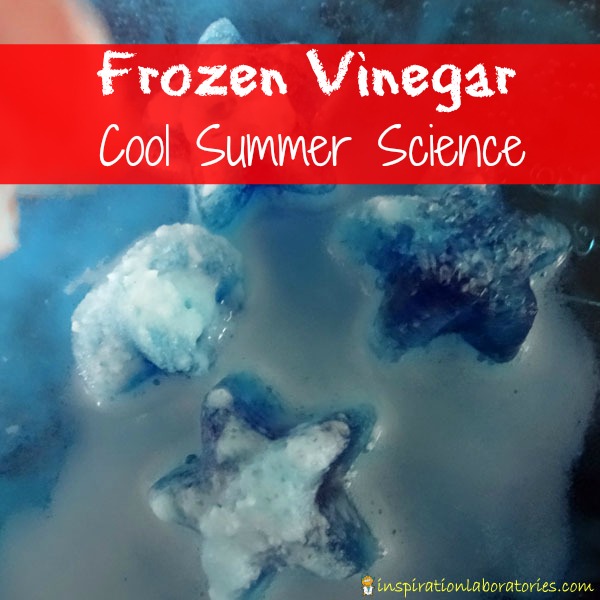 Dancing Raisins
Watch raisins dance around a glass due to bubbles of carbon dioxide.
Fizzy Paint
We did this many years ago but loved our fizzy paint afternoon.
Exploding Sandwich Bag
Exploding sandwich bags are always fun too! Simply pop a bit of vinegar and baking soda in a sealable plastic bag, fasten it quickly and stand back to watch!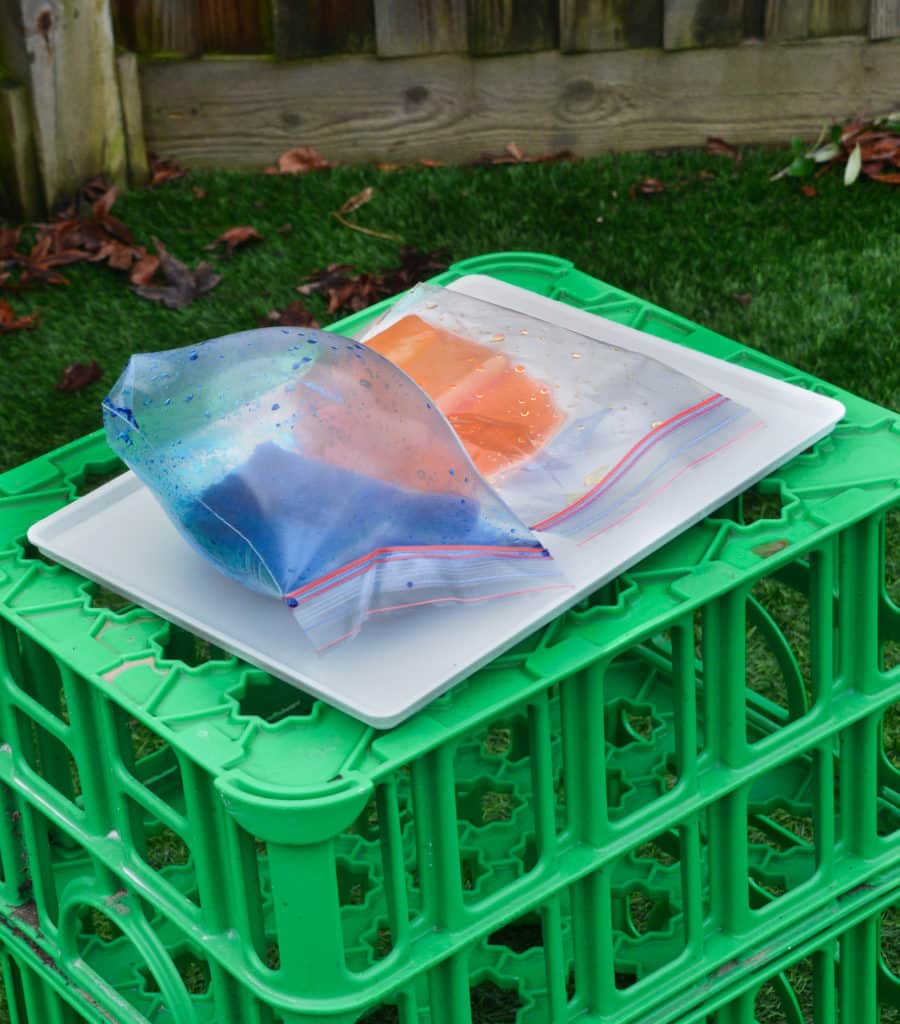 Colour Changing Baking Soda Potions
These colour-changing potions made with red cabbage indicator are fantastic fun and easy to make too!
These change colour as the acid and then alkali is added.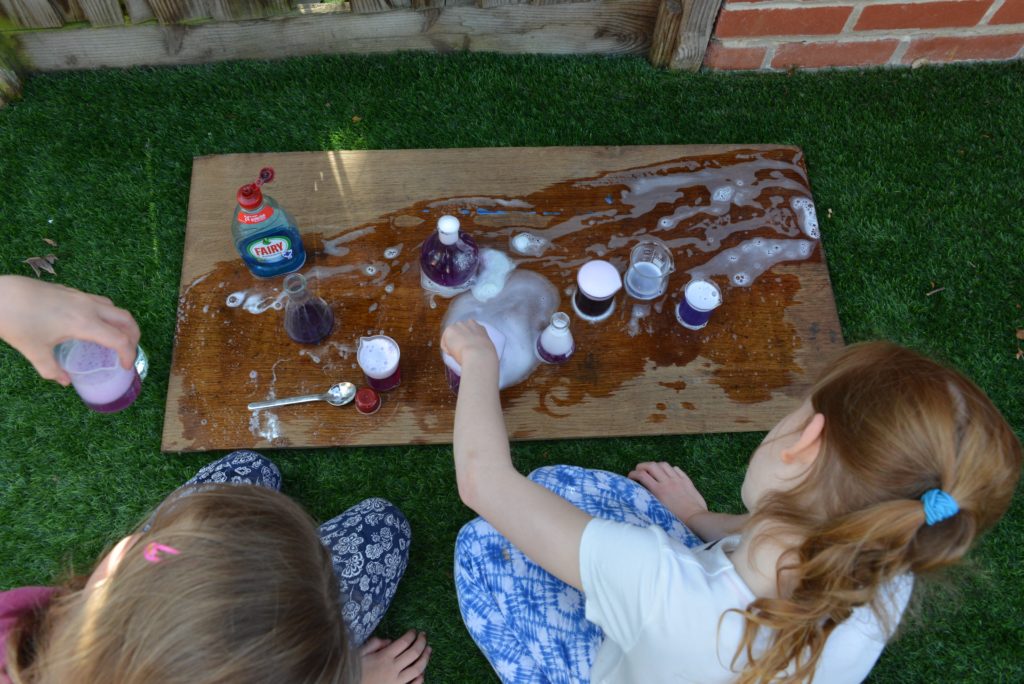 Christmas Elf Lab
We very much enjoyed our magical fizzy elf lab for Christmas time too!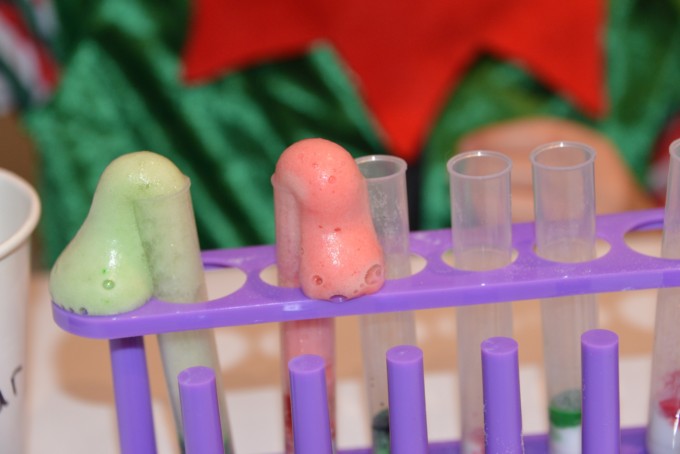 Do you have any more baking soda experiments to tell us about?
What is a baking soda and vinegar reaction?
If you combine an acid and an alkali, they react together to neutralise each other. Vinegar is an acid, and bicarbonate of soda is an alkali.
The reaction releases carbon dioxide gas, which is the bubbles you see. If you add washing-up liquid ( dish soap ) to your eruption, mix the bubbles making the washing-up liquid bubble up, giving you an extra bubbly mix.
Don't forget we've got 100s more easy science experiments for you to try at home or school!
Last Updated on January 30, 2023 by Emma Vanstone