Can you believe it's been over 50 years since humans landed on the moon for the first time? The historic event was not only an incredible feat of science and engineering but also led to many innovations that have improved human life since. If you have children who are fascinated by space travel ( or if you want to inspire them ) this fun collection of space themed science experiments will make a great home space camp!
Don't forget I also have a fun space themed book This Is Rocket Science which explores the principles behind space flight explaining difficult concepts through simple but exciting, hands on and easy space themed experiments.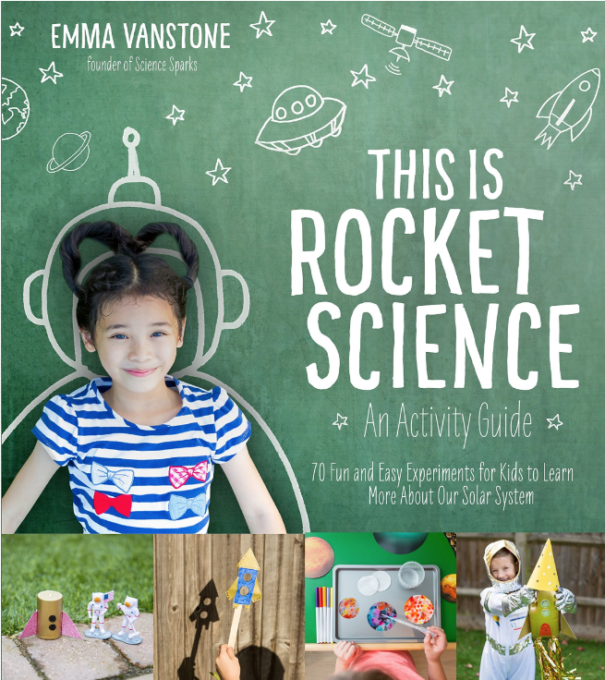 DIY Space Camp for Kids
Docking in Space
Docking in space is quite a task, if you've seen the movie Apollo 13 I bet you were holding your breath when the astronauts had to dock with the lunar module. This fun docking activity is very simplified but a nice, simple demonstration of how tricky docking in space must be. It requires a bit of team work so is a great first space camp activity!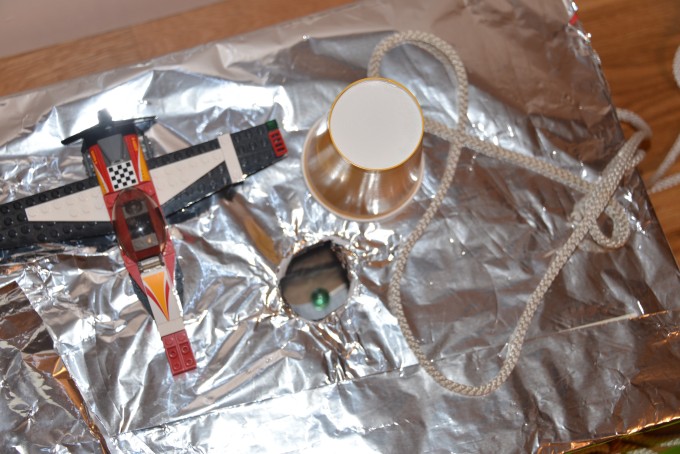 Did you know Apollo 14 struggled to dock the Command Service Module with the Lunar Module?
Our Expanding Universe
Did you know the Universe is expanding? A fun way to demonstrate this is with a balloon!
How does the Earth orbit the Sun?
Discover how the earth orbits the sun and the moon orbits the earth with a super simple orbit activity.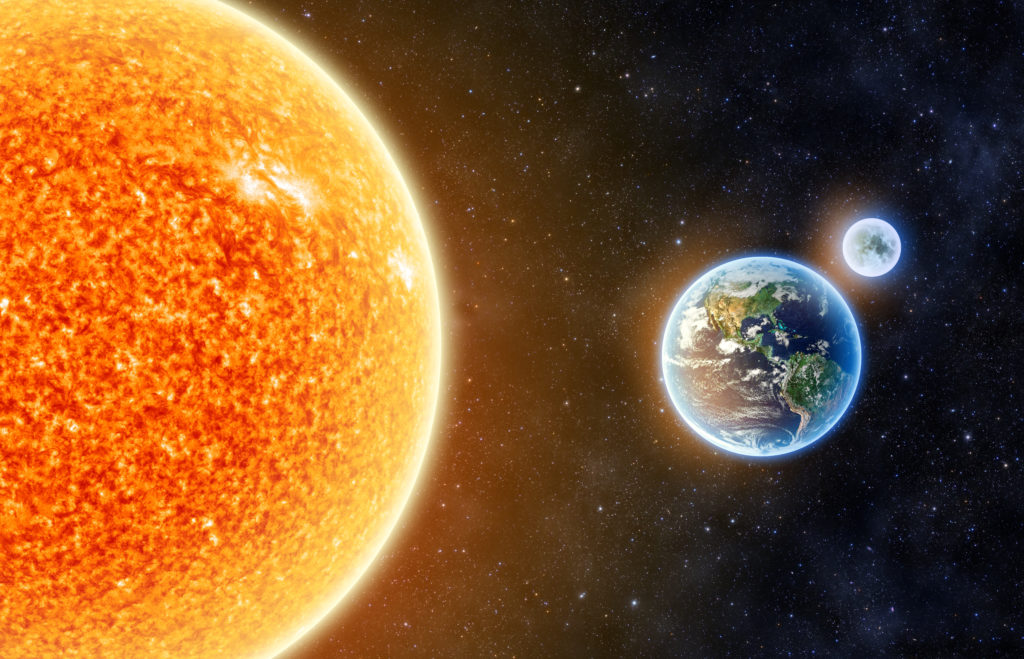 Space Camp – Make a parachute
Discover why parachutes are sometimes used to slow the descent of spacecraft returning to Earth with our fun egg parachute activity. This is a great activity for introducing the concept of air resistance and gravity to kids.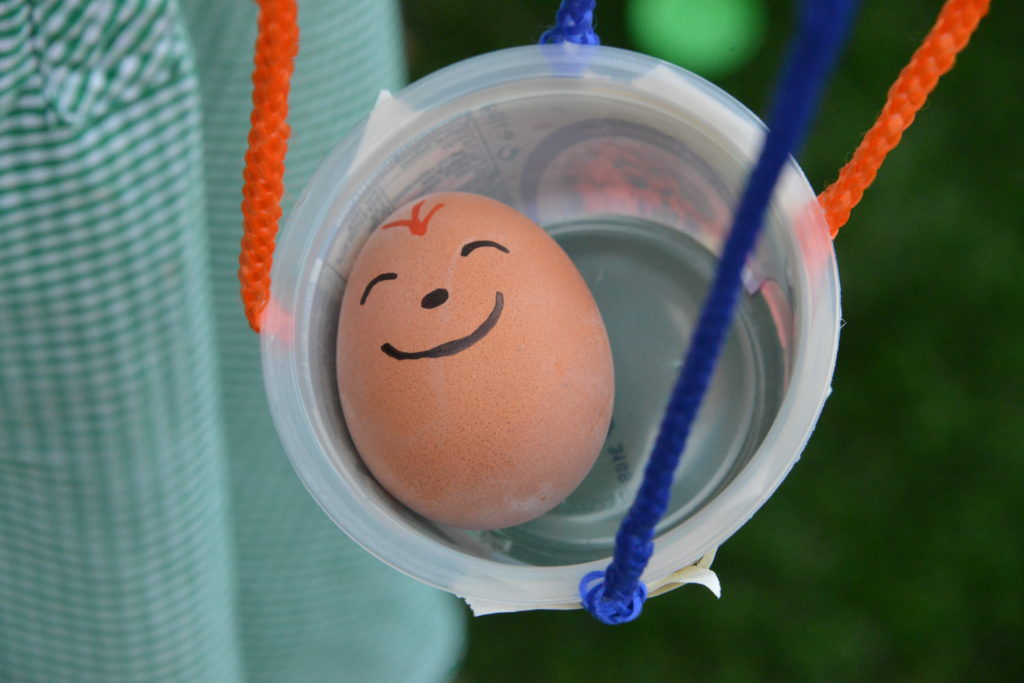 Moon Phase Cupcakes
Learn about the moon with our moon phase cupcakes. Do you know we only see one side of the moon because of how it and the earth rotate?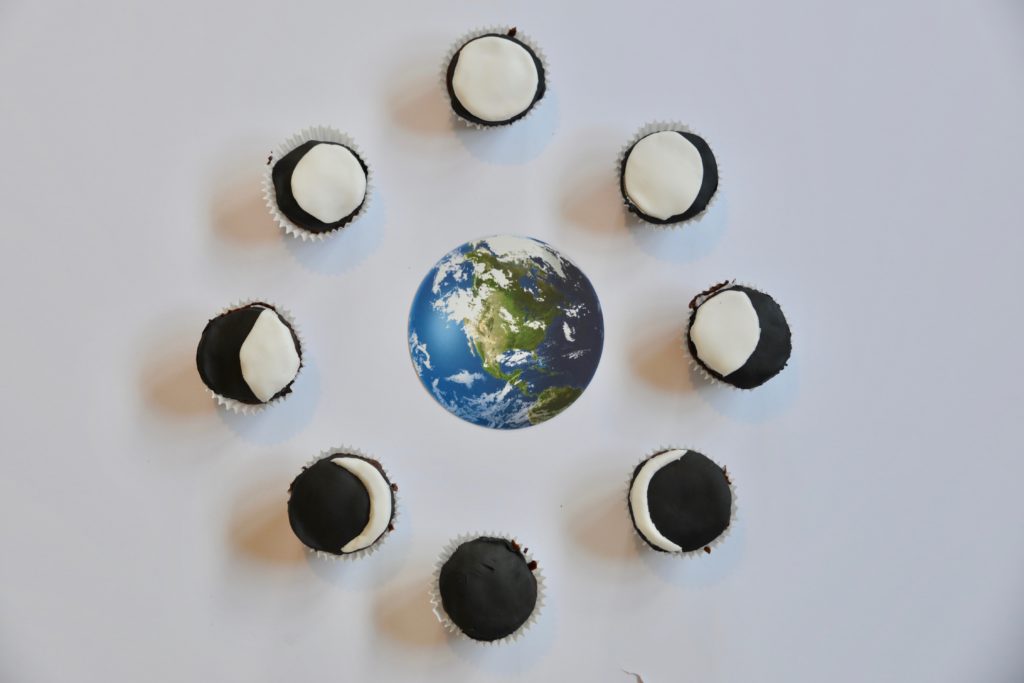 Difficulties in space
Try threading pipe cleaners through a colander with bare hands and then wearing thick gloves or washing up gloves. It should feel much harder when wearing gloves.
Imagine being an astronaut and having to do something delicate whilst wearing a space suit!
Make a Rocket!!
A film canister rocket or an easy bottle rocket are both brilliant ways to end a week of space camp! Just remember to stand back as they both fly upwards with a bang.
These are both fantastic for teaching children about Newton's Laws of Motion in a fun hands on way too!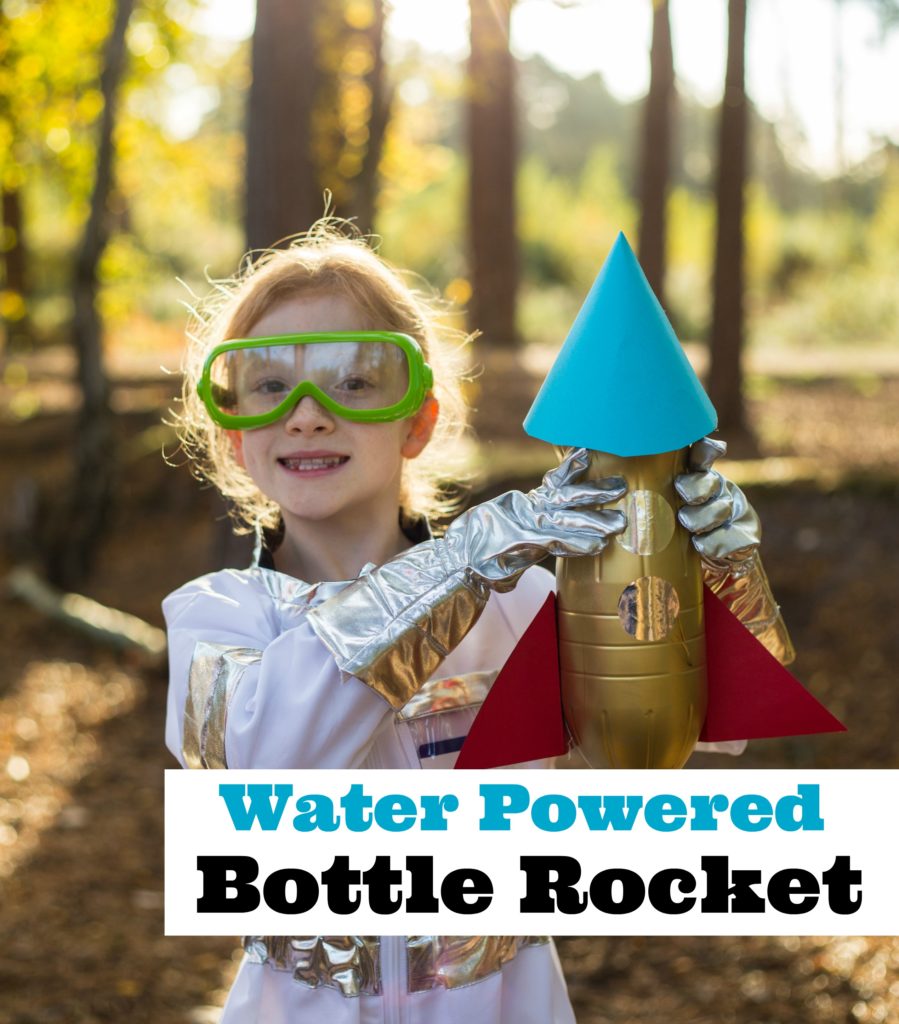 Learn about famous space scientists
Katherine Johnson worked at NASA for over 30 years and played a vital role in putting humans on the moon for the first time. She was also the first African-American woman to attend graduate school at West Virginia University.
Learn about Copernicus's theory of heliocentrism by taking it in turns to play the role of the sun, moon and earth as they orbit each other.
Isaac Newton's infamous Laws of Motion provide the basis for space travel.
Carline Herschel was a pioneering astronomer and the first woman to discover a comet!
Space Camp – Camp out and stargaze
It's not a space camp without some stargazing!
If you can, it's good to camp somewhere away from too much light pollution, but even a back garden stargazing campout is great fun.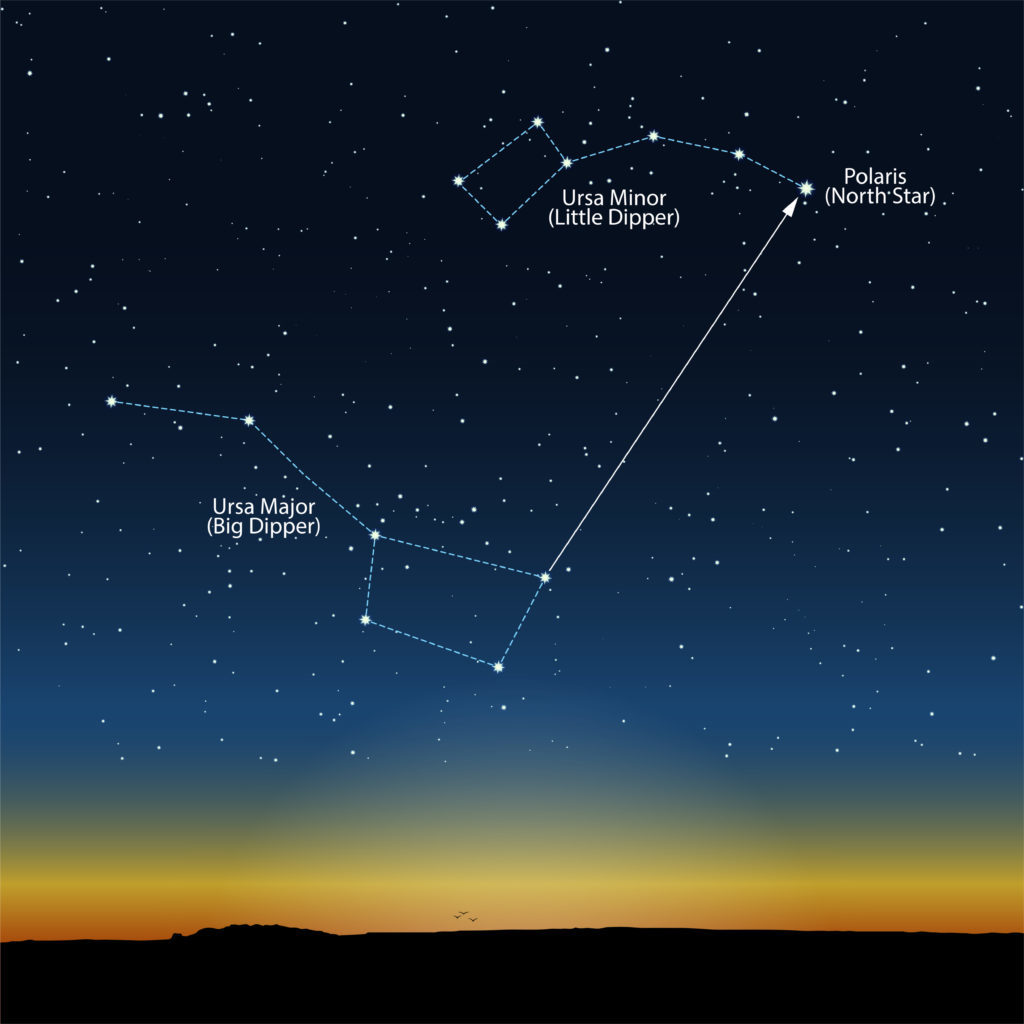 Top Tips for Stargazing with Kids
Remember to wrap up warm and use a red torch to help you see in the dark. You can easily make a red torch by attaching a piece of red cellophane over the end of the torch.
Download an app to help identify what you can see, SkyView is a great one to start with.
For more long-term stargazing, start a star diary or journal and record what you can see each night.
The Plough is always a fun group of stars to find, as it looks like a saucepan. It's actually part of Ursa Major, which is a constellation.
Orion's Belt sits in the constellation of Orion ( the Hunter ). The belt is three bright stars in a row, which are usually easy to spot!
Another famous star to locate is the North Star, which sits directly above the North Pole and tends to stay in the same position.
What do you think? Will our DIY space Camp be a hit with your children?
Space Camp Booklet
To make it a bit easier, I've pulled a few activities together into a little space camp booklet, including a moon phase log book and stargazing log pages.
Day 1 – Mini Bottle Rocket
Design, build and launch a mini rocket!
Day 2 – Expanding Universe
Use a balloon to model our expanding universe!
Day 3 – Egg Drop Parachute
Create and test a parachute for an egg.
Day 4 – Phases of the Moon
Learn about the phases of the moon, make an edible moon phase model and observe how the moon changes each day.
Day 5 – Stargazing
Find out how to be a successful stargazer and keep a log of the night sky.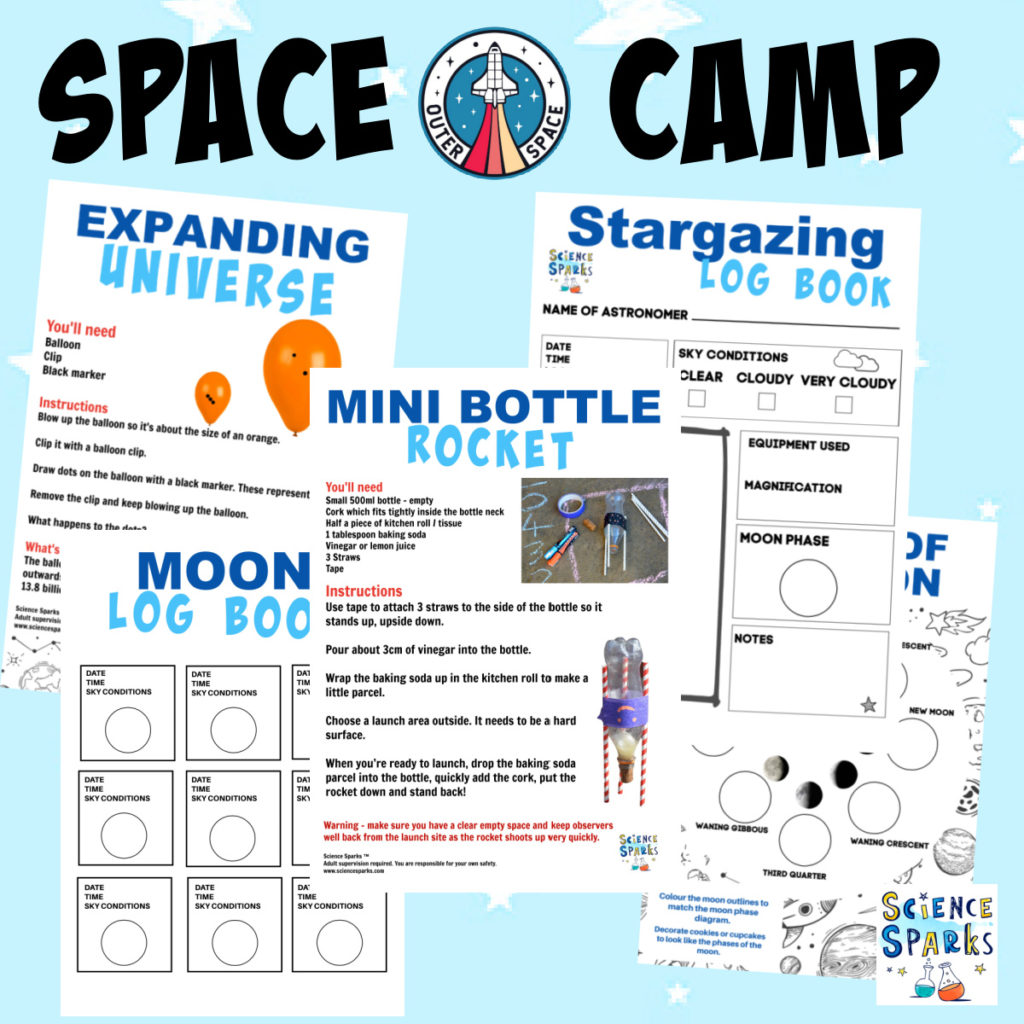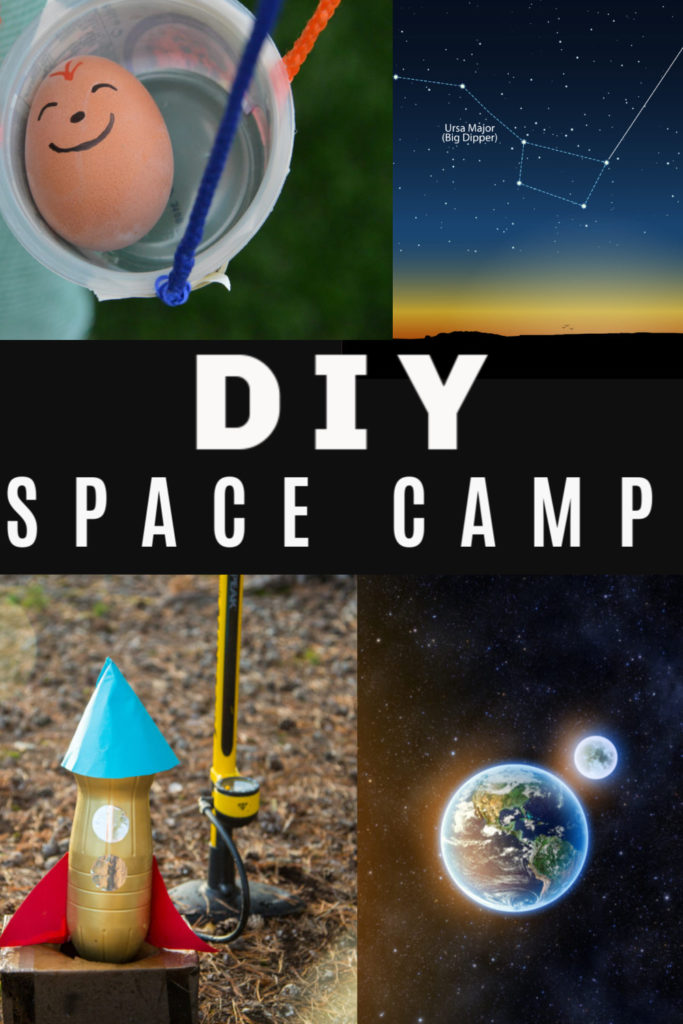 Last Updated on August 23, 2023 by Emma Vanstone